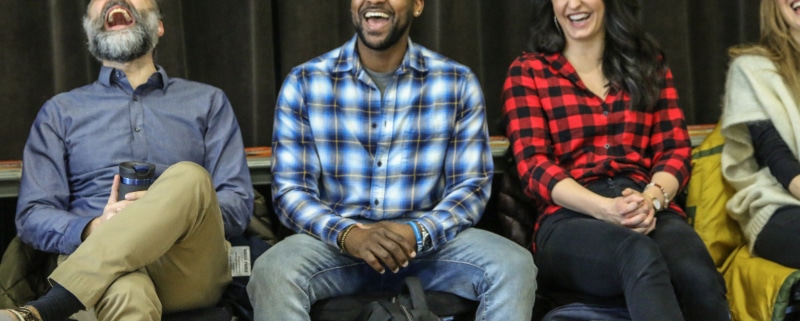 The truth hurts: What happens when you blow the whistle on your loved ones
World-premiere play explores what happens when a man decides he just doesn't want to lie anymore to anyone about anything
Acclaimed playwright Itamar Moses was working on a new play when he had a wild thought: How funny would it be if he wrote a character who walked into every single scene and just dropped a verbal grenade?
Think about it: "What if someone approached the most important people in his life and told them the one unspoken thing that no one is ever supposed to say, and no one ever wants to hear?" said Moses.
You know … the truth?
"That struck me as very funny and also very dramatic, like a high-wire moment," said Moses, winner of the most recent Tony Award for writing the book to the Broadway musical The Band's Visit. "It felt to me like firing a character out of a cannon and watching as the wind resistance from everything he encounters gradually pushes that cannonball back to earth."
The idea wasn't right for the play Moses was working on. It worked instead as the tantalizing premise for his new dark comedy, The Whistleblower, the DCPA Theatre Company's 134th world premiere in its 40-year history.
The play follows a screenwriter named Eli who has been able to carve out a reasonably stable career writing for television in Hollywood. In the opening scene, he realizes his dream when a studio exec gives him the green light to create his own TV drama called, yes, "The Whistleblower." It would be about a vagabond journalist who travels the globe infiltrating places of power to ferret out corruption. But before Eli even gets out of the pitch meeting, he starts to question why making this or any other TV show was ever his dream in the first place.
"Eli is coming into his late 30s, which is the age when you start to think, 'Well, I guess this is it. This is who I am and this is the life I have,'" said Moses, himself 41. "Now of course that's an illusion. It's never too late to make a change. But I think that physiologically and psychologically, all of the complacency and the tiredness and the responsibilities that you accumulate over your lifetime start to make it feel like it would be very hard to change. So Eli has this moment where he decides to change everything in his life as quickly as possible."
Armed with a new sense of spiritual clarity, Eli sets out on a quest to serve up some hard truths to co-workers, family, exes and friends. Not to tell them what's wrong with their lives, Moses said — although that's how some of the other characters interpret it. "I think what he sets out to do is something closer to just speaking his own truth," Moses said. "Essentially what he is saying is: 'I can't continue to participate in this relationship in the way I have been because there's some lie or compromise lurking inside of it. So I'm going to say what I have to say, and maybe that blows this relationship up completely. Or maybe it just means we have to change. But either way, I'm not going to continue allowing this unspoken lie to undergird this relationship.'"
When told the premise sounds a bit like a mashup of Jim Carrey's character in the film Liar Liar and Siddhartha, Moses said with a laugh: "That's not actually a terrible comparison."
The irony of Eli's quest is that he unconsciously sets out to do exactly in his life what he pitched for his proposed TV protagonist in the world: To expose the dishonesty that lurks just below the surface. And if that all sounds so very serious, DCPA Theatre Company Artistic Director Chris Coleman said, the play is also gut-bustingly funny.
"Itamar is an absolutely brilliant playwright and an exciting voice to have on the season," said Coleman, who first staged a Moses world premiere back in 2003, when Moses was an unknown playwright and Coleman was running Portland Center Stage. "This new play is a hilarious and thought-provoking spiritual journey. When Eli begins telling the truth about the relationships in his life, the people around him think he's lost his mind. But he comes to a place that I think is very hopeful at the end. When I first read it, I was absolutely knocked out."
Moses says what often makes a serious subject funny on a stage is simply speed.
"People say if you do tragedy fast enough it becomes comedy," he said with a laugh. "I could slow this play way down and make an entire play out of just about any of these encounters Eli has. But there's something about the speed and the matter-of-factness with which he goes about all of it that plays, I think, as comedy. As the play goes on, there are darker and sharper edges, and an underlying kind of despair. But I think, especially for a while, the play is wanting to be very, very funny."
Moses, who was also an Executive Story Editor on the landmark HBO series "Boardwalk Empire," is confident Denver audiences will one day soon see his breakout Broadway musical The Band's Visit, which recently announced its first national touring production. Based on the 2007 Israeli film of the same name, it's the story of a stranded Egyptian police orchestra that arrives by mistake in a small village in Israel's Negev Desert and are taken in by the locals.
In the meantime, The Whistleblower will be a featured presentation at this year's Colorado New Play Summit in February. While Moses has not yet seen the play fully staged before a live audience, he hopes they find The Whistleblower to be "fast, fun and, by the end, a moving and thought-provoking ride."
Asked what he hopes audiences walk away with after seeing the play, Moses couldn't resist blowing the comedy whistle:
"I want them to walk away with tickets to see it again," he said with a laugh.
John Moore was named one of the 12 most influential theater critics in the U.S. by American Theatre Magazine in 2011. He has since taken a groundbreaking position as the Denver Center's Senior Arts Journalist.
The Whistleblower
Written by: Itamar Moses, author of The Band's Visit, which received 10 2018 Tony Awards including Best Musical
Director: Oliver Butler (What the Constitution Means to Me?, New York Theatre Workshop; Thom Pan, Signature Theatre)
Dates: Feb. 8-March 10 (Opens Feb. 15)
Where: Space Theatre
Genre: Contemporary comic drama
Tickets: Call 303-894-4100 or
Photo gallery: The making of The Whistleblower
Go to our full photo gallery on the making of The Whistleblower
https://www.denvercenter.org/wp-content/uploads/2019/01/The-Whistleblower-cast-at-first-rehearsal.-Photo-by-John-Moore..jpg
534
800
John Moore
John Moore
2019-01-11 14:56:17
2019-01-14 16:26:12
The truth hurts: What happens when you blow the whistle on your loved ones