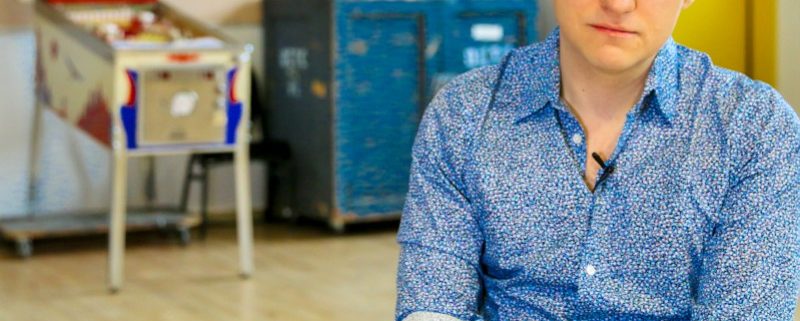 'Tommy': How The Who went from smashing guitars to blowing people's minds
Copy

Director Sam Buntrock says 50 years on, Tommy's true wizardry remains its emotionally authentic storytelling
By Sylvie Drake
For the DCPA NewsCenter
Remember The Who's Tommy? Remember when it played Denver's Buell Theatre in 1994? Maybe you were too young.
The show was very young then too, known mostly by hearsay or from the 1969 rock concept album on which it is based. It had made waves by elevating the life of a deaf, mute and blind boy whose prodigious talent at pinball makes him a celebrity. By applying what was then a lot of new technology to his fertile imagination, director Des McAnuff's 1992 transfer of that iconic album to the La Jolla Playhouse stage in San Diego took musical theatre to a whole new level of innovation.
At the time, The Who was a British rock group seeking broader recognition, so the album's breakthrough in London — and the rock opera created in La Jolla — became sensations. Rock operas were still uncommon. There had been Hair (1968) and Jesus Christ Superstar (1970), both huge, to say nothing of The Rocky Horror Show that exploded on several London stages in 1973 before spreading across the globe with its enduring popularity.
Tommy was different. Its La Jolla opening with its flashy tech effects, its combination of heartbreaking story and unrestrained flamboyance, was a big surprise. The tools were the same, but watching the astonishing fall and rise of a traumatized child on stage offered a deeper and deeply thrilling experience. The subsequent 1993 Broadway run set box-office records, and the show traveled to Denver the following year on the wings of great press and five Tony Awards.

(Pictured: Sam Buntrock with Andy Mientus (Tommy) on the first day of rehearsal in Denver. Photo by John Moore for the DCPA NewsCenter.)
Today's DCPA Theatre Company revival is a homegrown incarnation, with a live band and reinvented staging by director Sam Buntrock, whose Frankenstein at the DCPA and whose West End direction of Sunday In the Park With George scored high marks.
"I've never directed Tommy before," he said by email earlier this spring. "In the '60s, Townsend wrote the score to be performed in concert. In the '90s he worked with Des McAnuff to transform it into a big and brilliant stage musical. I suspect mine will be a more emotionally driven, intimate version of the show. I'm approaching that version through the lens of contemporary theatrical conventions.
"Audiences have become accustomed to simpler, more distilled storytelling, the sort whose thrills are precise and unexpected. With Tommy, I'm excited to stage a fantastical show that has, at its heart, a rich and emotionally authentic story."
Among the new ideas Buntrock brings to his staging is younger casting, including that of Andy Mientus (of TV's "Smash" and Deaf West Theatre's Spring Awakening) as Tommy.
"Of course, there are children written into the fabric of the show — 4-year-old and 10-year-old Tommy," Buntrock said. "These two are givens, though our 4-year-old may play a larger part than people expect.
"The only other child is a teenaged Kevin. The story spans some 20 years, and Kevin is one of the characters who features through most of the timeline. So if he interacts with 10-year-old Tommy, and then adult Tommy, it's powerful to see him grow up too. How that doubling works and what the payoff is, are both things conceived in service of creating a credible family on stage."
(Right: 'Tommy' artwork by DCPA Theatre Company Director Sam Buntrock.)
Pete Townshend, The Who's lead guitarist, composed most of the score for Tommy. He told Applause magazine in 1994 "that story is, in a sense, my life brought up-to-date. I didn't quite realize how autobiographical it was. Not just of me, but of the people around me at the time … everybody in the group. Not only was it an important step for us artistically, it also was the critical financial breakthrough for a group that, up to that point, had been known for wearing funny clothes and pop-art outfits and smashing guitars."
Almost 50 years on, the Tommy story, and especially its score, still resonate.
Four-year-old Tommy is thrown into a catatonic state after he witnesses a traumatic family event reflected in a mirror. It makes him instantly deaf, dumb and blind. This triple whammy brings him the wrong kinds of attention; he struggles through childhood, badgered and abused — until he discovers he has a freakish talent for winning at pinball.
In late adolescence, when he's accidentally present as his mother, in a moment of despair, smashes the same mirror that caused his catatonia, Tommy is magically healed. The revitalized pinball wizard becomes an international star before evolving into a sentient, responsive and compassionate human being. All this melodrama, married to its stunning musical score, results in a rock opera whose alchemy is practically addictive.
When asked if he agrees that what continues to make the show so gripping
is this melding of music, magic, mystery, mysticism and melodrama,
Buntrock demurred.
"Yes. In part. It remains so gripping because it is one of the greatest musical scores ever written," he said. "It's not faux musical theatre rock and roll, it's … rock and roll. All those 'm's are intrinsic to what Townshend was exploring when he wrote it.
"Ultimately," he added, "it's a deeply honest exploration of Townshend's own childhood. With Tommy, with his prone passivity, we have a hero we can all project ourselves upon. Yes, it's magnified and melodramatic, but it's rock and roll, so what do you expect? And despite this, I think it has something profound to say about our relationship to our childhood selves."
Theatre, being a primary champion of human understanding, often takes the lead in reversing secretive old-fashioned attitudes. Tommy is an example of art shining a light into the darkness and, in former theatre critic Frank Rich's words, "spreading catharsis like wildfire through the cheering house."
Sylvie Drake is a former theatre critic and columnist for the Los Angeles Times, a translator, a contributor to culturalweekly.com and American Theatre magazine, and a former Director of Media Relations and Publications for the Denver Center for the Performing Arts.
The cast of 'The Who's Tommy' at its first rehearsal in Denver. Photo by John Moore for the DCPA NewsCenter.
The Who's Tommy at the DCPA: Ticket information
Based on The Who's iconic 1969 rock concept album, Tommy is an exhilarating musical about the challenges of self-discovery and the resilience of the human spirit. When young Tommy retreats into a world of darkness and silence after a deeply traumatic incident, he must navigate a harsh and unforgiving world with no hope of recovery. But when he discovers a newfound talent for pinball, he's swept up in the fame and fortune of his success. Tommy and his family give new voice to The Who's classic stadium rock as they navigate the troubles and joys of being alive.
Presented by DCPA Theatre Company
Performances April 20-May 27
Jones Theatre, Denver Performing Arts Complex
Call 303-893-4100 or BUY ONLINE
Previous NewsCenter coverage of The Who's Tommy:


https://www.denvercenter.org/wp-content/uploads/2018/04/featured-image-5991.jpg
668
800
John Moore
John Moore
2018-04-16 18:05:00
2018-05-11 11:33:54
'Tommy': How The Who went from smashing guitars to blowing people's minds