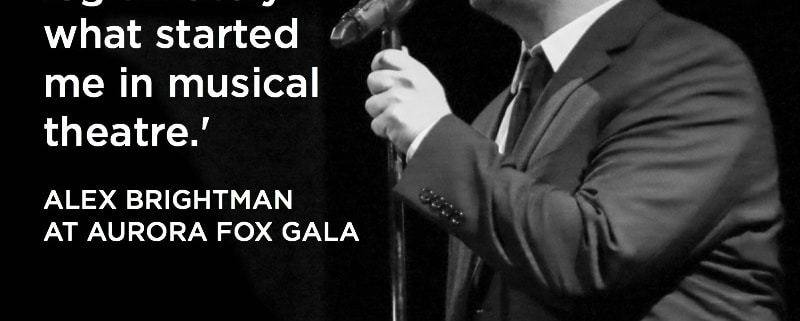 Photos, audio: Broadway's Alex Brightman sings praises of 'Tommy'
Here is a short audio excerpt from singing the beloved "My Fair Lady" ballad "On the Street Where You Live" — as a serial killer. Audio by John Moore.
At the Aurora Fox, Tony-nominated star of School of Rock, says it all began at 8 watching Michael Cerveris as Tommy
By John Moore
Senior Arts Journalist
Safe to say, if Alex Brightman doesn't see the Broadway production of The Who's Tommy when he was 8 years old, he does not go on to become a Broadway star, and he does not headline the Aurora Fox's annual gala last week.
"That is literally my favorite show of all time," Brightman told the DCPA NewsCenter last Saturday before delivering a 50-minute musical set for an audience celebrating the announcement of the Aurora Fox's upcoming 34th season. And, appropriately enough, the event raised about $34,000 for the cause.
Down the road, the DCPA Theatre Company was just beginning preview performances for a now-open staging of The Who's Tommy, and it was killing Brightman that he would not have the chance to see it.
Brightman, 31, loved The Who growing up in California. "But then I saw Michael Cerveris blow the roof down on Broadway in 1995, and that is legitimately what started me in musical theatre," he said. "I was saying to myself, 'Wait a minute. That can be a thing? That's what I want to do.'"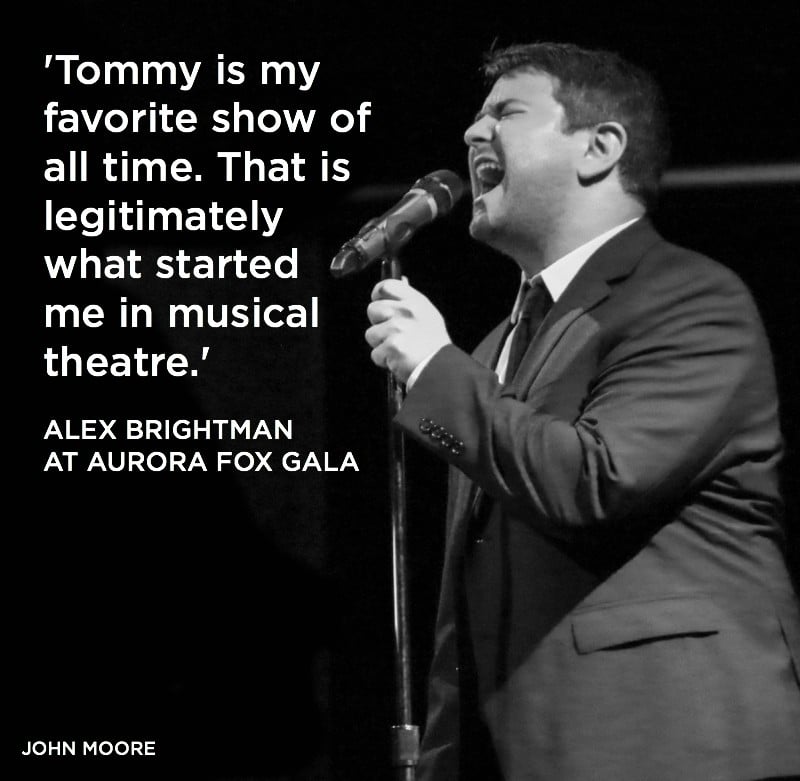 Brightman was well-aware of the new Denver Center production directed by Sam Buntrock, designed by Jason Sherwood and starring Andy Mientus. "It looks amazing," he said. "I saw one screenshot of that set and I said, 'This is glorious.' Plus, I love Andy."
Brightman, who was nominated for a Tony Award for originating the role of Dewey Finn in the Broadway adaptation of Andrew Lloyd Webber's School of Rock and will return to Broadway this fall starring in an as-yet unannounced new musical, knows how lucky he is. He tells a great story about how he got his first agent off a recommendation from Lin-Manuel Miranda, who dropped a dime after randomly seeing Brightman perform in a show. He is featured on two songs of a massive new, four-CD collection of Lloyd Webber songs along with the likes of Barbra Streisand, Lana Del Rey and Madonna.
"And now I'm friends with Michael Cerveris," he said. "We just sang together at a concert. I told him, 'I was at the stage door for Tommy when I was 8 years old, and you shook my hand and said, "Thanks for coming to my show." And now here we are onstage together.' And he told me, 'I'm not kidding you: 'I want to be Alex Brightman when I grow up.' And I choked up. I couldn't believe it."
Graduating from School of Rock
Brightman, whose Broadway credits also include Wicked, Matilda the Musical and Big Fish, has crossed paths with all sorts of Colorado-connected Broadway actors. In School of Rock, he starred opposite Sierra Boggess, who graduated from George Washington High School before the Denver-born The Little Mermaid launched her to international stardom (Love Never Dies, The Phantom of the Opera.) "I love Sierra," Brightman said. "She is one of the coolest people of all time. And she is coming to my wedding next month."
The first national touring production of School of Rock visits the Buell Theatre from May 29-June 10, with Rob Colletti starring in the role Brightman originated on Broadway. "I know the dude, and he's fabulous," Brightman said. "He's a great amalgam of a lot of the guys who came before him."
(Story continues below the photo gallery.)

Photo gallery: Aurora Fox gallery and Alex Brightman headlining concert:
Photos from the Aurora Fox's 2018 season-announcement gala on April 21, and Alex Brightman's headlining concert. To see more, click on the photo above to be taken to our full, downloadable Flickr gallery. Photos by John Moore for the DCPA NewsCenter.
Based on the hit Jack Black film, School of Rock follows a wannabe rock star who turns a class of straight-A students into grade-A rockers. The show features all new songs from Lloyd Webber, and is the first on Broadway to ever feature a live kids rock band.
"School of Rock is a pure family show," Brightman said. "That doesn't mean it's all smiles and rainbows. But everyone who is age 8 to 80 can find something in it — and thankfully, we have good source material that everybody loves."
Brightman still calls Lloyd Webber "The Boss," and he still laughs about the coincidence of his having the same last name as British songbird Sarah Brightman, who was Lloyd Webber's wife from 1984 to 1990. "We were in a Page 6 article!" Brightman said of the New York Post's gossip page. "People were sniffing around thinking I might be the hidden love child of Sarah Brightman and Andrew Lloyd Webber. I do fit the timeline. I totally could be. Maybe I am!"
He's not. Not even close. Alex Brightman (no relation, repeat: no relation) was born in 1987 to an American mother also named Brightman in Saratoga, Calif., who worked at a dialysis clinic. Still, Brightman and "The Boss" have enjoyed toying with the press' fascination with the name.
"When Andrew officially announced me for Broadway, it was a full press event the Grammercy Theatre. He said: 'Not only am I thrilled to say that Alex Brightman will be leading our show on Broadway, I am doubly exited to say that I have no intention whatsoever of marrying him!' I was backstage freaking out because the whole thing was just so insane."
From Sweeney Todd to 'Sweet Baby James'

Brightman was asked to headline the Aurora Fox gala by new Executive Producer Helen R. Murray, who previously directed him in a one-man play called How I Paid for College at The Hub Theatre in Virginia. "Helen is a great hire for this theatre," he said. "There is just something about her being in the room that makes everybody else want to step up and make things happen."
Brightman began his set by urging everyone in attendance to come back for the theatre's current production of Passing Strange, running through May 13. He had seen the show the night before.
"I loved the show on Broadway and was so thrilled to watch it re-created here in such a way that was different and interesting," he said. "If you haven't seen it, you need to re-prioritize your entire schedule just to see it."
He then launched into an eclectic set of mostly contemporary musical-theatre songs and pop standards that all had one thing in common. "These are songs that I like singing in the shower," he said. "Tonight, I'm just clothed."
Familiar tunes included Billy Joel's "I Love You Just the Way You Are" and James Taylor's "Sweet Baby James" along with Broadway standards "Johanna" from Sweeney Todd and "I Don't Care Much" from Cabaret. But mostly Brightman introduced the audience to up-and-coming young off-Broadway songwriters he likes.
The arguable highlight of the night was Brightman singing the beloved My Fair Lady ballad "On the Street Where You Live" — as a serial killer. He credited the idea to one of his vocal students. "When you think about it, you don't even have to change any of the lyrics," he said. (Click here to hear a short audio excerpt.)
Brightman spoke of his humbling, sorta Broadway debut in the ill-fated Glory Days, which in 2008 became the first Broadway musical in decades to open and close on the same day. The cast included Denver's Jesse JP Johnson, who did make his Broadway debut by virtue of 17 previews and an opening (and closing) performance. Brightman was the swing, so he never actually got to step on the stage. But things turned out OK for both of them — they both landed in Wicked, and away they went.
Brightman ended the evening by thanking the audience for indulging him in what he calls his compulsion to perform.
"This is all I have ever wanted do since as I was 8 years old, so thank you," he said.
John Moore was named one of the 12 most influential theater critics in the U.S. by American Theatre Magazine in 2011. He has since taken a groundbreaking position as the Denver Center's Senior Arts Journalist.
Set list: Alex Brightman performs at the Aurora Fox
"Scratch-Off" (about a guy who bought a lottery ticket)
"Johanna," from Sweeney Todd
"Hey Man, This Place is Beautiful"* (about a friend who moves to Alaska)
"Nothing New to Do in Brooklyn Anymore"*
"Just the Way You Are," by Billy Joel
"Perfect, finite," by Chris Miller, from the 2005 song cycle Songs from an Unmade Bed
"After All" from the Broadway musical Glory Day
"Lost Horizon" from the Michael Friedman musical Gone Missing
"On the Street Where You Live" from My Fair Lady
"C Major " by Adam Gwon
"I Don't Care Much," from Cabaret
"A Little Bit" from Crazy, Just Like Me, by Drew Gasparini
"Sweet Baby James" by James Taylor
*Unconfirmed titles
Aurora Fox 2018-19 mainstage season at a glance
Sept. 14-Oct. 14, 2018: Songs for a New World
Oct. 31, 2018: Killer Wigs from Outer Space
Nov. 23-Dec. 23, 2018: Twist Your Dickens
Jan. 18-Feb. 10, 2019: Hooded, or Being Black for Dummies
Feb. 22-March 17, 2019: Life Sucks
March 8 – March 24, 2019: The Happiest Place on Earth
April 5-May 12, 2019: Caroline or Change
Recent NewsCenter coverage of the Aurora Fox:
Aurora Fox ushers in daring new era with Caroline, Or Change
Passing Strange: Sheryl McCallum on the search for something more real than real
April theatre openings: Don't pass on Passing Strange
Colorado Fall Theatre Preview. Aurora Fox presents Hi-Hat Hattie
Colorado Fall Theatre Preview: Aurora Fox presents Company
Aurora Fox amping up musicals, diversity in 2017-18
Charles Packard leaving Aurora Fox after 19 years
https://www.denvercenter.org/wp-content/uploads/2018/05/featured-image-6964.jpg
781
800
John Moore, Senior Arts Journalist
John Moore, Senior Arts Journalist
2018-04-29 16:46:00
2018-08-20 10:08:20
Photos, audio: Broadway's Alex Brightman sings praises of 'Tommy'