William Dean Singleton on legacy, promises and a theatre named in his honor
The Ricketson Theatre will be renamed in honor of the DCPA Trustee and former Denver Post owner who says live theatre has helped in his ongoing battle with Multiple Sclerosis
When William Dean Singleton moved to Denver and bought The Denver Post in 1987, he was not a theatre guy. He was a newspaperman. But he soon learned from Donald R. Seawell that it was not only possible to be both — it was essential.
Seawell was the attorney who not only steered The Denver Post clear of a hostile takeover attempt in the late 1960s, he went on to create the Denver Center for the Performing Arts and build it into the largest performing-arts operation in the country.
The Post and The Denver Center have been intrinsically tied since the day Seawell mapped out its imagined existence at the corner of 14th and Curtis streets on the back of a scribbled envelope in 1972. Seawell started construction on DCPA facilities in 1974 with money from the Bonfils Foundation, which had been created in 1953 by Denver Post publisher Helen Bonfils to support her many philanthropic endeavors. After her death, Seawell used it to build much of what today makes up the Denver Performing Arts Complex.
"When I bought The Denver Post 31 years ago, Don Seawell immediately gave me a history lesson on the importance of DCPA," Singleton said. "I remember him saying, 'Young man, The Denver Post and the DCPA are family. And you have got to take as much care of this part of the family as you do the newspaper part of the family.' "
And so Singleton immediately set out to better understand and appreciate live theatre. From that day forward, the two titans met most every Friday afternoon for gin, tonic and gab about all things Denver Center — "its history, its present and where Don wanted it to go in the future," Singleton said.
Read more: Capital campaign envisions A Grander Opening for DCPA
Seawell presided over The Denver Post from 1966-81, after which he insisted there always should be a member of the newspaper team on the boards of both The Bonfils Foundation and the DCPA. In 2000, when Singleton took on the title of Denver Post publisher, he took a seat on both boards himself.
Seawell "ruled the Denver Center with an iron fist, right up to the end," Singleton said. But when Seawell celebrated his 103rd birthday in 2015, he knew the end was near. "Don asked me to promise him that after he was gone I would do my best to help watch over the DCPA and, in his words, 'Make sure it stays on its mission,' " Singleton said. "I promised him I would. And when Don died, I said to myself, 'All right: I have to keep that promise.' "
When the Denver Center recently announced the launch of "A Grander Opening," a capital campaign to fund the renovation of the Stage and Ricketson theatres; the overhaul of backstage and support areas; and the redesign of the Helen Bonfils Theatre Complex lobby; Singleton made a major, undisclosed gift. When The Ricketson Theatre reopens in 2021, it will be renamed The Singleton Theatre in recognition of his years of support. An informal public acknowledgement will be made at the Wednesday (September 26) performance of the DCPA Theatre Company's Vietgone.
To Singleton, he is simply keeping his promise to a friend.
"More than anything, it was giving Don assurance before he died that, 'We will take care of things when you're gone,' " Singleton said. "But it's not just that. I mean, I love this place. I really love it. I love the theatre. I love the trustees. I love the people we work with. I love the team. And so it's an easy commitment to keep."
DCPA Chairman Martin Semple said Singlton's gift underscores a decades-long relationship between Singleton, The Denver Post and the DCPA. "We appreciate his commitment to ensuring that we have world-class venues in which to produce world-class theatre for generations to come," he said.
A first and second calling
Singleton, 67, was born Aug. 1, 1951, in Graham, Texas, about 75 miles south of the Oklahoma border. He began his newspaper career at age 15 as a part-time reporter and bought his first newspaper at age 21. He built his company through the acquisition of newspapers and eventually amassed the nation's second-largest newspaper company, MediaNews Group Inc. He bought The Denver Post in 1987 from Times Mirror Inc., and then presided over an aggressive, 22-year battle for dominance in the Denver newspaper market, culminating in the closure of the Rocky Mountain News in 2009.
Singleton's focus, career trajectory and daily life fundamentally changed in 1990 when he was diagnosed with Multiple Sclerosis, after which he focused less on consolidating newsrooms and more on the quality of his newspapers. The Denver Post won five Pulitzer Prizes under Singleton's leadership. He retired in 2013 as chairman of MediaNews. He continued to hold a seat on The Post's editorial board until earlier this year, ending his association with the paper.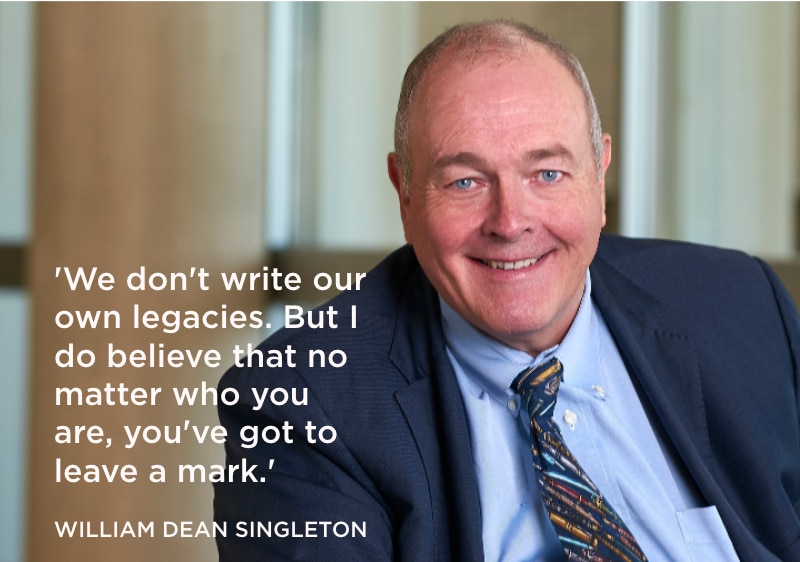 During all that time, Singleton helped raise millions of dollars in the fight against M.S. And he says live theatre has been a powerful weapon in his own battle with the disease, which attacks the central nervous system and disrupts the flow of information between the brain and the body.
"Theatre very often has a calming influence on people — I know it does on me," said Singleton. "I forget about all of my physical challenges when I sit in the theatre. I forget about having M.S. When you sit down in a theatre, your mind goes straight to what's on stage. Maybe that's why I go to the theatre so often. It makes me feel good when I go. It's part of the human spirit."
And Singleton is keenly aware that not everyone in the country has access to professional theatre and theatre education the caliber of the DCPA. Growing up in rural West Texas, Singleton never even saw a live theatre performance until he first visited New York as an adult.
Read more: Newman gift will re-name Conservatory Theatre for Randy Weeks
"Mayor [Michael B. Hancock] calls the DCPA the crown jewel of the city, and it is," Singleton said. "It's what makes us a great city."
When Singleton recruited executives to Denver, he'd start by showing them the sports venues. "We've got a team in every pro sport there is," he said. He showed them museums, parks and local landmarks. "I would show them everything we have to offer around town, but I would always end by taking them to DCPA," he said. "People are amazed that a city the size of Denver has this great asset. People don't really don't understand how grand it is until they see it."
Singleton has reached a point in his life when many people's thoughts might naturally turn to his legacy. Not Singleton. "We don't write our own legacies," he said. "Our legacies are written after we're gone. But I do believe that no matter who you are, you've got to leave a mark. That is your responsibility. I have lived the life I wanted to live, and my legacy will be what it will be. The newspaper business has been my life. It always has been and always will be. But my focus now is on the DCPA."
Singleton is less concerned with how he is remembered than by who remembers him. Namely his three children with wife Adrienne (William, Paige and Adam) and their grandchildren. "My 5-year-old grandchild just went through DCPA Education's theatre camp for the first time," Singleton said. "He came home so excited. He said to me: 'Papa, I'm going to be on the same stage as Mr. Scrooge.' "
He's referring to the DCPA Theatre Company's annual production of A Christmas Carol. "My grandkids have never missed a production of A Christmas Carol in their lives," he said. "It's a family tradition. We go on the first Saturday matinee after lunch. That's what you live for. You live for your kids and your grandkids and to watch them get excited. I mean, I got excited about theatre as an old guy. I love that they are getting excited about theatre early on in their lives.
"So yes, I am certainly proud that long after I am gone, my grandkids will get to go to a theatre named after their papa."
When it recently became unavoidably clear that, after 40 years, it was time for a major investment in the upkeep of the Denver Center's theatres, Singleton was the first to sit down with Mayor Hancock. "He told me, 'Look, I don't know how we'll do it, but we'll pay for half of the cost if you can raise the other half,' " Singleton said. "And I felt an obligation to help that process along with my own contribution.
"But it just feels right. Every time I go into the Seawell Ballroom, I have fond memories of Don. Now there will be The Wolf Theatre [formerly The Stage Theatre]. Judi Wolf is one of my dearest friends, and she was a very close friend of Don's as well. We are working together side-by-side as honorary co-chairs of the capital campaign, so it's kind of like coming full circle now that there will be a Seawell Ballroom and a Wolf Theatre and a Singleton Theatre side-by-side."
The Ricketson Theatre, originally a movie house named after a 1920s Denver movie mogul, is an intimate, 250-seat proscenium theatre that often serves as a testing ground for world-premiere plays. The current production of Vietgone, running through Sunday (September 30), tells the story of Vietnamese refugees who fall in love in an Arkansas relocation camp in 1975.
Singleton is particularly proud that the improvements will include a new elevator that will connect The Ricketson Theatre to the main lobby of the Helen Bonfils Theatre Complex. "I've been taking the freight elevator to get to that theatre for 15 years now," said Singleton, referring to the motorized scooter he uses to get around. "I'm looking forward not having to take that freight elevator ever again," he added with a laugh.
A new generation to follow
When Singleton says theatre has changed him, he means it. The DCPA has produced or presented more than 600 shows since he became a board member in 2000. But he does have one favorite production. And yes, it changed him.
"I saw the Theatre Company's production of The 12 six times," Singleton said of the 2015 world-premiere rock musical by Robert Schenkkan and Neil Berg. Why The 12?
"Because it's the story of Christ and the resurrection, which is important to me, and it was just so real," Singleton said. "The 12 captured the lives of the 12 disciples in the three days between the crucifixion and the resurrection. It captured the doubts they were feeling and their excitement after the resurrection and it did it in such a perfect way. It tells the story about the doubts we all have — only to find out how good life really is."
John Moore was named one of the 12 most influential theater critics in the U.S by American Theatre Magazine in 2011. He has since taken a groundbreaking position as the Denver Center's Senior Arts Journalist.
Video: Animated tour of new theatres:
William Dean Singleton: Newspaper highlights
Singleton co-founded MediaNews Group Inc. in 1983 and built it into the nation's second-largest newspaper company, including the San Jose Mercury News, the St. Paul Pioneer Press, The Detroit News and The Salt Lake City Tribune.
Singleton and late partner Richard Scudder bought The Denver Post in 1987 from Times Mirror Inc.
Singleton spearheaded a historic merging of the business operations of the Rocky Mountain News (owned by Cincinnati-based E.W. Scripps Co.) and The Denver Post in 2000, essentially extending the life of The News by nine years.
Singleton stepped down as CEO of MediaNews Group in 2011 but continued on as chairman and as publisher of The Denver Post until November 2013, when he retired.
Singleton served on the board of the Newspaper Association of America from 1993 until 2004 and was chairman of the group in 2002 and 2003.
Singleton was chairman of The Associated Press board of directors from 2007 until 2012.
Singleton serves on the boards of the Rocky Mountain Multiple Sclerosis Center, The Helen G. Bonfils Foundation, The Denver Center for the Performing Arts, Jazz Aspen Snowmass, Colorado State University Board of Governors, Denver Post Community Foundation and eTown. He previously was a board member of the National Sports Center for the Disabled, the Winter Park Recreational Association and the University of Denver.
How to contribute to A Grander Opening
To contribute to A Grander Opening, please contact Janice Sinden at GranderOpening@dcpa.org or 303-893-4000. For ongoing updates and opportunities, please visit denvercenter.org/GranderOpening and follow #GranderOpening on social media.
https://www.denvercenter.org/wp-content/uploads/2018/09/Dean-Singleton-featured.jpg
2247
3380
John Moore
John Moore
2018-09-24 17:49:25
2021-09-22 17:46:32
William Dean Singleton on legacy, promises and a theatre named in his honor