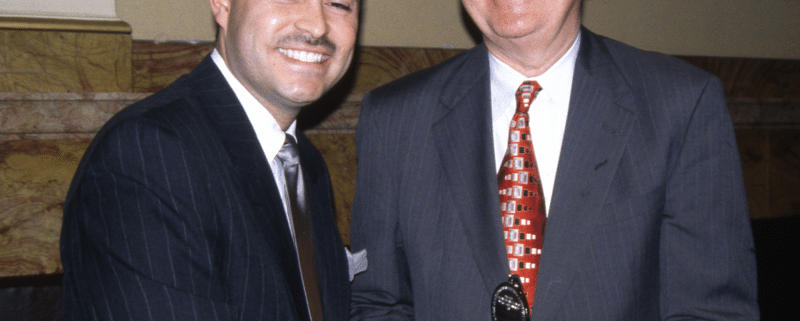 Lester Ward: Remembering the Former DCPA President, COO and Trustee
On Thursday, October 21, former DCPA President, COO and Trustee Lester Ward passed away. While our lights are dimmed, our appreciation for his 46-years of service will continue to be heard in every round of applause for decades to come.
In 1965, there was a heated skirmish for control of The Denver Post. Then-Publisher, Donald R. Seawell, tapped Pueblo native and attorney Lester Ward to help with the hostile takeover attempt.
Ultimately triumphant, Seawell eventually sold the Post, placing the proceeds into the Helen G. Bonfils Foundation.
In time, Seawell directed funds from the Foundation to help create downtown's Arts Complex and its theatrical resident company, the Denver Center for the Performing Arts (DCPA).
But he didn't do that alone. Instead, he once again sought out the assistance of Ward who was not only instrumental in the inception, planning and development of the four-block, 12-acre site but, perhaps more importantly, helped create Denver's first resident, professional theatre — Denver Center Theatre Company.
"Don was rather amazed at the level of opposition there was," Ward said in a 2017 interview with the NewsCenter upon his retirement from the DCPA Board of Trustees. "And in fact, that was one of the reasons he wanted some help from me. But once Don decided on a course of action, that course of action was carried out, and carried out vigorously. And thank goodness. Just look what Don's vision has meant for life in downtown Denver."
Lester began as the DCPA's attorney in 1972, joined the Board in 1986, and was named the organization's first President & COO in 1989. Current DCPA Chairman Martin Semple was there when the announcement was made: "Don Seawell described Lester that day as the most intelligent, the most conscientious and the most civic-minded person he knew," Semple said. "We believe that, because we have seen that."
Working alongside Seawell, Lester led the organization through its formative years. Early on, they brokered a partnership between the DCPA and local Broadway presenter Bob Garner, which set the organization apart from most of its peers in the country. To this day, only a handful of non-profit theatre organizations have both a Broadway touring arm and a local theatre producer. Their foresight ultimately established the DCPA as one of the nation's largest non-profit theatre organizations.
"There is no question that the DCPA's breadth of theatrical offerings is one of its greatest strengths, and also makes it quite unique in the field," said John Ekeberg, Executive Director of DCPA Broadway & Cabaret. "Lester's leadership and support in growing and strengthening the organization continues to be felt each and every day, and I am grateful to him for that."
Lester also was instrumental in the DCPA's expansion into arts education. "The DCPA had virtually no education program until Lester came on board," Semple said. In 1984, he helped create the National Theatre Conservatory, a three-year graduate acting program that continued until it was closed in 2012.
This commitment to igniting a love and appreciation for the art form was expanded in 1992 when the DCPA opened its Denver Center Theatre Academy, which continues to provide on-site classes, in-school workshops, class fieldtrips and community engagement opportunities. To date thanks to Ward's vision, nearly 3,000,000 students have been introduced to live theatre.
"Lester had a smile and kind presence that filled the room," said Allison Watrous, Executive Director of DCPA Education. "He led with his heart. He made it possible for so many students and our community to experience theatre and the power of theatre education. Lester was instrumental in my own journey as an NTC student and theatre educator. I am forever grateful for his generosity, vision and artistry. It truly changed my life."
But perhaps the biggest impact that Lester's leadership had on the American Theatre was the creation of the DCPA's new play program. What started in 1984 as Prima Facie has now become the nationally acclaimed Colorado New Play Summit. In its 43-year history, the DCPA Theatre Company has held public readings of 187 scripts in development and produced 152 all-new, never-before-seen world premiere plays and musicals, including Quilters, Black Elk Speaks, Tantalus and The Laramie Project. This commitment to new play development ultimately led the Company to be recognized with the 1998 Tony Award for Outstanding Regional Theatre.
"Wisdom teaches us that organizations, good and bad, get their cues from the top. They reflect the leadership," said Sylvie Drake, former DCPA Director of Media Relations & Publications. "It was no accident that during those giddy, formative years when Seawell, Ward and [Artistic Director Donovan Marley] were engaged in pursuing a growing commitment to excellence, the Theatre Company was awarded the 1998 Regional Tony."
After stepping down as President & COO in 2004, Ward remained an active participant at the DCPA. He continued to serve on both the DCPA's Board of Trustees and as President of the Board of the Helen G. Bonfils Foundation.
Ward considered his oversight of the Foundation one of his greatest accomplishments. Once cited as one of the largest performing arts foundations in the country, the Bonfils Foundation was significantly reduced when, in 1995, it borrowed $37 million in bonds and $13 million in interest to pay for capital improvements. Under Ward's care, the Foundation was debt-free as of December 2016.
"Lester's 46 years of service to the DCPA and our greater metro Denver community were instrumental in helping to shift Denver's image from a 'Cow Town' to a cultural destination," said DCPA President & CEO Janice Sinden. "It is thanks to Seawell's vision paired with Lester's leadership that Denver has been selected to debut Broadway-bound productions and national touring premieres, attract nationally renowned playwrights, educate nearly 150,000 students each year and welcome more than 940,000 guests annually.
"Lester's stewardship has established a firm foundation to support the DCPA now and for seasons to come. Our hearts are heavy with his passing, but our future — thanks to Lester's exemplary leadership — is bright."
Lester is survived by his wife of 57 years, Ros; their three children, Ann Marie, Alison Kay and Lester III, and four grandchildren. The family is planning a private family service.
https://www.denvercenter.org/wp-content/uploads/2021/10/1998-Tony-Award-State-Representative-Nolbert-Chavez-Lester-Ward.png
641
800
DCPA Press
DCPA Press
2021-10-26 12:02:18
2021-11-30 12:21:21
Lester Ward: Remembering the Former DCPA President, COO and Trustee