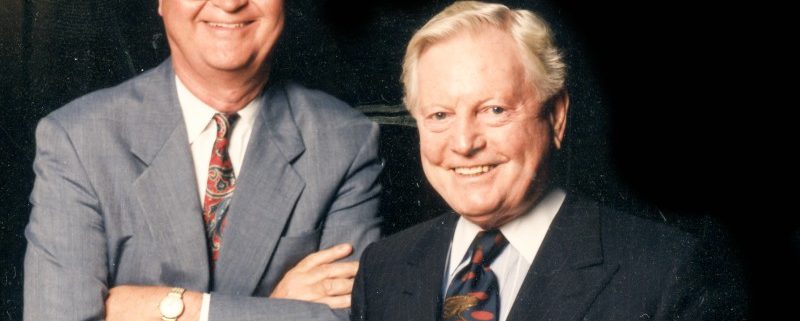 Lester Ward retires: 'There were really no dark days'

The retiring Lester Ward, left, stood — literally — as Donald R. Seawell's right-hand man all the way back to the founding of the Denver Center in 1972. And before.
The DCPA's modest former president and longest-serving trustee officially retired last month after 46 years of service
By John Moore
Senior Arts Journalist
If the late Donald R. Seawell was the dapper, larger-than-life showman who commanded the spotlight for decades as the founder of the Denver Center for the Performing Arts, attorney Lester Ward was more the genial and contented partner quietly applauding from the wings.
But make no mistake, Seawell said in 2004: "Lester Ward has been an integral part of the DCPA since its inception."
Ward's 46-year history with the DCPA is in many ways the history of the DCPA itself. And despite wild fluctuations in the economy and seemingly constant turmoil in the outside world, Ward now says with utter sincerity: "There were really no dark days" at the DCPA … "because I thoroughly enjoyed every day I spent here."
Ward, 87, officially retired last month as the DCPA's longest-serving board member, dating back to his appointment in 1986. Three years later, he was named the DCPA's first-ever president and Chief Operating Officer — positions he held until his partial retirement in 2004.
But Ward's association with Seawell dates back to the mid-1960s, long before the famed theatre impresario dreamed up the 12-acre Denver Performing Arts Complex at the corner of 14th and Curtis streets on the back of a paper napkin. For decades, Ward stood in lockstep with Seawell as the newspaper magnate and confidant of prime ministers and Broadway stars grew the Denver Center for the Performing Arts into a world-class arts center out of what had been one of the sketchiest parts of downtown Denver.
But Seawell's vision was not universally shared by all of Denver. Not at first.
"Don was rather amazed at the level of opposition there was," Ward said. "And in fact, that was one of the reasons he wanted some help from me. But once Don decided on a course of action, that course of action was carried out, and carried out vigorously. And thank goodness. Just look what Don's vision has meant for life in downtown Denver."
Audiences slowly came around. By 1998, the DCPA Theatre Company won the American Theatre Wing's Tony Award as the nation's Outstanding Regional Theatre. And so, two decades later, at Ward's final board meeting on Dec. 5, DCPA Board Chairman Martin Semple and CEO Janice Sinden presented Ward with his own, personal replica of that award.
"It's for Outstanding Performance as a Leader and Longstanding Supporter of the DCPA," Semple said while presenting the award. (Photo above by Julie Schumaker.)
Ward, Semple added, "was a key figure in the most glorious days of the DCPA and how it has developed over the years."
Ward, a modest Pueblo native, served Seawell as the DCPA's attorney from its inception in 1972. They had met in 1965, when Ward was called in to help Denver Post editor Palmer Hoyt fight off a hostile takeover attempt. The newspaper's longtime publisher at that time was heiress Helen Bonfils, and Seawell was her attorney and business partner until her death in 1972.
"And then Don came up with the marvelous idea of the Denver Center for the Performing Arts," Ward said.
Ward helped Seawell create the DCPA Theatre Company and open the Helen Bonfils Theatre Complex in 1979. From there, he had a hand in every significant development in the Denver Center's growth and evolution. In 1984, for example, Ward facilitated the conversion of Seawell's American National Theatre and Academy in New York into the DCPA's on-site National Theatre Conservatory, a three-year masters program that included an apprenticeship with the DCPA Theatre Company through 2012.
"The DCPA had virtually no education program until Lester came on board," Semple said of a division that has since grown to serve 106,000 students a year.
Ward and Seawell were key players in the 1988 creation of the Scientific and Cultural Facilities District, a voter-approved penny retail tax on every $10 that today infuses more than $50 million a year into metro-area arts organizations.
Calling Mr. President …
Seawell created the title of DCPA President and Chief Operating Officer for Ward in 1989. The job called for Ward to be in charge of all financial and administrative oversight of the DCPA while Seawell took charge of policy, fundraising and artistic direction.
At the time, Ward still was living with wife Rosalind (pictured above) in their native Pueblo, where he had been a partner in his own law firm for 31 years. But the timing for a move to Denver was perfect. "The youngest of our three children was graduating high school and we were going to be empty nesters. So we thought, 'You know what? That sounds like a most enjoyable second career,' " said Ward, who was 57 at the time. "It was a major decision, but we have had no regrets. I have been the luckiest guy in the world, with two wonderful careers."
But little did Ward know then that his second career would occupy his next 29 years.
(Story continues below the photo gallery)

Photo gallery: Lester Ward through the years
Photos above from Lester Ward's 46 years with the Denver Center for the Performing Arts. Click anywhere on the image above to be taken to a full gallery. Photos from Ward's final board meeting on Dec. 5 by John Moore for the DCPA NewsCenter.
Under Ward's presidency, the Denver Center's annual budget has grown from $13 million to $57 million. Ward supervised the creation of the DCPA's National Center for Voice and Speech and the building of the Seawell Ballroom in the early 1990s. He worked with the city to open the Buell Theatre in 1990 as a home for Broadway touring productions. The inaugural visit, from The Phantom of the Opera, drew audiences from 40 states.
In 2000, Time Magazine listed DCPA Theatre Company world premieres of The Laramie Project and Tantalus as both among the 10 best theatre productions in the United States that year. Tantalus was an epic, 10-play co-production with the Royal Shakespeare Company that the Bonfils Foundation supported with about $12 million. "Nothing in the theater has come along like this in 2,500 years, and it probably won't ever happen again," he later said. RSC artistic director Adrian Noble called the collaboration "an extraordinary, landmark event in world culture."
In 2002, Ward helped the late DCPA Broadway Executive Director Randy Weeks land the launch of Disney's The Lion King's first national tour for Denver.
In 2004, Seawell, who was then 92, and Ward, who was 75, decided to step down from their primary positions to make way for new blood. In Seawell's case, that meant new CEO Daniel Ritchie — who was a spry, 73-year-old mountain climber. Ward was succeeded by Weeks, who died in 2014. Seawell and Ward both stayed on as board members, and in 2007, Ritchie persuaded Ward to become president of the Bonfils Foundation — a fund that began as Helen Bonfils' assets from owning The Denver Post and were used by Seawell to build the DCPA.
But since 2001, the fund's investment portfolio has diminished from $82 million in cash, investments and real estate to about $35 million today, Ward said. That's largely because in 1995, the Bonfils Foundation borrowed — and has since been repaying — $37 million in bonds and $13 million in interest to pay for building expansions and capital improvements.
Of all of Ward's accomplishments, he said, the most lasting may be the least publicly known: As of December, the Bonfils Foundation — and by extension, the Denver Center — are now debt-free, he said.
"I made the decision to step down in December because that was the month we paid off those bonds," Ward said of the Foundation's ongoing payments of between $1.5 million and $2 million per year.
"I can say that the Denver Center is in terrific financial shape," Ward said, "and I am so excited for its future."
Regrets? He has a few: Seawell, Ward and Semple stood nearly alone when the board voted to close the National Center for Voice and Speech, and later, the National Theatre Conservatory, for financial reasons. "Those were programs that gave us national standing — and that meant something," Ward said.
But Ward considers among his greatest accomplishments the gradual but now total demolition of the persistent cliché of Denver as being some sort of a cultural cowtown. Mostly because the agrarian in Ward believes the comparison to be an insult to cows.
"It's absolutely a wrong perception to think that because you're interested in livestock or agriculture or sports that you're not also interested in theatre, dance or the symphony," Ward said in a 1992 interview with the Intermountain Jewish News. "Colorado has an incredibly diverse array of lifestyles, and I think this community is as sophisticated as you will find anywhere in the country."
As he reflects on that matter today, Ward adds: "I think I am most proud of the way the Rocky Mountain community has adopted theatre into their lives. The theatre that we have both made here at the Denver Center and also presented from Broadway have absolutely made Denver a national focal point for theatre."
(Pictured right: Lester Ward with the very first Scientific and Cultural Facilities payout to the Denver Center, for nearly $500,000 in 1989.)
'Denver is now the greatest city …'
Ward is stepping back for a final time, he says with a laugh, during a period of continuing change at the Denver Center. Within the past two years, the executive team has added a new CEO (Janice Sinden), Board President (Martin Semple) Vice President of Technology (Yovani Pina), Theatre Company Artistic Director (Chris Coleman), Vice President of Marketing (Lisa Mallory) and is currently searching for a Director of Development. But Ward sees nothing but blue skies — and high-quality theatre — ahead.
"I absolutely feel things are going in the right direction," said Ward, who calls Sinden "a breath of fresh air" as CEO and says Coleman will be a "top-notch" Artistic Director.
Like Ward, Semple has been around since the very beginning of the DCPA, and Semple was in the room when Seawell introduced Ward as president back in 1989.
"Don Seawell described Lester that day as the most intelligent, the most conscientious and the most civic-minded person he knew," Semple said. "We believe that, because we have seen that."
At the final board meeting last month, DCPA trustees voted to designate both Ward and Margot Frank, who also is retiring after 17 years of service, as honorary trustees. The motion passed unanimously. Attorney Robert Slosky pointed out that Frank's license plate is a shortened version of the word FUNDRAISER. "The T is silent," Slosky said, "but Margot is not."
Ward is feeling good about stepping aside now. "I am just as pleased as I can be," he said. "Denver is now the greatest city in the country in my opinion, and it has been a privilege for me to be involved with that."
John Moore was named one of the 12 most influential theater critics in the U.S. by American Theatre Magazine in 2011. He has since taken a groundbreaking position as the Denver Center's Senior Arts Journalist.
Lester Ward: Four favorites
For all of his attention to the bottom line, former DCPA President Lester Ward is quick to point out that the sole purpose for the DCPA's existence is "to make people aware of what a wonderful force live theatre is in our lives. How it helps people to see the world and understand issues of every kind." To that end, we asked Ward to name four personal favorite Denver Center offerings over the years:
St. Joan, Theatre Company, 1989
Wit, Theatre Company, 2001
Julius Caesar, Theatre Company, 1992
Mamma Mia (six Denver stops between 2003-17, pictured at right)

Lester Ward: Highlights
Hometown: Pueblo
Graduated from Pueblo Central High School, Harvard College and Harvard Law School
Wife: Rosalind, 53 years
Children: Ann Marie, Alison Kay and Lester III. Four grandchildren. Niece Elizabeth Ward Land is a Broadway actor, most recently in Amazing Grace
Served in the U.S. Army, 1955-57
Partner at the private law firm of Predovich, Ward and Banner, 1957-89
Named Outstanding Young Man of 1964 by the Pueblo Jaycees
Appointed by Governor Dick Lamm to serve on the Colorado Commission on the Bicentennial of the U.S. Constitution, 1975
President of the Colorado Bar Association, 1983-84
Named to the DCPA Board of Trustees, 1986
Named President and Chief Operating Officer of the DCPA on July 1, 1989
Chair of the Performing Arts Center Consortium, consisting of 27 major performing-arts centers in the U.S., Canada and Australia, 2001-02
President of the Helen G. Bonfils Foundation, 2007-16
Boards and charities including: Pueblo Kiwanis Club, Sangre de Cristo Arts and Conference Center, Pueblo Public Library, St. Mary Corwin Hospital, Thatcher Foundation, Denver Center for the Performing Arts, Denver Metro Chamber of Commerce, Colorado Lawyers for the Arts
https://www.denvercenter.org/wp-content/uploads/2018/04/featured-image-5882.jpg
606
800
John Moore
John Moore
2018-02-01 01:28:00
2018-02-01 01:28:00
Lester Ward retires: 'There were really no dark days'