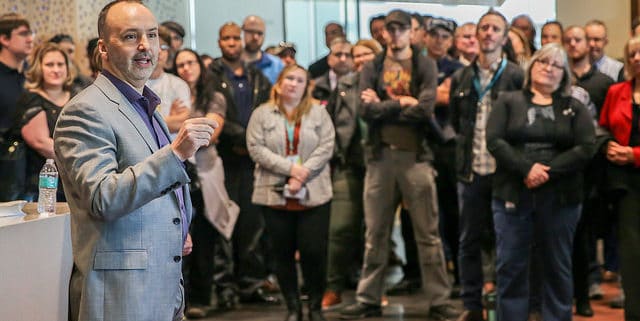 Chris Coleman promises a DCPA Theatre Company that's robust and resonant

Photos from today's announcement of Chris Coleman as just the fourth Artistic Director in the nearly 40-year history of the DCPA Theatre Company. To see more, click on the image above to be taken to our full Flickr gallery. Photos by John Moore for the DCPA NewsCenter.
The longtime Portland leader champions a range of voices from George Bernard Shaw to Lauren Gunderson, who says: 'Denver is so lucky to get him.'
By John Moore
Senior Arts Journalist
When the Managing Director at Portland Center Stage learned that longtime Artistic Director Chris Coleman was being hired away by the DCPA Theatre Company, she shook her head and said, "Denver, I hope you know you just won the lottery."
"Chris Coleman is not only a gifted theater artist, he's one of the best community connectors I've ever worked with," a resigned Cynthia Fuhrman added from Portland. "That is a rare combination."
Coleman was introduced this morning as only the fourth Artistic Director in the nearly 40-year history of the DCPA Theatre Company. For the past 17 years, the Atlanta native has led a company with many of the same sensibilities as his new one. Portland Center Stage offers up to 12 offerings each season ranging from classics to contemporary works to homegrown musicals on two stages while also hosting an annual new-play festival, education programs and an array of community events. All of which sounds a lot like the mission of the DCPA Theatre Company. With one big difference: Twice as many performance spaces, and more financial resources.
"There is not another theatre in the country with the same administrative and physical infrastructure inside one organization," said Coleman, who also will oversee the company's burgeoning line of Off-Center programming — the kind that takes place in non-traditional performance spaces ranging fro the Stanley Marketplace to the streets of Denver.
Asked to name one dream offering that might help elucidate his artistic sensibilities, Coleman mulled the possibilities before offering this tantalizing prospect: "One of my fantasies would be to go back to the beginnings of the company and remount The Caucasian Chalk Circle — and engage DeVotchKa to write a score for it," he said. "I just think that would be so cool."
Coleman clearly has studied up on his Denver Center history. The Theatre Company launched on New Year's Eve 1979 with Bertolt Brecht's modernist masterpiece, starring Tyne Daly. And just last year, Colorado's own Grammy-nominated gypsy-punk band DeVotchKa not only experimented with Stephen Sondheim's beloved Sweeney Todd score, but the band members got their necks at every performance.

Coleman lists Brecht as among his favorite playwrights — and it is a wildly eclectic list that includes William Shakespeare, Luis Alfaro, Lynn Nottage, Paula Vogel and the playwright Coleman has directed more than any other: George Bernard Shaw. Under Coleman, 52 of the new plays Center Stage helped in their gestation have been performed at 115 theatres around the country. One he is most proud of is Dan O'Brien's Body of an American, about how a photograph of an American soldier being dragged through the streets of Mogadishu haunted the photographer who took it. (It is currently being presented by Denver's Curious Theatre).
Among the many rising playwrights Coleman has nurtured along their paths are Matthew Lopez and Lauren Yee, whose latest plays Zoey's Perfect Wedding and The Great Leap, respectively, are coming up soon on the Theatre Company's current season.
(Pictured above and right: Shawn King of DeVotchka in 'Sweeney Todd' in 2016. Photo by John Moore.)
In announcing the appointment, DCPA President and CEO Janice Sinden cited Coleman's "commitment to artistic excellence, community engagement, new-play development, crowd-pleasing musicals and discovery of new voices" — all of which she said will resonate throughout the region, and will further the DCPA's efforts to diversify its audience. Coleman said his priorities also include local storytelling, giving voice to underserved communities and building a robust collaboration with the DCPA's Education division.
"I am super-interested in figuring out how we put the most resonant work on stage we can," Coleman said. "And by that I don't necessarily think every play has to be topical to be resonant. I mean work that really lands emotionally for people. So much so that audiences feel compelled to reach out and let us know that we affected them, and that the work has stayed with them."
(Pictured at right: New Theatre Company Artistic Director Chris Coleman with his husband, Rodney Hicks, at today's announcement. Photo by John Moore for the DCPA NewsCenter.)
Coleman says he is not only a fan of the Theatre Company's annual Colorado New Play Summit, one of the signature programs launched by his predecessor, Kent Thompson, he sees it as the company's greatest drawing card, along with the $1.4 million Women's Voices Fund, which supports plays written and directed by women. "I am eager to connect great artists with the larger conversation Denver is having about its future right now," he said. "I am interested in telling big stories — both from cultures that haven't found their way onto our stages yet, and those that are waiting to burst out of the mind of the young playwright down the street.
"I don't think there is any reason we shouldn't be one of the top institutions for producing new work in the country."
'He sure can pick 'em'
At Portland Center Stage's 2002 equivalent of the Colorado New Play Summit, Coleman had a hunch about a submission from a budding 18-year-old playwright. So he took the extraordinary step of giving the young woman a featured slot in the festival alongside, among others, a comparatively grizzled 25-year-old named Itamar Moses. His latest play, The Band's Visit, opened on Broadway just this past Thursday.
The teenager's play was called Parts They Call Deep, about three Southern women in a Winnebago. Now for the kicker: The playwright was Lauren Gunderson, who, fast-forward 14 years, wrote the Denver Center's red-hot world-premiere The Book of Will and is now the most-produced playwright in America for the second year running. "It has been amazing to watch her rise," Coleman said.
"Yeah, he sure can pick 'em," Gunderson said with a laugh.
Gunderson calls Coleman a mentor who helped her to visualize a possible life in the theatre for herself – when she was 12. Her hometown is also Atlanta, where in 1988 Coleman founded Actor's Express, dubbed Atlanta's "gutsiest and most vital theatre."
In those tender years, Gunderson fancied herself an actor, and she was cast as the kid in two mainstage productions there — The Philadelphia Story and Approaching Zanzibar — and she absorbed everything. "That's the first time I realized that people actually sit down and write plays," Gunderson said. "By just watching Chris, I started to see all of these other avenues for a life in the theatre for me."
Coleman, whose family's Atlanta roots go back to 1804 ("But we were poor dirt farmers," he says), was a bit of a star of the stage himself in those days. How big of a fan was Gunderson of his work? "My 14th birthday party was taking my girlfriends to see Chris Coleman play Hamlet," she said. "I loved it, and I will never forget it."
While at Portland, Coleman also produced or directed plays by Sophocles, Molière, Anton Chekhov, Edward Albee, August Wilson, Tennessee Williams, Ntozake Shange, Dael Orlandersmith, David Henry Hwang, John Patrick Shanley, Naomi Wallace, Sam Shepard, Douglas Carter Beane, Martin McDonaugh and Amy Freed — among others.
"He just has such a knack for championing a remarkably wide variety of voices in the new-play world," Gunderson said. "I think that's because he has such a variety of experiences himself as a director, playwright, actor and artistic leader. What makes him a genius is that he knows every aspect of the creation of art first-hand. He has nonstop incredible ideas."
Coleman is something of a renaissance man. Before he leaves Portland, he will direct a two-part epic he adapted himself called Astoria, featuring a cast of 16. Based on the best-selling book by Peter Stark, it tells of the harrowing but little-known journeys west undertaken by President Thomas Jefferson and millionaire John Jacob Astor that served as turning points in the conquest of the North American continent. It's a story Coleman imagines might be of interest to Denver Center audiences because it taps directly into the spirit of the west.
(Pictured at above and right: Chris Coleman with husband Rodney Hickst o his right and, to his left: DCPA President and CEO Janice Sinden, and Chairman Martin Semple. Photo by Brittany Gutierrez for the DCPA NewsCenter.)

But his acting days are likely behind him, he says. These days, he is far more interested in ballot measures and fundraising and other administrative duties (he swears). He led the design and construction of Portland Center Stage's new home in the 122-year-old Historic Portland Armory. That experience will be critical as the DCPA prepares to renovate both its Stage and Ricketson theatres within the next four years.
Under Coleman, who earned his BFA from Baylor University and his MFA from Carnegie Mellon University, annual attendance at Portland Center Stage increased from 77,000 to 139,000. The average age of the audience dropped from 64 to 48. The company brings in about 7,600 students a year to see its plays.
Coleman will direct his two-part adaptation of Astoria, followed by Major Barbara at Portland Center Stage before moving to Denver with his husband, Rodney Hicks, in May. In the meantime, he will work with DCPA Managing Director Charles Varin and Associate Artistic Directors Nataki Garrett and Charlie Miller to finalize the 2018-19 season selection.
"I just think he is a great voice for the American theatre as a whole, and I can't wait to see what he does to continue Kent's legacy," Gunderson, said. "Oh my God, Denver is so lucky to get him."
Video above: A 2015 interview with Portland Center Stage Artistic Director Chris Coleman.
7 QUICK QUESTIONS WITH CHRIS COLEMAN:
Hey, we already know your husband here in Denver: Rodney Hicks played bad-boy Edmund here in Kent Thompson's 2007 production of King Lear. He was in the original Broadway cast of Rent and Come from Away. Is it safe to say he will be an active member of our acting community? It is not safe to say that. Rodney is totally excited about coming to Denver, and he wants to figure out what engaging with the artistic community here might look like for him. But his focus right now is primarily on film and television and his budding writing career. Rodney had a big career before we met, and there's every reason to believe he will have a big career for the rest of his life. So while I think you will see him around Denver a lot, I am not sure you are ever going to see him onstage at the Denver Center.

Pictured above right: Rodney Hicks as Edmund and Markus Potter as Edgar in the DCPA Theatre Company's 2007 production of 'King Lear.' Photo by Terry Shapiro.)
What was your introduction to theatre as a kid? It was my mom, who was trained as an actor. She started a drama ministry at our Southern Baptist church in the 1970s. So literally from the time I can remember, I was dragging angel wings around or operating a dimmer board or giving the actors their lines. So it's always been a part of my life. During my senior year in high school, it became clear that's what I wanted to pursue. And when I got to Baylor University I very quickly realized, 'This is what I want to do. This is the room I want to be in. This is my tribe of people.'
How do you plan to move the dial when it comes to the national problem of equity, diversity and inclusion in the American theatre? As a gay man, I am on the bandwagon. I absolutely agree with the movement, and I believe it is high time for there to be opportunities for lots of different kinds of people in leadership roles. And I think there is a lot that any artistic leader can do to make positive changes, no matter that leader's gender and skin color. You would be hard-pressed to find anyone who is more passionate and committed to move us forward on that front. That certainly was the case in Portland, and I expect that only to increase in Denver.
You may have heard that Denver Center audiences are passionate about their Shakespeare. Will there be a continuing commitment to Shakespeare? And if so — what kind of Shakespeare? There absolutely will be a continuing commitment to Shakespeare. Now, over the years, I have done every kind of radical Shakespeare reinvention you can possibly imagine. But then about four years ago, I thought: 'You know what would be really radical? To do a Shakespeare play in the period when it was actually written. That would be radical.' I expect that I am probably more of a centrist when it comes to Shakespeare at this point in my life. What I value most is truthfulness, authenticity and the ability for an audience to engage emotionally. I just want audiences to take the whole ride and not sit back.
Should the DCPA Theatre Company be actively responding to the political polarization of the country right now? I think if you are doing interesting new plays, then that happens, whether you want it to or not. Politics tends to show up whenever you are talking about the things that are happening in our world. For example, when we programmed a new play we are staging right now called Mojada: A Medea in Los Angeles, we already knew of course that immigration is a big issue in this country. But we had no idea how searingly hot it was going to be by the time we opened the play. It is delightful that Luis Alfaro's play engages with the issues of the current moment, but that's not why we did it. We did it because we liked the play. But the issue allowed us to build community partnerships around the play that are absolutely conscious of engaging with the conversation of the moment. For example, we have two symposiums in partnership with Catholic Charities that will include our attorney general, a leading immigration attorney, the deputy director of I.C.E. and two Dreamers. That kind of thing is totally in our zone. It's not just pushing one point of view. It's bringing together many sides and deepening the conversation you just experienced on the stage.
So what's with your love for George Bernard Shaw? I will tell you: The play we are doing this season that most directly engages the executive leadership of this country is Major Barbara — which of course never refers to America or our current president because it was written in 1907. But the themes are uncannily resonant.
Is there a place for current DCPA Associate Artistic Director Nataki Garrett on your team? I have actually known Nataki Garrett for 20 years because she stage-managed a show I acted in back in Atlanta. I have enormous respect and fondness for her, and I was delighted when she was hired to be the Associate Artistic Director here. I anticipate that she will continue in that role until she decides she doesn't want it anymore. I also know there are a lot of people around the country who have noted Nataki's leadership capabilities, so I suspect there are people knocking at her door.
DCPA Education just launched its Theatre for Young Audiences program with a production of The Snowy Day that is directed at pre-kindergarten through third graders, and it was made in full collaboration with the Theatre Company's design staff. How important is it for the Theatre Company to have a strong relationship with the Education division? It's critical to me. One, because we have to prepare future audiences. It is so easy today to walk through life without any real cultural participation of some kind. So I think it's critical that we create, invent and provide as many on-ramps as we can. So education, outreach, and using every opportunity we can to build community relationships with people is just huge.
John Moore was named one of the 12 most influential theater critics in the U.S. by American Theatre Magazine in 2011. He has since taken a groundbreaking position as the Denver Center's Senior Arts Journalist.
https://www.denvercenter.org/wp-content/uploads/2018/04/featured-image-5607.jpg
400
640
John Moore
John Moore
2017-11-14 10:53:00
2018-06-14 11:39:51
Chris Coleman promises a DCPA Theatre Company that's robust and resonant