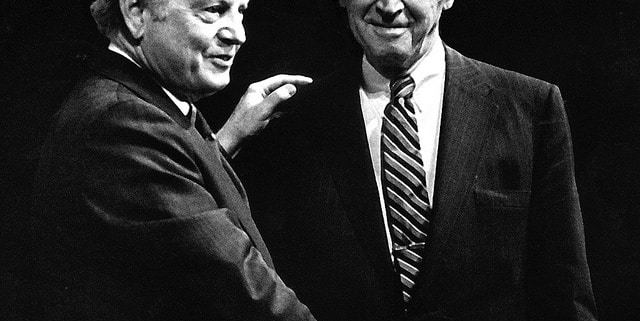 Don Seawell: A 'singular vision' to build the DCPA for Denver
A video retrospective on the remarkable life of DCPA founder Donald R. Seawell.

The founder who built the largest non-profit theatre organization in America has died at age 103

Donald R. Seawell had absolutely no fear of dying. He worried about his legacy not one bit.
"What's the point of worrying?" he was fond of saying.  "I'll be gone."
Seawell died today at age 103. And ironically, perhaps no one in Colorado history leaves behind a greater cultural legacy than the man who didn't care about his legacy.
He cared only about what he left behind: The Denver Center for the Performing Arts, today the largest non-profit theatre organization in America, last year attracting more than 800,000 visitors.
"Donald Seawell was a visionary whose dreams for the city of Denver, the state of Colorado and indeed the world will outlive generations to come," said DCPA President and CEO Scott Shiller. "Mr. Seawell's reputation as an industry leader inspired the creation of countless other performing arts centers throughout the country. Denver is the No. 1 arts city in the country because of the innovative path Mr. Seawell set us on 43 years ago. We will continue to honor his legacy in all we do."
Seawell's multifaceted career spanning more than seven decades included producing more than 65 Broadway plays, debating at Oxford Union against Winston Churchill, conducting World War II counterintelligence, publishing The Denver Post and founding the Denver Center for the Performing Arts in 1974. Even after he stepped down as Chairman and CEO in 2006, Seawell continued to come to work in his emeritus position most every weekday until just a few months before his death.
"The day I retire," he once said, "is the day they take me out of here in a box."
Instead, in true Seawell fashion, he was said to be entertaining international guests at his home in the hours before his death.
Wellington Webb, Denver's mayor from 1991 to 2003, called Seawell "a pioneer with a clear vision and a singular focus on the expansion of the performing arts complex."
Denver Center Trustee Margot Gilbert Frank called Seawell "a visionary who put Denver on the international map." Fellow Trustee Judi Wolf, who cared for Seawell in his later years, said Seawell will go down as the most important builder of culture in Colorado history, "hands down."
Daniel L. Ritchie, the cable magnate and former University of Denver Chancellor who succeeded Seawell as Denver Center Chairman, said Seawell's esteemed place in theatre history is most secure.
"Nobody in the world could have done what he's done," Ritchie said.
Governor John Hickenlooper said in a Tweet late Tuesday: "Farewell, Donald Seawell. You were one of a kind. Thank you for all you did for the Denver community. Consider this a standing ovation."
Seawell has counted among his friends Churchill, Franklin D. Roosevelt, Dwight D. Eisenhower, Joseph Kennedy, Prince Charles, Noel Coward and a playbill full of star actors, including Tallulah Bankhead, Alfred Lunt, Lynn Fontanne and Howard Lindsay.
In 2002, Queen Elizabeth II conferred upon Seawell the honorary award of Officer of the Most Excellent Order of the British Empire. In 2006, the two-time Tony Award winner was given the Theatre Hall of Fame's Founder's Award in New York.
But his permanent, singular legacy will be the arts complex he built out of a ghostly part of downtown Denver at a time when absolutely no one other than Seawell was calling for it. "But there was a great need for it, because downtown was dying at that time," he said.
"There was absolutely no demand for it at the time," said former Denver Center President Lester Ward. "But Don said, 'Denver will never be a great city unless you have a great performing arts complex.' And so he saw to it that Denver got one."
Seawell set out to create what he called "the finest arts complex in the world." Today the complex hosts more than 10,500 seats in 10 venues and is home to the Colorado Ballet, Opera Colorado, Colorado Symphony, Broadway tours and his own beloved DCPA Theatre Company.
Seawell's epiphany for creating the arts complex came in 1972, when he stopped at the intersection of 14th and Curtis streets. He looked up at the Auditorium Arena, then an aging eyesore from 1908, surrounded by "a mass of urban decay."
He pulled an envelope from his coat and sketched a blueprint covering four blocks and 12 acres. Before the day was out, he had secured the approval of not only Mayor Bill McNichols but the Bonfils Foundation board, whose primary asset was control of The Denver Post.
(Story continues below the photo gallery.)
Donald R. Seawell: A life in pictures
​
To see more, click on the image above to be taken to our full gallery of photos
In 2006, Seawell celebrated his 90th birthday in style – with a black-tie gala in the $16 million ballroom that bears his name. And why not? "By the time you're 90, you've outlived most your enemies," he joked at the time. Seawell was beloved, reviled, respected and feared. And he would be first to admit he acquired — and outlived  — many enemies during his colorful and controversial life in the spotlight.
Since the 1972 death of longtime Denver Post owner Helen G. Bonfils, his client and producing partner, Seawell has both enjoyed profuse praise for founding the center and weathered lingering resentment over his 1986 closing of the theater Bonfils built and ran for 40 years on East Colfax Avenue.
"Some people perceived him as a little rough along the edges in terms of getting his way," Webb said, "but that charge can be made of all of us who are in positions of authority and have a mission to accomplish."
Seawell considered arm-twisting Ritchie into succeeding him as among his top accomplishments. But his greatest, he often said, was being married for 59 years to actress, playwright and poet Eugenia Rawls. He also took great pride in presiding over The Post from 1966-81 and founding the DCPA. He considered his 2002 honor from the queen "the icing on the cake," because "I have had a love affair with England since my misspent youth."
Seawell spent a lifetime promoting the cross-pollination of British and American theater. In 1962, he became the first producer to bring the Royal Shakespeare Company to America. He directed the RSC's The Hollow Crown" on Broadway, and two years later, he brought King Lear and The Comedy of Errors to New York to mark the 400th birthday of Shakespeare. He was the first American named to the RSC's board of governors.
One artistic endeavor ranks above all else: In 2000, Seawell brought the 10-play epic Trojan War cycle Tantalus to Denver at a cost of $8 million. The money came from donors and by reducing the number of plays presented by the Theatre Company that year.
"It was the largest theater project in the 2,500-year history of the theater," Seawell said. "Nothing has come along like it, and it probably won't ever happen again.
"It brought more attention to the Denver Center than anything else we have ever done. It brought critics from all over the world. It brought people from more than 40 countries."
The cost, he said, "was more than repaid in terms of increased donations in the years that followed, as well as national and international recognition."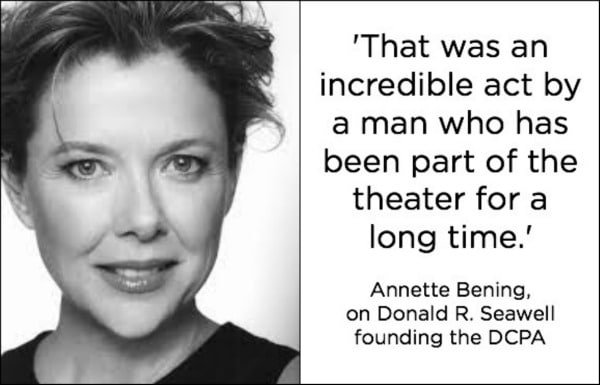 Artistic Director Gregory Doran called Seawell one of the Royal Shakespeare Company's greatest friends. "​Tantalus was a heroic project that brought together international artists from the U.S., U.K., Japan, Greece and Ireland, and reflects the scale of Donald's vision and his extraordinary passion for theatre and the RSC," he said.
Former RSC artistic director Adrian Noble called ​Tantalus "an extraordinary, landmark event in world culture that would never have happened without Donald Seawell."
After RSC founder Peter Hall failed to woo European investors for Tantalus, Seawell not only came forward offering the services of the Denver Center, he insisted that no money from the Denver Center be put at risk.
"I call him my deus ex-machina," Hall said at the time. "When I had failed to raise the money we needed, Donald came along with that rare mixture of madness and shrewdness which marks all good impresarios and said, 'I'll do it.' He allowed us to dream our dream."
Prince Charles wrote to Seawell congratulating him on the queen's honor, stating: "Personally, I could not be more grateful, as a very proud president of the Royal Shakespeare Company, for all your support for this wonderful organization. I know the company has always been impressed and delighted by your active involvement with all that they do, most recently by making possible the ​Tantalus project."
Denver Center Trustee Jim Steinberg praised Seawell as a giant. "He is a wonderful man," Steinberg said, "and he has devoted everything to building the Denver Center." Former Denver Center Director of Publications Sylvie Drake added, "He had boldness, and he had vision – no question about it."
Oscar-winning actor Annette Bening was a member of the Theatre Company's resident acting company in the early days of the Denver Center, a time when regional performing-arts centers were starting up all over the country. "But when all of these other theaters were founded, the government was much more involved in supporting the live theater," Bening said, "and now a lot of those theaters are almost on their own in terms of trying to stay above water and trying to survive. In Denver, it was really the (Bonfils Foundation) endowment that got it on its feet. The fact that someone like Don Seawell was willing to put up the money … that was an incredible act by a man who has been part of the theater for a long time."
Seawell was born Aug. 1, 1912, in Jonesboro, N.C., where the young redhead developed a lifelong if inexplicable affinity for frogs. He grew up with no religion to speak of because, he said, "organized religion has been a barrier to progress from the word 'go."'
He earned his law degree from the University of North Carolina, where in 1932 he saw fellow student Eugenia Rawls walking across the campus.
"I went up to her and said, 'My name is Don Seawell, and I am going to marry you,' " he said. Nine years later, he did.
In a 1936 radio debate, Seawell said of Joseph Kennedy, "It takes a thief to catch a thief." Kennedy, then head of the new Securities and Exchange Commission, was listening. He called Seawell and hired him upon graduation as an SEC staff member.
On April 5, 1941, Seawell married Rawls, whose Broadway career spanned from 1934 (The Children's Hour) to 1976 (Sweet Bird of Youth). She died in Denver on Nov. 8, 2000. Over their 59 years together, Rawls wrote dozens of love poems to Seawell, each beginning with the line, "Over the hills of all the world, I would go with you." They had two children, Brook and Brockman.
With the outbreak of World War II, Seawell was lent to the War Department to work in counterintelligence for Gen. Dwight D. Eisenhower with a combined American and British team working on preparations for the invasion of Normandy.
After the war, he entered private law practice in New York and became increasingly involved in theater. His career as a Broadway and London producer alongside legendary partner Roger Stevens included milestone productions of Showboat, Our Town and Harvey.
"Roger and I once tried to count how many shows we had co-produced, and we came up with 65," Seawell said. "But that was after a bottle of champagne, so we may have missed a few and doubled some others."
Seawell began to represent actors and writers including Bankhead, Coward, Ruth Draper and the famous married couple of Lunt and Fontanne, who often referred to Seawell as "the son they never had." Upon their deaths they left their memorabilia to Seawell, who since has turned it over to the Denver Center.
Seawell also represented Bonfils, a legendary theater figure and an heiress to the dominant newspaper in Colorado. "Miss Helen" was a tireless philanthropist and theater champion who partnered with Seawell in producing Broadway productions. Back in Denver she built the Bonfils Theatre at East Colfax Avenue and Elizabeth Street in 1953. It was Denver's crown jewel through Bonfils' death in June 1972.
Bonfils' will, and the ownership of The Post, were involved in a long litigation battle that resulted in Seawell taking control of both. He opened the DCPA in 1974 with money from the Bonfils Foundation, which for years went toward operating The Post and funding Miss Helen's many cultural philanthropic projects.
Some groused when he built the complex that Seawell was dipping into Bonfils' money to build what was called a monument to himself. The competing Rocky Mountain News led the fight to have him stopped.
Where all those naysayers today? "They are now supporters," Seawell said.
Webb's only reservation with Seawell was his inability to keep staging community theater at the Bonfils Theatre. It was closed in 1986, just six months after Seawell renamed it for producer Henry Lowenstein.
Seawell said the Bonfils was losing $500,000 a year, but many suspected he had come to see Miss Helen's east-side jewel as competition for his downtown Denver Center. Shuttering it was seen by some as a show of disrespect to the woman whose money built both it and the Denver Center.
Seawell admitted the vision for the Denver Center was solely his own.
"Helen wanted very much to have a professional theater company at the old place, and I got Tyrone Guthrie to agree to come here as artistic director (in the 1960s)," Seawell said. "But he took one look at the old Bonfils Theatre and said it was fit only for Noel Coward drawing-room comedies – and he didn't do those. So we were going to build another theater by the old Bonfils, and we actually acquired land for it. But then Tyrone died before we could do anything."
However, the creation of the Denver Center required the adherence to The Tax Reform Act of 1969, which represented a significant change in the relationship between government and philanthropy. It established that no private foundation could control any corporation, so Seawell drafted the Bonfils Amendment, which provided that if the private foundation is a satellite of a public foundation, it would not have to give up control. Seawell then created the DCPA as a public foundation and designated the Bonfils Foundation as the satellite to act as a permanent endowment for the DCPA.
The 2,700-seat Boettcher Concert Hall, (the nation's first concert hall in the round) opened first, in 1978. By 1979 the Auditorium Theatre had been renovated. Four new theaters made up the Helen G. Bonfils Theatre Complex. The 2,880-seat Buell Theatre opened in 1991, and the Seawell Ballroom followed in 1998.
Seawell was particularly proud to have made the Denver Center home to the National Theatre Conservatory, a three-year MFA program that offered full scholarships to masters students from 1984 through 2012, when it was closed for financial reasons.
Seawell oversaw every aspect of the Denver Center's growth, and perceptions of him gradually changed from "empire maker" to unparalleled visionary. His Denver Center Theater Company, now 37 years old, won a Tony Award as the nation's best in 1998.
Today, it's is nearly impossible to imagine downtown without the Denver Center.
"When I proposed an arts complex, people kept telling me of a study that said in 1974 there weren't 3,000 people in Colorado who had ever attended a professional theater production," Seawell said. "Well, millions of those 3,000 people have attended the theater now."
(Photo above right: Donald R. Seawell with DCPA Trustee Judi Wolf at the 2015 Hattitude, a fundraiser for the DCPA Theatre Company's Women's Voices Fund. Photo by John Moore.)
As chairman of the Denver Center's board of trustees, Seawell's contract called for him to make just $1 a year, even though he routinely reported to work up to seven days a week. "But somebody has been forgetting to pay me," he joked.
Seawell became a Colorado resident in 1966, when Bonfils asked him to help her withstand a hostile takeover attempt of The Denver Post by the Newhouse newspaper chain, which owned 15 percent of Post stock. It was a 12-year battle that started in 1960 and did not end until just after her death.
Bonfils had appointed Seawell as The Post's president and CEO, and later he became publisher.
"Nothing that I have done in my entire life was more fun than running a newspaper," Seawell said. "I took a great deal of pride in keeping The Denver Post alive as an independent, objective voice – while still making money."
But by 1980, the economy was sputtering and the paper was teetering on the brink of collapse. Critics accused Seawell of abandoning the paper while preoccupied with building up the Denver Center. With the paper rife for a takeover, Seawell sold The Post to Times Mirror of California for the fire-sale price of $95 million. Proceeds went to the Bonfils Foundation, securing the financial future of the Denver Center.
Times Mirror was the first out-of-state owner in the then 88-year history of The Post. The paper switched to morning delivery, and circulation soon plunged by 200,000. Though The Post survived, many blamed Seawell for disposing of Miss Helen's treasured newspaper.
"That criticism hurt Eugenia deeply, but I was never hurt by it because the people who were expressing that opinion never understood it," said Seawell. "I expect to make enemies because The Post was the dominant paper, and you're a target."
Seawell is survived by his children, Brockman Seawell of New York City and Brook Ashley of Santa Barbara, Calif; granddaughter Brett Wilbur of Carmel, Calif., and three great-grandchildren.
Of all his memorabilia, he considered his greatest treasures the poems his wife wrote to him.
"Over the hills of all the world, I would go with you, that we might know each crest. And later on remembering how we stood, hands clasped above the cities and the smallest towns, find that we left our love in space, over the continents and seas, and thus retained our love."
John Moore was named one of the 12 most influential theater critics in the U.S by American Theatre Magazine in 2011. He has since taken a groundbreaking position as the Denver Center's Senior Arts Journalist.
Key events in the life of Donald Seawell:
Aug. 1, 1912: Born in Jonesboro, N.C.
1932: Earns law degree from the University of North Carolina, where he meets his future wife, actress Eugenia Rawls.
1940s: During World War II, he works in counterintelligence in preparation for the invasion of France.
1956: Takes on Denver Post heiress Helen G. Bonfils as a client in New York, where his private practice already represents a stable of legendary actors and producers.
1962: Becomes the first producer to bring the Royal Shakespeare Company to America. He is later named to the RSC's board of governors.
1966: Seawell relocates to Colorado to help Bonfils withstand a hostile takeover attempt of The Denver Post.
1972: Helen Bonfils dies, leaving a will that names Seawell president and chairman of the board of The Post. Within weeks of her death, two private Bonfils foundations run by Seawell are merged to fund the creation of the Denver Center for the Performing Arts (DCPA).
1977: Adds publisher to his other titles at The Post.
1978: The 2,700-seat Boettcher Concert Hall opens at the DCPA at 14th and Curtis streets. The ensuing years witness the renovation of the Auditorium Theatre and construction of the Helen G. Bonfils Theatre Complex and the Buell Theatre.
1980: Amid criticism that he abandoned his interest in The Post to pour his energies in the DCPA, Seawell sells the financially struggling paper for $95 million to Times Mirror, the first out-of-state owners in the paper's history.
1986: The Bonfils Memorial Theatre on East Colfax Avenue is renamed for Henry Lowenstein and then abruptly closed by Seawell, who is criticized for closing Bonfils' favorite venue, built in memory of her parents in 1953. He says it is losing too much money.
1998: The Denver Center Theater Company wins the Tony Award as the nation's best regional theatre
1998: The $16 million Donald R. Seawell Grand Ballroom, situated atop the Denver Performing Arts Complex, is unveiled.
2000: Eugenia Rawls, his wife of 59 years, dies.
2001: Brings the 10-play Trojan War epic Tantalus to Denver.
2002: On his 90th birthday, Queen Elizabeth II confers upon him the Honorary Award of Officer of the Most Excellent Order of the British Empire.
2015: Died at age 103.
https://www.denvercenter.org/wp-content/uploads/2015/09/Donald-R.-Seawell-with-his-friend-Jimmy-Steart-at-the-opening-of-the-Denver-Performing-Arts-Complex-in-1979.-..jpg
593
640
John Moore
John Moore
2015-09-30 18:12:00
2018-09-30 14:26:22
Don Seawell: A 'singular vision' to build the DCPA for Denver