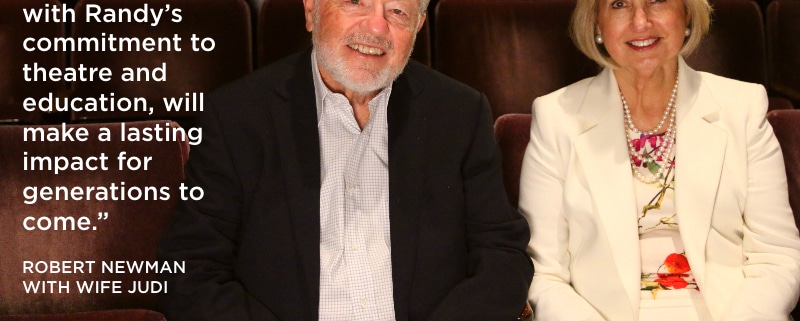 Conservatory Theatre re-named in honor of the late Randy Weeks
Video by DCPA Video Producer David Lenk and Senior Arts Journalist John Moore. The second video to play will show the unveiling of the new sign in the lobby naming the Randy Weeks Conservatory Theatre.

Philanthropists support capital campaign with gift that honors late DCPA President's passion for theatre education
To Randy Weeks' brother, it was closure. To his benefactors, it was a meaningful gesture. To his successor, it was just right.
On Friday, Denver Center staff, trustees, family and friends observed the official re-naming of the Conservatory Theatre as The Randy Weeks Conservatory Theatre in honor of the organization's late president.
The tribute was made possible by a significant gift to the DCPA's ongoing capital campaign by longtime education and Denver Center advocates Robert and Judi Newman. The 185-seat Randy Weeks Conservatory Theatre is housed within a building that already bears the couple's names: The Robert and Judi Newman Center for Theatre Education on the corner of 13th and Arapahoe streets.
"That is a great reflection of just how involved the Newmans have been with the education programs here at the DCPA," Chairman Martin L. Semple said. Their gift will include refurbishments and upgrades to the Denver Center's primary performance space for its bustling theatre education programs. In the past year alone, the Denver Center has served 142,000 students of all ages. By comparison, the total student enrollment in the Denver Public Schools is only about 92,000 students.
Go to our full photo gallery of the Randy Weeks Conservatory Theatre decication
Weeks started one of the DCPA's most successful ongoing student programs, the Bobby G Awards, which honors achievements in Colorado high-school theatre. The Bobby G Awards program has engaged more than 30,000 individuals since its inception in 2013, and last year included 43 participating schools.
On Friday, succeeding DCPA Broadway Executive Director John Ekeberg said he was feeling all the feels. "It's been a day of reflection and nostalgia," he said. "But mostly I am feeling gratitude for what Bob and Judi have done for Randy."
It was also emotional for Weeks' visiting family, which included siblings Pam Weeks, Joel Weeks and Stephanie Gamble. When a tribute video (embedded at the top of this page) was played, Joel Weeks said it was the first time he has heard his brother's voice since he died Oct. 9, 2014, while attending a theatre conference in London.
"The ceremony was nostalgic and it was bittersweet, but I think this is going to bring some closure," Joel Weeks said. "I was always wanting there to be something that would remember my brother and all of his great work here at this wonderful place, and I think this is a great honor." Semple said he could not think of a more appropriate tribute.
From 2014: Randy Weeks celebration draws 1,500 to recall a singular friend
Judi Newman said her family has been inordinately blessed "and I think it's wonderful that we are able to do things for folks that will help them create and grow." That includes her two young granddaughters, Brianne and Nora, who regularly attend DCPA Education classes. "Ever since they were born they have liked to act," Judi said. "They want to be on stage. They are very confident." Thanks, in part, to the classes they have taken at the Denver Center.
(Story continues below the photo)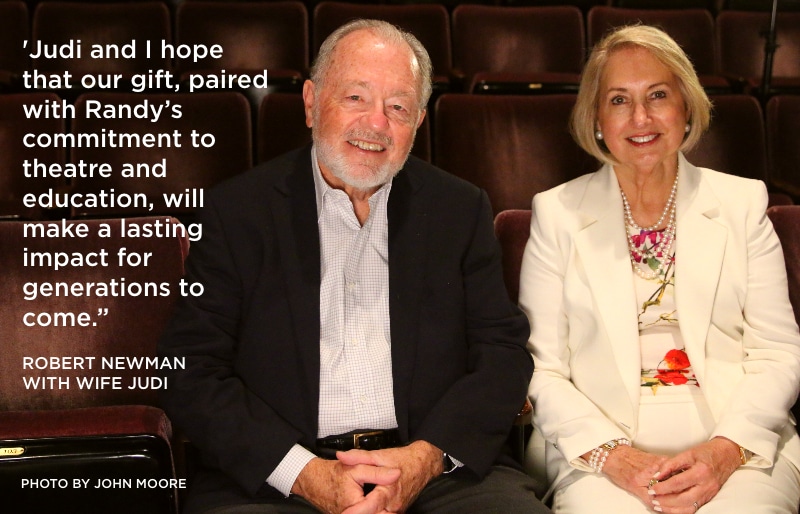 Robert and Judi Newman began their careers as computer programmers, meeting as co-workers on the Apollo Program for the company that is now Rockwell International. Judi likes to joke that their jobs really made them the world's first computer-dating couple. In 1974, they moved to Denver when Robert was recruited by what is now the CPA firm of Deloitte & Touche to work as an information-technology consultant. He left in 1976 to start his software company, which he merged with another small firm in 1978 to form J.D. Edwards. That company eventually grew to 6,000 employees in 15 countries and became the fourth-largest application software company in the world.
The Newmans celebrated their 50th wedding anniversary this year, and they felt this was the perfect time to not only honor Weeks but upgrade the busy Conservatory Theatre that by mid-December will have welcomed 25,000 pre-school through 3rd graders to see DCPA Education's professional stage production of Corduroy.
"For 25 years, Randy Weeks transformed entertainment in Denver, offering more than 400 Broadway and cabaret shows to more than 11.6 million guests," said Robert Newman, who has served as a DCPA Trustee for 21 years. "But beyond Broadway, Randy also was committed to fostering new talent as a founding member of the DCPA's Women's Voices Fund, a board member of Denver School of the Arts and as founder of the Bobby G Awards. Therefore, it seemed fitting to re-name The Conservatory Theatre in his honor. Judi and I hope that our gift, paired with Randy's commitment to theatre and education, will make a lasting impact for generations to come."
Weeks was named Executive Director of the DCPA's Broadway division in 1991 and promoted to president in 2004. Under him, the DCPA landed the openings of 10 Broadway national touring productions.
"Randy was a product of the DCPA because he started as a ticket agent and worked his way up," Semple said. "And with the exception of a few years he spent at the Kennedy Center in Washington, D.C., he spent all of his professional life right here at the DCPA."
The DCPA's Capital Campaign, titled A Grander Opening, launched June 5 as the first public capital campaign in the organization's 40-year history. The four-year project will fund the re-building of the former Stage and Ricketson theatres, the overhaul of backstage and support areas, and the redesign of the Helen Bonfils Theatre Complex lobby, which will now connect to the former Ricketson by stairs and a new elevator. Other improvements will include upgraded accessibility services, enhanced acoustics, improved sightlines, state-of-the-art technology and updated fire and safety systems.
To recognize major gifts that already have come in, the Stage Theatre will be re-named the Marvin and Judi Wolf Theatre; The Ricketson will be re-named The Singleton Theatre; the Space Theatre lobby will be named for Martin and Jo Semple; and a section of The Space Theatre will be dedicated to Kennith Clark, late husband of DCPA Trustee Isabelle Clark.
In the end, Judi Newman said, all of this effort comes down to one simple priority: Making children into better adults.
"Most of these students are not going to become actors when they grow up," she said, "but taking theatre classes at an early gives young people confidence. It really helps them in any kind of career that they might have."
John Moore was named one of the 12 most influential theater critics in the U.S by American Theatre Magazine in 2011. He has since taken a groundbreaking position as the Denver Center's Senior Arts Journalist.
Video: A look back at the life of Randy Weeks
https://www.denvercenter.org/wp-content/uploads/2018/11/Robert-and-Judi-Newman.jpg
514
800
John Moore
John Moore
2018-11-11 18:53:56
2018-11-12 10:07:10
Conservatory Theatre re-named in honor of the late Randy Weeks