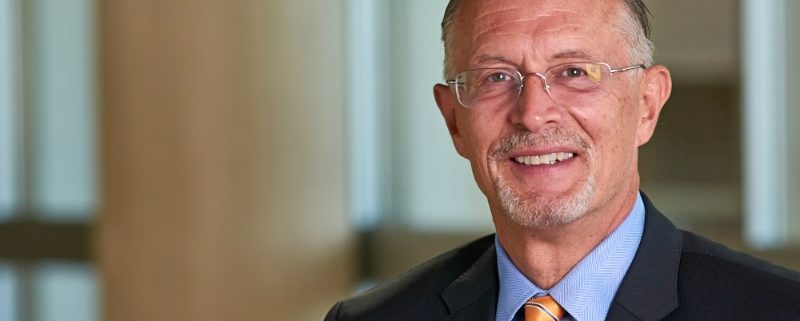 DCPA president Randy Weeks dies at London conference
Randy Weeks, who worked his way from the ground up to become President of the Denver Center for the Performing Arts, died today while attending the Independent Presenter's Network Conference in London, DCPA Chairman and CEO Daniel L. Ritchie confirmed. He was 59.
When Weeks missed a conference meeting, colleagues requested a wellness check at his hotel, Ritchie said. Weeks was found undisturbed in his bed.
Weeks was named Executive Director of the DCPA's Broadway division in 1991. He was promoted to president in 2004, succeeding Lester Ward. Weeks continued as Executive Director of the DCPA's Broadway touring division.
Under Weeks, the DCPA landed the openings of 10 national touring productions, including The Book of Mormon, Peter and the Starcatcher, Pippin, A Chorus Line, Sunset Boulevard, Carol Channing in Hello Dolly! and Disney's The Lion King, as well as the pre-Broadway run of Disney's The Little Mermaid.
"It is unquestionable that Randy has left an indelible mark on Denver, Colorado and the national theatre community," Ritchie said. "He will be greatly missed by all of us at the Denver Center for the Performing Arts."
Listen to Dave Lefkowitz's interview with Randy Weeks about the 2012 Tony Awards on the "Daves Gone By" radio program.
Charlotte St. Martin, Executive Director of The Broadway League, called Weeks "a leader in the presenting world, and a very engaged former member of our Board of Governors. He has always made a difference in his leadership of our league. We will miss him, but be thankful for the leadership and friendship that he provided to us all. He gave his all."
Weeks was born June 21, 1955, in Durham, N.H. He joined the DCPA in 1978 while still a senior at CU-Boulder. He began working in the box office, getting a taste of ticketing, marketing and public relations.
After a foray into his parents' restaurant business and later as Theatre Operations Manager at the Kennedy Center in Washington, D.C., Robert Garner, the founder of the DCPA's Broadway division, tapped Weeks to be his hand-picked successor. Weeks took over as head of Denver Center Attractions in 1989. In that time, he became known as much for his love of bow ties, golf and $1 wagers as his love of Broadway musicals.
In all, Weeks presented more than 400 shows at the DCPA. He also opened the Garner Galleria Theatre in 1992. The Galleria is a cabaret space that debuted with the hit Forever Plaid and went on to host long-running hits such as Always…Patsy Cline and Girls Only: The Secret Comedy of Women. The granddaddy of them all was I Love You, You're Perfect, Now Change, which ran more than four years and remains the longest-running production in Denver theatre history. Weeks later changed the name of the Galleria to the Garner Galleria to honor his mentor, who died in 2012.
Jeff Hovorka, DCPA Director of Media and Marketing, said adding off-Broadway fare to the traditional Broadway series was unheard of in 1992. "And we're now known throughout the country for that model," he said.
Kent Thompson was hired as Producing Artistic Director of the DCPA Theatre Company just a few days before Weeks was promoted to President in late 2004. Thompson called their partnership remarkable and symbiotic. They became close friends. Thompson called his sudden death both a personal and professional loss.
"I liked to think that we represented a new generation and a new direction for the DCPA," Thompson said.
Thompson liked to call Weeks the "Mr. Broadway of Colorado" because "it was so clear that his affinity for the Broadway musical is where his heart lay."
But he also said Weeks was the rare producer of Broadway touring shows who also had a deep love for the innovative and the new.
Weeks may have been in charge of the Broadway division, but he was an early adopter of new theatre as well, including launch of the first national tour for Traces. Thompson cited that Montreal street acrobatics show, and even bringing New Kid on The Block Joey McIntyre here last year to workshop his one-man play, The Kid. That kind of programming adventurousness has helped cement Denver's place as a launching pad of new works destined for national prominence.
"Randy comes from the world of commercial theatre, and yes, that is what makes it possible for the DCPA to serve its overall mission, but Randy never got enough credit for his appreciation of new work," Thompson said.
Thompson also praised Weeks' commitment to bringing risky Broadway musicals to Denver, such as the domestic bi-polar tragedy Next to Normal and the sexually charged Spring Awakening.
At first, Weeks wasn't so sure that unusual Duncan Sheik musical would find its audience as a road show in middle America. "But over time, it's become clear to me that that nothing has more galvanized older teens and young adults since Rent," Weeks said in announcing his decision to bring the show to Denver in 2009. "It does speak to a younger generation, and those people are very important to us if we are going to develop new audiences."
Weeks was one of the founding members of the DCPA's Women's Voices Fund, which creates writing opportunities to female playwrights. Weeks made gifts in honor of his mother and aunt.
Weeks also had a soft spot for sassy Dixie Longate, whose one-woman Tupperware party in the Galleria Theatre was so popular with audiences that Weeks has since brought her back three times, including the launch of a sequel earlier this year. The character of Dixie is played by a man named Kris Andersson, who has said the franchise owes much of its ongoing success to Weeks' sense of programming adventure.
"This is absolutely horrible news," Andersson wrote on Facebook. "Randy brought me to the Denver Center, developed my show, supported my work, gave me the opportunity to do a new show and was unwavering in his faith in me. We have not just lost a great man today, but we have lost one of the few people in this industry who truly wants to shepherd new talent and see it grow. The arts in America have truly lost one of its greats today."
Ritchie said the timing of Weeks' death is all the more painful given that he and Weeks had been planning a new direction for Weeks that would take fuller advantage of his eye for what's new.
"We had been quietly talking about his next phase, and what Randy really wanted to do was travel the country and find new shows and find new talent and keep us posted on the rest of the theatre world," Ritchie said.
Last year, Weeks was tickled to have spearheaded the creation of the Bobby G Awards, which honor statewide achievement in high-school theatre and foster the development of aspiring youth. More than 1,000 attended the second annual gala at the Buell Theatre in May.
On the night of the Columbine massacre, Weeks was involved with the deeply difficult decision whether to go on with the shows. Denver actor Eric Fry was a student at the time who had tickets to attend Les Miserables on the night of April 20, 1999.
"Given the horrific events at Columbine that day, we considered not going, but thought we wouldn't stay hidden and let the bastards win," Fry said. "Randy walked onstage before curtain and gave a moving, loving speech about how they'd considered canceling, but decided to go on in honor of those who had lost their lives — to not let terror rule ours."
Ritchie called Weeks "a man you could absolutely trust. He had superior professional skills and a sterling character. This place meant so much to him. He put the Denver Center ahead of himself over and over, and in ways that were not always recognized."
John Ekeberg, the DCPA's Director of Programming, said Weeks did not give a lick about titles. "Whenever he was asked his title, he liked to just say, 'I am a doer of things,' " said Ekeberg.
As a boss, Weeks was known for his open-door policy. He enjoyed mentoring staff throughout the organization. Weeks often credited Garner not only for putting Colorado on the theatre map, but as a model for his own enthusiastic and friendly leadership style.
"I owe my entire career to him," said Ekeberg, who, like Weeks, started his career in the DCPA's box office. In 1992, Weeks urged Ekeberg to apply for a Business Manager vacancy.
"I showed up in my shirt and tie, and the only question Randy asked me was, 'Do you balance your own checkbook?' " said Ekeberg, who was newly married. "I said that I did, which was totally untrue. But he hired me anyway."
Weeks was active in the community as well, supporting reauthorization efforts for the Scientific and Cultural Facilities District and serving on the Denver School of the Arts Board, Independent Presenter's Network and The Broadway League, which recognized Weeks with the Outstanding Broadway Presenter Award.
Thompson said Weeks will be remembered for always being upbeat, having a positive outlook for the future, and a terrific sense of humor. "I never thought he had a mean bone in his body," Thompson said.
Away from the stage, Weeks was a staunch fan of the CU football team. He was also a competitive golfer who loved to participate each year in the DCPA's annual Swing Time Golf Tournament at Lakewood Country Club. And even more — he loved to win it.
Weeks' sense of friendly competition was legendary — as well as his impersonations of Dame Edna and Eddie Izzard. Rarely did a marketing meeting pass without Weeks conjuring up some $1 wager or another over often hilariously tangential topics.
"Randy just loved to win," said Hovorka. "And he loved to play." Often at the same time.
Weeks once arranged a marketing stunt that allowed fans to bowl with Patsy Cline (played by Melissa Swift-Sawyer). That, of course, led to a competition. "We had to have a bowl-off to determine who was the best bowler," said Hovorka. "It came down to Randy and me — and of course, he won."
Weeks was especially proud of his ongoing commitment to the Kappa Sigma Fraternity at CU-Boulder, hosting many of the young men at the theatre.
"He had a real strong sense of mentorship," Ekeberg said. That was evident in his loyalty to his frat brothers. He was so passionate about the Bobby G's. It was just so important for him to always be involved with mentoring young people and furthering their dreams — and no one benefited more from that than me."
The DCPA will host a public celebration of Weeks' life starting at 4 p.m. on Monday, Nov. 3, in the Buell Theatre.
Weeks is survived by his father, David Weeks; brother, Joel Weeks; and sisters Pamela Weeks and Stephanie Gamble.
Memorial gifts can be made to The Randy Weeks Memorial Fund for the Bobby G Awards, which supports the advancement of musical theatre for Colorado high school students. Please make checks payable to Denver Center for the Performing Arts and mail to: DCPA Development Office, 1101 13th Street, Denver, CO 80204.
Our complete coverage of the death of Randy Weeks:
DCPA president Randy Weeks dies at London conference
Video: Randy Weeks honored with dimmed lights, moments of silence
Celebration of Weeks' life to be held Nov. 3 in the Buell Theatre
Randy Week Photo gallery
Revisiting Randy Weeks and the Colorado theatre community's "It Gets Better" video"

Tributes to Randy Weeks from around the world:
*"What a terrible loss for the DCPA and our industry as a whole." — Jennifer Gallagher, national press rep for the next big Broadway show to come to Denver, the Tony-winning Best Musical Kinky Boots, opening Oct. 29.
*"There are no words to even describe my feelings. I am stunned, shocked and every adjective in between.  I am literally shaking. I am sending big hugs to the entire Denver Team." — Anita Dloniak, national press rep for Pippin the Musical, which just launched its national tour in Denver.
*"Our hearts go out to you all in Denver … unbelievably sad news." — Marya K. Peters, national press rep for The Book of Mormon
*"Randy's death is a huge loss for the cultural community, and more so for those close to him. So sorry to learn of his passing." Charlotte  Charlotte D'Armond Talbert, Ph.D. Coordinator of the Scientific and Cultural Collaborative, the group that gathers the heads of all SCFD Tiers to work on collaborative projects.
*"There are people who are put in your life, on your path, who make imprints in your personal history that can never be erased. People who you wouldn't be quite who you are, or where you are, without. My DCPA family are "those people." Randy Weeks is "those people." I'm at a complete loss in how I can possibly capture the enormity of the news of Randy's ludicrously sudden passing. Before a DCPA re-org, he was our Denver Center Attractions dad – in all the cliché, sneaker-wearing ways that a dad is a dad. I keep thinking of the model 757 airplane he gifted me when I flew the coop, a chit for a never-cashed-in flight to NYC to rejoin the family for a Broadway retreat, which I displayed proudly in my office at DIA, a full job-move later. It gave me some aviation street cred and served as an equal reminder of how far I'd spread my wings and where my roots lay. –Jenny Schiavone, former Denver Center Broadway press rep.
"I am truly stunned with sadness at the sudden loss of my dear pal for more than 35 years. We just grilled steaks on my deck and laughed. Imagining life without him is impossible right now. He babysat my niece the night my now 30-year-old nephew was born. He taught her to sing "Yellow Balloons" in French — a song he totally invented, and never let either of them forget it. Those who knew him well know his "randy" side, which would make you laugh despite your better instinct. I am not sure he knew his own power or strengths. He dismissed personal and professional accolades. If only he knew …" — Former DCPA Director of Marketing Nancy Rebek.
*"I was devastated to hear the tragic news from London about Randy. Having just spent time with you all, it truly breaks my heart. He was a true gentleman and will be missed." — Alecia Parker, general manager of the national touring production of Pippin The Musical
*"Randy was a kind soul and knew almost every person at DCPA by name. He was a mean poker player and a good soul. Breaks my heart." — Geoffrey Kent, fight director and actor in the DCPA Theatre Company's Lord of the Flies.
Randy Weeks at the 2014 Bobby G Awards honoring achievement in Colorado high-school theatre. Photo by John Moore.
Randy Weeks, center, with his mentor, Robert Garner.
Randy Weeks with Denver First Lady Mary Louise Lee at a performance of Million Dollar Quartet. Photo by John Moore.
Randy Weeks was an avid golfer and supported the DCPA through its annual Swing Time Golf Tournament at Lakewood Country Club. Photo by John Moore.
Randy Weeks on the set of "Dixie's Never Wear A Tube Top While Riding A Mechanical Bull." Photo by John Moore.
https://www.denvercenter.org/wp-content/uploads/2018/04/featured-image-1312.jpg
472
800
John Moore
John Moore
2014-10-09 15:30:00
2018-07-12 10:04:02
DCPA president Randy Weeks dies at London conference