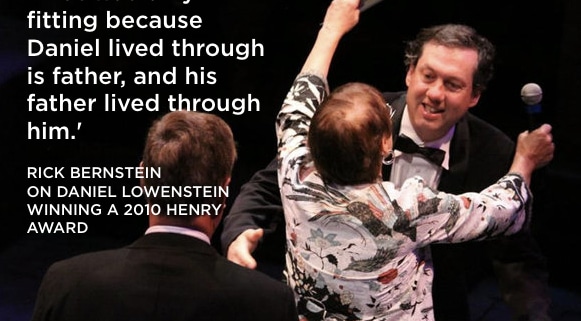 Daniel Lowenstein: Quiet man whose art spoke volumes
The son of legendary theatre producer Henry Lowenstein designed and painted scenery over four decades
For a man as soft-spoken as Daniel Lowenstein, he certainly made his voice heard. Through his art. Through his activism. And through the impact he made on lives throughout the Colorado arts community.
That voice was silenced by esophageal cancer late Thursday night, but not the echoes it leaves behind. Lowenstein, the middle of legendary Denver theatre producer Henry Lowenstein's three sons, was 62.
"He did practically every type of art," said Daniel's older brother, David. He was illustrating neighborhood comic books such as "The Bloody River News" from the time he was old enough to draw. By age 9, he was creating program art for the children's theatre productions his father presented at the Bonfils Theatre, which was renamed the Lowenstein Theatre in 1985 and today stands as the Tattered Cover Book Store.
Daniel Lowenstein designed and painted theatre scenery over four decades, mostly for the Bonfils Theatre, Su Teatro, Littleton Town Hall Arts Center and Miners Alley Playhouse in Golden. His last scenic design was for Uncle Jed's Barber Shop, staged in 2016 at the Cleo Parker Robinson Dance Theatre. He was particularly proud of the Liberty Bell he created for Town Hall's 2007 production of 1776, a trapeze he fashioned for Su Teatro's 2007 culture-clash comedy Bowl of Beings and a school touring play about Colorado history called Trail Mix that he wrote with friend and collaborator Kim Fanelli, who called theirs a wonderful partnership.
"Daniel was a brilliant researcher," Fanelli said. "This was long before Google. I would say to him, 'Get me some material on the Sand Creek massacre, and he would come back with stacks of books for me the next day. And from that, we would make a scene. Daniel loved to take an idea and explore it to its fullest potential. He could take a kernel of corn and explore it to so thoroughly that by the time he was done, you knew that kernel of corn more fully than you could possibly imagine knowing a kernel of corn."
Lowenstein was perhaps most proud of the nightmarish world he created to depict the inside of a troubled mind in Miners Alley Playhouse's seminal 2004 production of I Never Promised You a Rose Garden.
"He created these back towers out of Styrofoam to look like the rocks of hell – and he made them look so real," said Miners Alley Playhouse founder Rick Bernstein. "I told him to make the floor represent the full rainbow of mental illness, and he created this demonic swirl of colors that spoke to heaven, spoke to hell and everywhere in between. It was just otherworldly."
'Daniel could take a kernel of corn and explore it to so thoroughly that by the time he was done, you knew that kernel of corn more fully than you could possibly imagine knowing a kernel of corn.' – Kim Fanelli
Lowenstein said one of his favorite projects was painting a staircase mural for the opening of Miners Alley Playhouse in 2003 – the job was a gift from the Golden Urban Renewal Association that Lowenstein filled with historic Golden sights and celebrities.
He also created sculptures, caricatures, murals and even hubcap art. His work has been shown at galleries, bookstores, cafés and restaurants throughout the Denver area, including The Chicano Humanities & Arts Council Gallery on Santa Fe Drive, the Bonfils Blood Center at Lowry and the Colorado School of Mines in Golden.
"He's done pen-and-inks that look like they were made by R. Crumb," David said. "He has done everything and he has been excellent at everything." Even taking a gig drawing caricatures at the iconic Casa Bonita restaurant. "He loved it," said Fanelli. "He would say to me, 'Hey, it's still art.' "
Daniel also was known for being a patient and deliberate artist. How patient? "He cleaned his paintbrushes one hair at a time," Bernstein said with a laugh.
Before his death, Lowenstein said he likes to create art "that spans the area between unconscious spontaneity and elaborate design." He strove to produce art that creates awareness and openness to new possibilities. Themes that run through his art have included people, crowds, imaginary situations, hallucinatory visions and nature. Visitors to Lowenstein's Northside Denver home were greeted by a lawn character made entirely of rusted metal parts. His aunt named him George.
Daniel won a special Henry Award in 2010 for Outstanding Scenic Painting, and Bernstein said "there was never a more fitting moment" than Daniel accepting an award named for his father. "That was only fitting because Daniel lived through is father, and his father lived through him," Bernstein said. "They were so connected as artists from when Daniel was very young. They were always a team."
Encouragement from Walt Disney
Daniel Lowenstein was born to Henry and Dorrie Lowenstein on June 15, 1957, just as the growing family was moving to neighboring homes on South Ivy Street to accommodate relatives moving to Colorado. Daniel was born three years after David and four years before Joshua. The brothers were close enough to want to kill each other – and sometimes almost did. Punches were known to be thrown over whether the family TV was tuned to "Gilligan's Island" or "Star Trek."
"I am not proud of this, but I had moments of being a bully early in childhood," David confessed. "I may have knocked out Daniel's front tooth by accident."
"Oh you did," Daniel clarified. "It was bad enough my tooth got knocked out – but they grabbed me by the arms and legs and rolled me down a hill as well."
Family friend Eric Rivedal remembers Daniel as "the quietest kid on earth." His childhood nicknames included Poopdeck Pappy (for the "Popeye" character), Daniel the Spaniel, Spanza and the one that stuck for a lifetime: Spanzoid. Daniel embraced the name: It was even part of his email address.
Young Daniel showed an immediate and innate talent for cartooning. When he was just 4, his mother suggested he send samples of his work to Walt Disney, who sent a personal letter back encouraging the boy to keep doing what he was doing. "You've got great talent. I look forward to seeing your work in the future," the Disney patriarch wrote.
The Lowenstein brothers recorded comedy sketches together on the family tape recorder. Daniel played an alien creature called a Doydoy Bird. He also collaborated with David and their cousin, Jeff, on a series of comic books that Daniel illustrated. And he published a neighborhood newspaper called The Ivy Journal. On one slow news day, the headline screamed: "Cat Almost Killed!" The brothers went around to local businesses and sold advertisements for a buck.
All the while, their famous father ran Denver Post publisher Helen Bonfils' crown jewel theatre on East Colfax Avenue and Josephine Street from 1955 through 1986, which meant the boys largely grew up around the Bonfils Theatre.
"When we got to be 10 or 12 years old, we would be put to work at the theatre doing whatever needed to be done, from running spotlights to stuffing envelopes," said Joshua. Added David: "I remember going down and helping my dad paint steps. He taught us how to do the spatter."
The brothers loved being at the Bonfils Theatre because it meant time with dad. It also meant not getting home until past midnight on many school nights. "I was getting into trouble at school because I was spacing out and falling asleep," Joshua said with a laugh.
But Daniel took fully to the artist's life. "I loved everything about it," he said. "I felt connected. My favorite part about growing up at the theatre was meeting people."
Recognizing his son's artistic talent, Henry Lowenstein encouraged Daniel to design posters and programs for the Bonfils' prolific children's theatre series. A favorite, Daniel said, was creating the program for Circus in the Wind in 1969.  "I drew a clown holding a balloon in one hand and a leash in the other with a pig on it," he said. Why a pig? "Because there was a real live pig in the show," he said.
Acclaimed dancer and choreographer Cleo Parker Robinson, who founded her eponymous dance company 49 years ago, grew up with the Lowensteins at the Bonfils Theatre. Her father was actor Jonathan Parker, who took a job at the Bonfils as a janitor and went on to star in its production of A Raisin in the Sun.
"He's family," Robinson said of Daniel Lowenstein. "There was nothing like growing up with his father and mother and brothers. We lived the theatre, and Daniel was part of every single bit of it. He learned so much from his father, and he grew into an inquisitive, brilliant, sweet and supportive man – in a very quiet way."
Daniel attended George Washington High School but graduated in 1975 from Sebastian House, a small alternative school that proved to be a respite for the brothers from the bullying and gang activity that was common at that time in nearby schools. He then attended the University of Northern Colorado in Greeley, rooming with his older brother for his freshman year in an off-campus basement. Daniel graduated with a double major in Fine Art and Biology before setting off on the rare sustained journey of a full-time, professional freelance artist. How did he pull off a lifetime of hopping from one artistic commission to the next?
"That would be talent," Joshua said simply. That he made it work, Fanelli added, "says a lot for his scrappiness."
Daniel Lowenstein helped his father at the Bonfils Theatre until it closed in 1986, then scouted the location that would become the Denver Civic Theatre thar Henry Lowenstein opened and is now the Su Teatro Performing Arts Center at 721 Santa Fe Drive.
At long last love
Lowenstein did not marry until he met his soulmate, Kathy Hamilton. He was taking a stone-carving sculpture class from the Arts Students League of Denver when he met Hamilton, a landscape architect who was helping another student in the class haul her art supplies. "Daniel kept showing up to load or unload the truck," said Hamilton. Lowenstein asked if she wanted to see a show: South Pacific at the Lakewood Cultural Center. She agreed. Daniel promptly fell asleep on her shoulder and started snoring away.
"Little did I know that Daniel had done the scenery for the show, and the reason he was asleep is because he had been working around the clock putting that set together – and two other shows at the same time," she said. "He hadn't told me any of that."
At intermission, Daniel saw two people he knew on the far side of the theatre and said to Hamilton: 'I have to go see somebody. Do you want to come?' " She did, and soon found herself meeting Henry and his second wife, Deborah Lowenstein. "How many times do you go on a first date with a fellow and his parents are there?" she said with a laugh.
A few (mostly silent) years later, the couple got married. Three times. Well, sort of.
"We got this call one night from Henry and he said, 'You know, in Colorado you can get married by just declaring yourself married,' " Hamilton said. "And so I turned to Daniel and said, 'Do you want to be married?' And he just said casually … 'Yeah.' So I told Henry, 'Well, I guess we're married.'
"Next we filed joint taxes. In the eyes of the law, that made us married, too. Then we decided to go down to the courthouse and we were married by our friend Sue Rivedal. So that was the third time." That was in 2006, when Daniel was 49.
"His relationship with Kathy was a lovely thing to see because it was something we all so badly wanted for him," Fanelli said.
The couple's 13-year marriage was marked by common causes. They didn't just agree on issues, they actively protested for or against them together. They fought the Trans-Pacific Partnership, the Dakota Access oil pipeline and stood up to the police at Standing Rock. They fought the 2010 U.S. Supreme Court decision on Citizens United and lobbied on behalf of the Community Environmental Legal Defense Fund. They walked the walk by walking the line.
A bench born of protest and painted by Lowenstein is a permanent fixture at at the entrance to Su Teatro's mainstage theater. It shows the United Farm Workers Union flag. "The bench is signed by Dolores Huerta, who along with Cesar Chavez, led the struggle for social justice for millions of farm workers," said Su Teatro Executive Artistic Director Tony Garcia. "Their work changed the consciousness of the country and inspired the Chicano Movement."
When Garcia first asked Lowenstein to paint the bench in 1989, it was weathered and sun damaged. "Dan had to replace all the wood and scrape the metal frame clean to paint it," Garcia said. The bench sat in front of Su Teatro's previous home at the former Elyria Elementary School for 21 years "and was a place where neighbors, patrons and kids sat before the show in the evenings," Garcia said. When Su Teatro moved to its present home in 2010, the bench moved, too – after a refresh by Lowenstein.
"For the thousands of people who attend events at the theatre, the bench is a center point for all," Garcia said.
'We had all kinds of plans'
One of Kathy's enduring memories with Daniel will be when they protested pesticides together on the 16th Street Mall, which they turned into live theatre. "We made bee costumes from parts we got from the Arc thrift store," Hamilton said with a laugh. "We would buzz around and this person would pretend to spray us and we would all fall down. Then we would explain to people why pesticides, especially neonicotinoids, are really terrible for bees. And then we would get up and walk to another spot on the mall and do it all over again."
"Kathy and I spur each other on," Daniel added. "She likes it when I get involved, and I like it when she gets involved. We make it a group effort." The couple were working for the passage of Denver's Initiative 300 when Daniel was told he had Stage 4 esophageal cancer in January.
"We had all kinds of plans," Daniel said simply.
Instead, he went to Mexico for 12 weeks of experimental treatments that didn't stop the disease. Faced with a regimen of chemotherapy, radiation and surgery, Daniel made the pragmatic decision to suspend treatment.
Daniel Lowenstein was not a religious person, but he was a seeker. In the final days of his life, he was devouring Joseph Campbell's The Power of Myth, a book based the acclaimed 1988 PBS documentary between Campbell and journalist Bill Moyers. The noted mythologist, who was facing his own death at the time, talked with Moyers about taking the epic adventure of inner exploration and spiritual seeking which, ironically, is nearly identical to journeys taken by Siddhartha, Moses, Jesus and others. Daniel's journey in life was following wherever his art took him.
"When I get an idea," he said, "it grabs me and pushes me in the direction I need to go in. And I go."
It's not often you get to ask a living person how he wants to be remembered. Daniel answered the question simply: "As someone who liked to experiment with art – and took that attitude toward life, too."
Kathy said Daniel will be remembered as a man "who was absolutely fair." David said he will be remembered for his amazing brain. And for the heart it was connected to.
'When I get an idea, it grabs me and pushes me in the direction I need to go in. And I go.' – Daniel Lowenstein
"Before there were Google searches, there were Daniel's brain searches," David said. "He has an amazing wealth of knowledge on just about every subject – except sports. History, politics, art, theatre, names and places. I look at him as one of the most brilliant and gifted people I have ever known – and one of the kindest, most gentle, most wonderful people, too. It's hard to imagine living in a world without Daniel. And that's something I don't want to do."
Daniel Lowenstein is survived by his wife, Kathy Hamilton; brothers David Lowenstein of Denver and Joshua Lowenstein (Lisa) of Antonito, and nieces Nissa and Sarah Lowenstein. Information about a memorial celebration will be added here when it becomes available.
John Moore was named one of the 12 most influential theater critics in the U.S. by American Theatre Magazine in 2011. He has since taken a groundbreaking position as the Denver Center's Senior Arts Journalist.
Photo Gallery
Click on any photo above to see a larger version
Click here to see our complete gallery of Daniel Lowenstein photos
https://www.denvercenter.org/wp-content/uploads/2019/08/Daniel-Lowenstein-Henry-Award.jpg
429
581
John Moore
John Moore
2019-08-16 00:13:13
2019-08-16 08:04:33
Daniel Lowenstein: Quiet man whose art spoke volumes