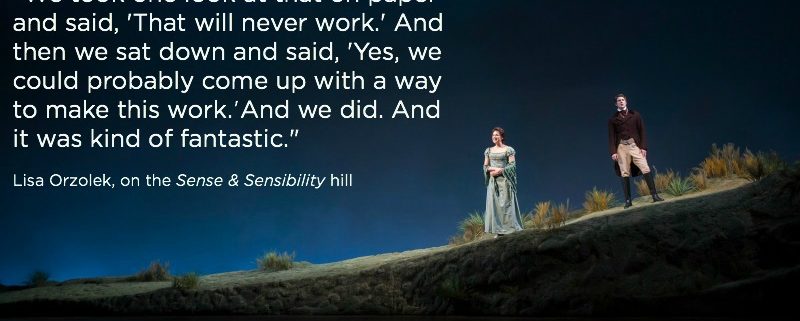 Art and artist: Why the Orzoleks have never left DCPA's 'Nest'
Lisa and Bob Orzolek have 52 years of combined experience with the DCPA Theatre Company
Lisa Orzolek and her husband, Bob, have an astonishing 52 years of combined experience with the DCPA Theatre Company. And Bob figures there are two pretty simple reasons for that.
"We get along with other people," he said. "And I think we've gotten a lot right over a long period of time."
As the Director of Scene Design, Lisa creates the physical worlds where several Theatre Company plays come to life every season, while also helping other designers realize their visions for the other plays. Bob is called the Associate Technical Director. Simply put, his wife says, that means "Bob is in charge of how stuff is going to get built."
The Orzoleks are humble Colorado natives who grew up in the Catholic school system and still say grace whenever they meet up for lunch. They realize how lucky they have been to raise three children in a stable home in their hometown while staying consistently employed in an industry that can change as quickly as it takes to fly in new scenery during a play.
"Being able to work at the Denver Center is a dream job, and we are very blessed," said Lisa. "I just wish that more people in the local theatre community knew that a lot of people here at the Denver Center grew up here – and that this is our home, too."
The Theatre Company has staged nearly 300 plays since Bob arrived first in 1988. Lisa followed two years later. Since then, the two have had a hand in creating some of the most seminal magic in DCPA history. Bob recently figured out how to make real fire dance onstage for Lord of the Flies, and how to make a tricked-out Cadillac float in the black odyssey ocean. Another point of pride was The Legend of Georgia McBride in the Rickeston Theatre.
"What we were able to put onstage in that little tiny space together with all of these creative people who, for the most part, had never met … " Bob began, his voice trailing off. "The whole process was pretty phenomenal."
Our video look at how Bob Orzolek made fire for Lord of the Flies. Video by David Lenk and John Moore for the DCPA NewsCenter.
Lisa loves the opportunity to try "crazy things," like making the hill that covered the Stage Theatre in Sense and Sensibility, The Musical. And "hill" is an understatement. It started at ground level and rose to more than 5 feet high. It was 52 feet long and 6 feet wide.
"We took one look at that on paper and said, 'That will never work,' " Lisa said.  "And then we sat down and we said, 'Yes, we could probably come up with a way to make this work.' And we did. And it was kind of fantastic."
Lisa has quite a challenge on her hands right now with designing the set for the upcoming premiere of Theresa Rebeck's The Nest. The play is set in a big, stationary bar. And the play will be performed in the round. How do you make that work?
"Bar plays are traditionally very static," Lisa said, "and so for us, the challenge from the start was how you solve that so that the audience remains very much a part of the story?"
​
Growing up Denver
As kids, young Lisa Moran and Bob Orzolek's lives kept intersecting – without actually intersecting until they were Denver Center employees. Moran was schooled at the St. John's and St. James elementary schools before becoming part of the first graduating class at the Church of the Good Shepard. Bob attended St. Vincent DePaul and Most Precious Blood.
Both were introduced to theatre at The Original Scene, which from 1973-93 provided young people from all over the city an introduction to year-round, professional theatre experiences. Broadway actors Rebecca Eichenberger and John Paul Almon; TV and film star John Carroll Lynch; and local stalwarts Nick Sugar, Paul Dwyer and Maurice Lamee are just a few who performed there as elementary through college students. So, too, prominent Chicago playwright and Cherry Creek High School graduate Laura Eason. (Her breakout play Sex With Strangers opens Jan. 16 at Curious Theatre Company.)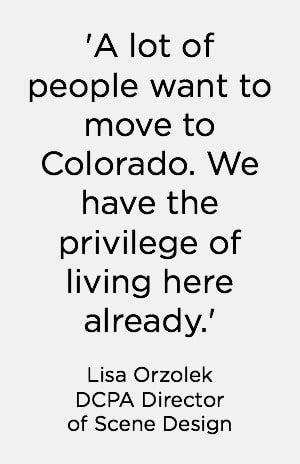 Bob performed in big musicals at The Original Scene like The Sound of Music and Jesus Christ Superstar while he was a student at Mullen High School. Moran took dance classes and sang show choir, but she really found her theatrical calling at Manual High School.
"I realized pretty early on that I was not a performer," she said. "My brothers and sister were much better at that. But then I got really involved with the backstage stuff."
Former Denver Center Technical Director Dan McNeil hired Moran as a high-school senior to work as an intern in the props shop, which is where artists build or find everything an actor sits on or touches in a play. "I came down to the Denver Center and worked half the day every day of my senior year," Lisa said. "It was super-awesome. It was very rewarding and enlightening and just a fun place to be."
While Lisa then went to Boston University to study theatre scene design, Bob joined the acting program at Marquette University, an experience he found to be expensive and not very effective. For a time he studied environmental science at the University of Denver, but eventually he graduated with an acting degree from Loretto Heights, Denver's premiere performance college at the time.
The Love Boat
Orzolek and Moran graduated from their respective colleges knowing they did not want their theatre careers to take them to New York – so they came home to Denver instead. Orzolek was hired at the Denver Center in 1988 (also by McNeil), and Moran followed two years later for a seasonal assignment. After 18 months with the Pacific Conservatory Theatre in California, Moran returned to the Denver Center for the 1992 season, and she has not left since.
And yet, somehow, to this point, the future couple still had not met. But that was mostly logistics. At the time, the design studio where Moran worked was in the Bonfils Theatre Complex. Orzolek worked off-site at a warehouse located just outside where the third-base line at Coors Field is today.
But Moran remembers an initial encounter, if not a full meeting, at that warehouse.
"I did go over there and work in the props area for a couple of weeks in 1990," she said. "I remember sanding the boat for Twelfth Night. It's not like I knew who Bob was then, but I do remember him saying to me, 'So this is how you use the spoke shave.' "
Famous first words.
Wait … this is how you use the what-what?
"I carved the boat out of foam," Bob said matter-of-factly. You know … with a spoke shave.
Duh.
When Moran returned to the Denver Center in 1992, the shop had moved into what is now known as the Newman Building for Theatre Education, and the social atmosphere at work had changed. "People went out and did stuff together all the time then," she said. "Hiking, ice skating, movies, camping trips … that's how we really met."
They "more formally got acquainted," as Orzolek puts it, on a camping trip to Moab, Utah, as part of an eight-car convoy with more than a dozen DCPA shop workmates. And from there, their jobs – and hearts – started to converge.
"The studio was on the first floor, and the shops were on the second floor," Lisa said. "So when we finished drawings, we would take them up and discuss them with Bob and Dan (McNeil). There was a lot more interaction, with everything being in the same building."
The couple were married on New Year's Eve 1994, and last week they celebrated their 21st wedding anniversary. They have three children: Hattie is 20, Louis 17 and
Camille 5.
Over the years, Bob's job titles have included Prop Shop Foreman, Scene Shop Foreman and, now, Associate Technical Director. Lisa was called Scenic Design Assistant and Design Associate before going a long time without a title. She has essentially served as Director of Scene Design since Bill Curley left after Tantalus in 2001, but was given the official title three years ago.
Bob finds stating a current and complete job description to be "a little nuts" because his responsibilities are so varied. He supervises the day-to-day operations of the seven-member scene-shop staff. Their primary duty is the construction of technical elements and special effects for all Theatre Company productions. Orzolek also manages the remote warehouse facility now located north of downtown on Fox Street, and he supervises the handling of equipment, facilities and training.
Lisa oversees all scenic designs on all Theatre Company stages. So if she is not designing a particular show herself, she will work with the assigned designer from Day 1.
"Because I have been here a long time, I'm pretty knowledgeable about what these spaces can do," she said. "I know the sightlines; what things might work. So I can help guide some of the decision-making process." Lisa's team builds models and creates construction-style blueprints that Bob's team then uses to figure out how to construct the sets.
Coming up this season
Lisa is excited to be designing the final show in the Space Theatre before it closes for a year of renovations. That includes her own design of the massive, hand-carved, three-sided bar for The Nest. FADE brings to Denver a new creative team in playwright Tanya Saracho, director Jerry Ruiz and Scenic Designer Timothy R. Mackabee. Returning Scenic Designer Robert Mark Morgan plans a majestic and multimedia arena for the LBJ political thriller All The Way. Sweeney Todd will incorporate not only the infamous body-dumping barber chair but the live music of local band DeVotchKa. There will also be a new off-site immersive experience offered this spring in collaboration with a group called the Third Rail Projects. Never a dull moment.
While it is the Orzoleks and an army of unseen team members who are largely responsible for the visual magic audiences enjoy on Denver Center stages, they don't do it for the credit. Living life in relative professional anonymity comes with the unforgiving territory. Because there are no bows at the curtain call for creative teams.
"You don't do it for the applause," Bob said. "And unless you go to a lot of performances, you won't hear the applause anyway. You're not doing it for the money, because that can be a challenge in this business."
But there are rewards. And sometimes the best ones come from simply listening.
"For me, the opportunity comes when you are sitting in the theatre listening to audience members talk about the play they have just experienced," Bob said. "And when you hear an audience member comment on certain things that you had a hand in, well, that can be pretty amazing."
Theatre is an inherently itinerant lifestyle. But while directors and writers and actors rarely get to stop anywhere long enough to put down roots, the Orzoleks keenly appreciate the garden they have had the opportunity to plant here at the DCPA.
"We chose to stay here in Denver to be close to our parents, to be close to where we grew up, and to raise our kids here," Lisa said. "A lot of people want to move to Colorado. We have the privilege of living here already. And I just can't think of a better jobs than the ones we have. Or of another place I would want to be."
By Theresa Rebeck (right)
Jan. 22-Feb. 21
Space Theatre
When you have a seat at the bar called The Nest, no conversation is off-limits, whether you're speaking or eavesdropping. That is, until a stranger walks in with a lucrative proposition. Pulitzer Prize finalist Theresa Rebeck's plays "may make you laugh or shudder (or both)" according to American Theatre, and with its feisty humor and scorching dialogue, this explosive new comedy holds a cracked mirror up to friendships, romantic relationships and families.
Tickets: 303-893-4100 or BUY ONLINE

Previous NewsCenter coverage of The Nest:
Five things we now know about that bar
Cast list announced
Theresa Rebeck is not getting angry: She's getting even
​American Theatre magazine: The Colorado New Play Summit Is a Developing Story
Previous DCPA 'Art and Artist' profiles:
Box office Subscription Manager (and Off-Center host) Micah White
Costume Crafts Director Kevin Copenhaver
Stage manager Jennifer Schmitz
Costume Designer Megan Anderson Doyle
Graphic Designer Kyle Malone
Stage Manager Kurt Van Raden
Teaching Artist Jessica Austgen
Head of Acting Lawrence Hecht
Lighting Designer Charles MacLeod
Director of I.T. Bruce Montgomery
Stage Manager Lyle Raper
https://www.denvercenter.org/wp-content/uploads/2018/04/featured-image-2799.jpg
409
800
John Moore
John Moore
2016-01-06 11:27:00
2018-12-19 20:05:09
Art and artist: Why the Orzoleks have never left DCPA's 'Nest'