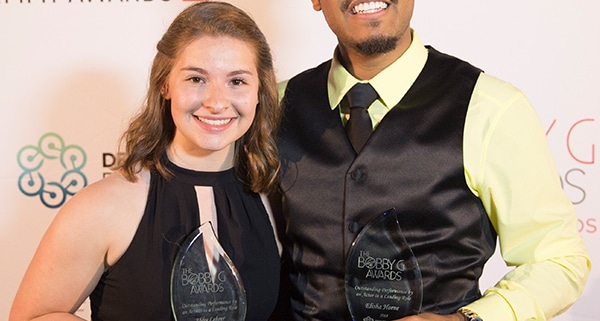 2018 Bobby G Winners: Where are they now?
From the archives: this article was originally published on May 18, 2022
Each May, The Bobby G Awards gather high school students from across Colorado to celebrate and reward their theatrical achievements. After two years away from the stage, The Bobby G's are back with more excitement than ever.
"The energy, power and positivity in the high school programs this year has been exceptional," Executive Director of Education and Community Engagement Allison Watrous shared. "I am truly grateful to the theatre teachers that lead this work. The DCPA is proud to be a part of the journey of the students and educators."
As we prepare for this year's ceremony, we sat down with the 2018 Outstanding Actor and Actress, Elisha Horne and Abigail Brooks (Lehrer), to hear about their experience and what they've been up to for the last four years.
Horne grew up watching The Tony Awards at home and seeing his father on stage in local productions. Before his high school involvement, he participated in professional shows with his father.
When entering high school at VISTA Peak, he was introduced to The Bobby G's and fast-tracked his acting classes. With the support of his family and encouragement from his teachers, Horne's raw talent bloomed.
"My whole high school career had been setting me up to perform and be my best self, not just for The Bobby G's, but also as a performer," Horne commented. "I did it all. I participated in several choirs, played trombone and was in all the dance classes."
There was always competition when he performed and auditioned growing up. Still, when Horne was nominated for Outstanding Actor his senior year, The Bobby G's gave him an eye-opening experience.
"It was beyond competition; it was a celebration."
Programs like The Bobby G's expose students to the professional side of theatre and create an encouraging environment for students to thrive. "It gives you hope and keeps you in a place of imagination," Horne explained. "Imagination is how we create. It's how we feel and how we strive for more. That's what the Bobby G's created for me."
Following graduation, Horne took a job as a special needs para during the day, so he could spend his evenings auditioning for shows. His first show was A Christmas Carol at the Town Hall Arts Center. One of his fellow castmates in the show works as a local musical artist and took Horne under her wing.
"You know me, I want to be well-versed in everything, so I wanted to get that experience," Horne joked. "That experience inspired my love for writing and creating for myself."
Horne moved to Georgia to pursue his solo career and has several projects on the horizon.
Abigail Brooks (Lehrer) is known for her Classic Broadway voice and was recently a contestant on the 20th season of "American Idol." After high school, she attended The Institute for American Musical Theatre (IAMT). She has lived in New York for the past four years, auditioning for Broadway shows and making her stamp on the world — primarily through TikTok.
The two-year conservatory in Washington Heights is a Broadway boot camp. Students like Brooks train rigorously, honing their singing, dancing and acting skills to prepare for auditions and agents.
Halfway through her time at IAMT, people from "American Idol," "America's Got Talent" and record label producers began reaching out to her because of TikTok. Since her appearance on "American Idol," another path has emerged – film and tv.
Despite the many options, Brooks is sticking with Broadway. When she's not auditioning, she can be seen performing at Birdland, working with Post Modern Jukebox or singing with a broom during her barista shifts at a local coffee shop.
But Brooks' success didn't begin in New York. It started at Valor Christian High School in 2016 when she was nominated for the Rising Star Award (typically given to underclass students) for her performance as Bird Lady in Mary Poppins.
"I heard through the grapevine that I was nominated for the Bobby G's. I didn't know what it was, but my director told me it was a big deal for high school students in Colorado," Brooks shared. "I felt like I was on the red carpet. It was like the Tony Awards. I felt totally out of my league."
Brooks won Rising Star that year, but it wouldn't be her last time at the Bobby G's. After transferring to Castle Rock High School, Brooks was again nominated for Best Actress for Les Misérables her senior year.
"When I think about it now, it was a huge honor to be nominated twice and win twice," Brooks explained. "It was very encouraging along my journey to New York."
Brooks appreciates the visibility The Bobby G's provide for young artists. "Acting never felt like the most important thing. It was always academics or sports. But when you're a passionate person with a story to tell, the recognition proves that what we do is important."
At the time he founded the Bobby G Awards, the DCPA's late President Randy Weeks said, "Athletics are traditionally honored in every high school. I consider the Bobby G program to be the same kind of opportunity for students in the arts. We think of these awards as our version of letter-sweaters. The Bobby G program gives them an opportunity to participate in a statewide competition."
For the last seven years Teaching Artist and Education Program Manager Claudia Carson has directed, choreographed and production managed The Bobby G Ceremony. "I've always connected with students, particularly high school students," Carson said.
"The Bobby G Program fits into my core as an educator, teaching artist and person. I hope that the program will continue to bring together a community of support for all high school theatre programs long after I am gone."
Watch this video to learn more about The Bobby G's.
DETAILS
2022 Bobby G Musical Theatre Awards Ceremony
May 26 at 7pm • Ellie Caulkins Opera House
Tickets
https://www.denvercenter.org/wp-content/uploads/2018/06/BobbyG_Mod04_A_600x600.jpg
600
600
Madison Stout
Madison Stout
2023-05-11 10:02:06
2023-05-11 14:42:40
2018 Bobby G Winners: Where are they now?