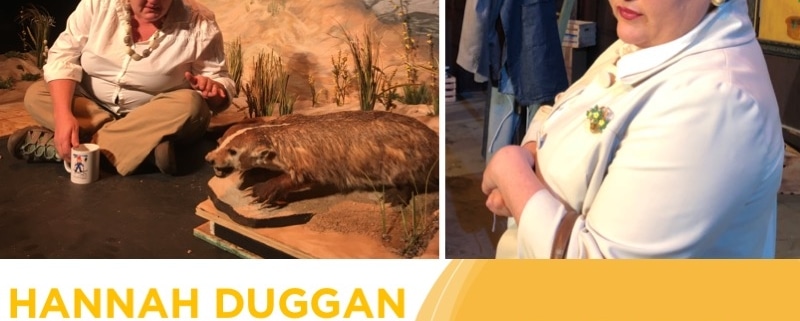 2018 True West Award: Hannah Duggan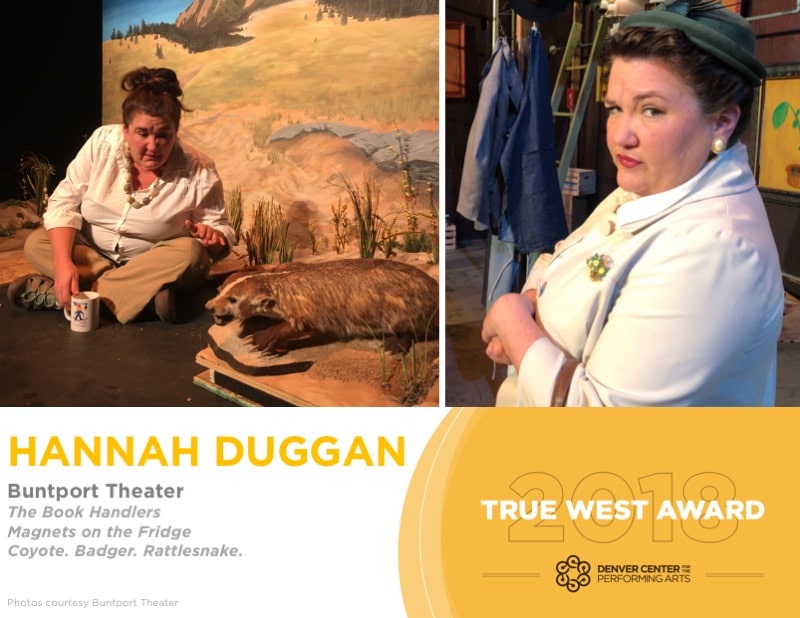 2018 TRUE WEST AWARDS, Day 17

'You can't be that funny without being a really good actor'
I am just going to say it: Hannah Duggan is the funniest woman I've ever seen on a Colorado stage. And she doesn't even try to be funny. Maybe that's why she's so funny.
Duggan, part of the enduring Buntport Theater collective, says words that aren't inherently amusing coming out of anyone else's mouth. There's just something about her adorably crabby demeanor and caustic delivery that make the only appropriate response to whatever inane, exasperating or surprisingly salient thing that comes out of her mouth to be a belly laugh.
She can just look at some poor sucker with the most cross, disapproving look and, sorry ­– it just makes you giggle.
As they say, "comedy is hard" – but while Duggan makes it look deceptively easy, it ain't.
"You can't be that funny without being a really good actor," said Duggan's former Buntport castmate, Evan Weissman. "Hannah is super-talented and she works really hard. Because it's not easy to be that consistently funny over so many years."
Duggan is part of a unique ensemble of Buntport buddies who met as undergraduates at Colorado College in 1997 and have been writing, producing and presenting their own completely original, often absurd but always mind-blowing plays ever since.
Speaking of funny: Whenever the conversation turns to the creation of new plays in Colorado, it  often completely skips over Buntport, when really it should start with Buntport, which is now closing in on 50 full, self-produced original plays (a milestone it will reach in 2019.)
The Buntport collective of Duggan, Erin Rollman, Brian Colonna, Erik Edborg and SaManTha Schmitz produced two new plays in 2018. The Book Handlers, running through December 22, imagines a 1940s business that provides a vital service for rich people who can't be bothered to actually read: Its handlers mess up all the uncracked books on their shelves to make them look thoroughly perused. You know, to impress their friends. Duggan played a woman who cheerfully sings "Elmer's Tune" each day as she arrives at work – and yes, she made it funny.
I'm not sure how many people got the joke, but The Book Handlers was Buntport making fun of itself. After all, a significant portion of the group's canon are loosey-goosey adaptations of classic works. Or, as Duggan once explained it: "When you see a Buntport show, you can probably go to a cocktail party afterward and pretend that you've actually read the book. That's really all we try to do here at Buntport: We try to make you look smart at cocktail parties."
Coyote. Badger. Rattlesnake., running through December 22 and created in collaboration with local playwright Ellen K. Graham, offers a behind-the-scenes look at two dorky museum workers (played by Duggan and Brian Colonna) who are tasked with painstakingly re-creating a damaged diorama involving the three titular animals. It all makes for a very Godot-like intersection of science, art, existentialism and their own humanity – along with some very witty dialogue. Duggan plays a crab named Carroll who is, to put it mildly, "wound a bit tight," Lisa Kennedy wrote for The Denver Post. But whereas your anxious, incessant huffing might come across as a wee bit … aggravating … to your friends, Duggan's anxious huffing ("Cecily is missing a good portion of her face!") somehow turns taxidermy into comic gold.
Weissman was more impressed with a brief scene where Duggan, as Carroll, tells the story of having been left by her father as a 7-year-old at her mother's funeral. With hours to spend at the funeral home, it occurred to the girl that her mother never looked better than she did in her casket – perhaps portending her future in taxidermy. Duggan tells that story almost as an aside.
"Her acting in that scene is awesome," said Weissman, founder of a Denver civics health club called Warm Cookies of the Revolution. "Most actors would really draw that out for all the emotion they can get, but Hannah just cracked right open and said the words and moved on."
2018 also brought the return of the most popular offering – and most beloved characters – in Buntport's history. Magnets on the Fridge was a live-sit com that for five years followed a vapid group of "Friends"-like friends who were part of a book club where no one read the books. (Picking up on the theme?) That was a wildly prolific time as the Buntport crew created 65 biweekly episodes as a side project to their mainstage programming. This year, as a way of needling the TV networks' retro resurrections of sit-coms such as "Will & Grace" and "Murphy Brown," Buntport brought back the Magnets gang of now 40-somethings navigating the new Denver. Duggan plays an abrupt, boozy anchorwoman named L.P., who fled Denver for New York amid rumors of an affair with a castmate. The series returns February 6.
Last word. "Hannah is quick. She is disarming. She is smart. And she'll do anything. She's not at all afraid of what people will say or how they might judge her." – Evan Weissman.
Buntport Theater: Coming up
717 Lipan St., 720-946-1388 or buntport.com
Full plays:
Through Dec 22:  Coyote. Badger. Rattlesnake.
February 15-March 2, 2019: Remount of The Rembrandt Room at Buntport
March 8-9, 2019: The Rembrandt Room at the Longmont Museum
May 17-June 8, 2019: Buntport's 48th original full-length play
Additional programming:
January 12: A Typewriter Revolution (A Buntport collaboration with Stories on Stage at Su Teatro)
January 15 and April 16: buntportTED Talks (topics solicited from social media)
First Wednesdays: Magnets on the Fridge (live sit-com, February 6-June 30)
Third Tuesdays: The Great Debate
Third Wednesdays: The Narrators (podcast)
About The True West Awards: '30 Days, 30 Bouquets'
The True West Awards, now in their 18th year, began as the Denver Post Ovation Awards in 2001. DCPA Senior Arts Journalist John Moore — along with additional voices from around the state — celebrate the entire local theatre community by recognizing 30 achievements from 2018 over 30 days, without categories or nominations. Moore was named one of the 12 most influential theater critics in the U.S. by American Theatre magazine in 2011. His daily coverage of the DCPA and the Colorado theatre community can be found at MyDenverCenter.Org
https://www.denvercenter.org/wp-content/uploads/2018/12/Day-17-Hannah-Duggan.jpg
618
800
John Moore
John Moore
2018-12-14 11:50:34
2018-12-14 13:20:41
2018 True West Award: Hannah Duggan