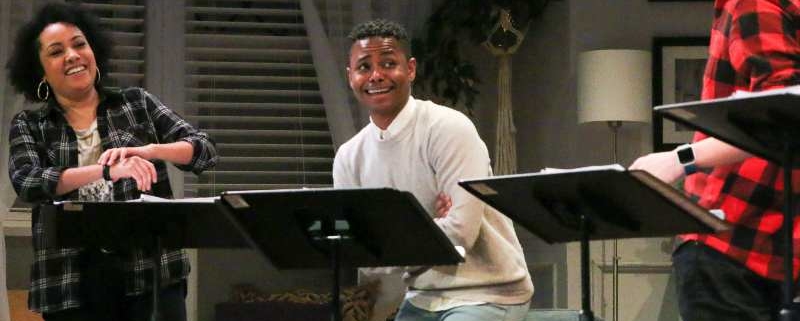 2019 Summit introduced ghosts, snakes and an array of potent new older women
Denver Center's annual celebration of new works for the American stage tackled tough and topical issues    

The 2019 Colorado New Play Summit took on topical issues ranging from colorism to gender norms to questions of personal and national identity. It presented ghosts real and imagined. It introduced an exciting variety of substantive new roles for older women. But the Denver Center Theatre Company's 14th annual gathering of industry professionals could perhaps most tellingly be crystallized as "A Tale of Two Andys."
Isaac Gomez's Wally World introduced a Mexican American woman named Andy who worked her way up from store cashier to manager of one of the largest retail superstores in the country. Her given name is Andrea.

Tony Meneses' twenty50 introduced a Mexican immigrant named Andy who is running for congress and must decide whether identifying himself as a Hispanic American will help or hinder him on Election Day. His given name is Andres.
That neither character is known by his or her birth name says everything about the timely stories that were told at the 2019 Summit – and are being lived every day throughout America. For one Andy, it was more advantageous for her to be presumed a man. For the other, it was more advantageous for him not to be known as Mexican.
Both characters starkly reflect an America at a time of change, one that offers unprecedented opportunities for persons of color, but not without some cost to their cultural and racial identity. The issue of assimilation into a white community, and at what price, is central to both otherwise vastly different plays.
The Summit was the first under the full creative influence of new Theatre Company Artistic Director Chris Coleman. All five featured plays become instant candidates for consideration to be fully staged on upcoming mainstage seasons.
The Colorado New Play Summit has grown into one of the nation's premier showcases of new plays. Since 2006, it has introduced 57 new plays leading to 32 fully produced world premieres.
The five Summit offerings at a glance:
"What struck me the most about the Summit were the diversity of voices and the eclectic nature of theatrical forms of all of these works," said Wendy C. Goldberg, director of You Lost Me.
Denver director and actor Betty Hart found it intriguing that only one of the plays was set solely in present times. Escaping from the present, she said, can be the best way for us to get a clearer vantage of who we are right now.
"These playwrights showed a willingness to look both to the past and the future to ask some pretty tough questions about who we are and who we want to be – which I think is the most important question of all," she said.
Of particular interest to many industry visitors were the strong, independent and in some cases disturbingly complex and unlikeable older women at the fore of several stories. Just the kind of delicious roles female actors across the country have been calling for.
Wally World's Andy accepts that in order for her to be successful, some will think of her as a shrew. Rattlesnake Kate and both of You Lost Me's two Ann Harveys were isolated women who, regardless of century, were fully functional in the absence of men. And In the Upper Room introduced an unapologetically vicious family matriarch named Rose.
The Colorado New Play Summit allows for two weeks of development of each new play, culminating in a first weekend of public readings. Playwrights then take what they learn from their first readings back into their writing rooms before more rehearsal and a second round of readings for industry professionals. There is not believed to be another new-play process quite like it.
Berry called the second week "both an amazing gift and an amazing opportunity." Meneses said the two-weekend structure "is kind of mind-blowing for me." Gomez said to a playwright, time and space are commodities just as valuable as money. "But the Denver Center provides us a beautiful opportunity to have all three," he said.
This year's Summit drew industry leaders from 49 local and national theatre organizations, with 38 playwrights and more than 150 directors, actors, artistic leaders, educators and more from 17 states attending or taking part. Visitors represented companies ranging from the Perseverance Theater in Alaska to the Steppenwolf Theatre Company in Chicago to the National Theatre in London. Closer to home, guests hailed from the Creede Repertory Theatre, Curious Theatre, The Catamounts, Athena Festival Project and others. Total attendance eclipsed 3,000, with more than 975 individuals attending at least one Summit reading.
Goldberg was back at the Colorado New Play Summit for the first time since 2014 after having directed five mainstage Theatre Company offerings.
"It has been remarkable for me to see the Summit's growth and expansion," Goldberg said. "All in all, it was a great opportunity to work, network, see what has shifted over the years and to celebrate new work in the mountains."
This year's attendees also were invited to attend Anna Karenina and world-premiere Theatre Company stagings of Last Night and the Night Before and The Whistlebower. In addition, DCPA Education hosted readings of its three annual statewide student playwriting competition winners. And the itinerary again included two late-night Playwrights' Slams, where writers sampled their developing works in a fun and supportive atmosphere. One Slam focused on local playwrights while the other featured national writers. At the local Slam, the Theatre Company announced that it has established The Playwrights' Group to foster the work of local playwrights, and named its first four members.
The Summit also included a gathering of the Women's Voices Fund, the Denver Center's $1.5 million endowment that supports new plays by women and female creative team members. Since 2005, the Denver Center has produced 30 plays by women, including 13 world premieres, commissioned 19 female playwrights and hired 23 female directors.
Summit Spotlight: Neyla Pekarek and Karen Hartman, Rattlesnake Kate
To Metzgar, the five Summit offerings this year made it abundantly clear that America is at a moment of change. So is the American theatre.
"And if there is an example of how the American theatre is in a moment of change, it is being lived right here at the Colorado New Play Summit," Metzgar said.
"On our first day in the room, I looked around at the incredible diversity of voices, and of artists, and of different perspectives all together here. That shows me that the future is really bright. If one of the great institutions in this country can do that and it can happen here, it can happen everywhere."
John Moore was named one of the 12 most influential theater critics in the U.S. by American Theatre Magazine in 2011. He has since taken a groundbreaking position as the Denver Center's Senior Arts Journalist.
Photo gallery: 2019 Colorado New Play Summit
Photos by Adams VisCom and John Moore for the DCPA NewsCenter.
Check out our complete gallery of more than 300 Colorado New Play Summit photos
Video bonus: Hear from all of the featured playwrights
https://www.denvercenter.org/wp-content/uploads/2019/02/2019-Colorado-New-Play-Summit.-Kristina-Fountaine.-Kevin-Curtis-and-Dan-Lin-in-Wally-World.-Photo-by-John-Moore.jpg
582
800
John Moore
John Moore
2019-02-26 21:24:45
2019-03-03 21:54:18
2019 Summit introduced ghosts, snakes and an array of potent new older women