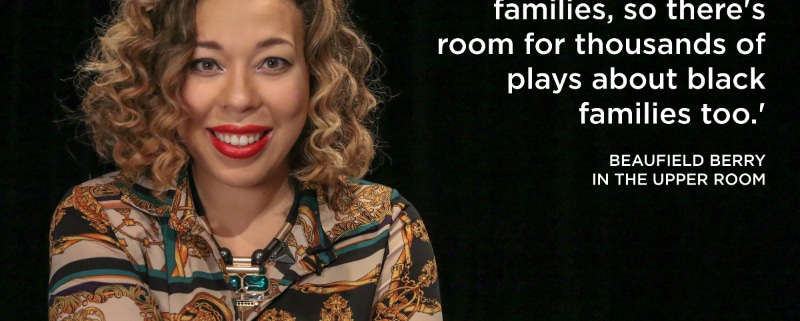 Summit Spotlight: Beaufield Berry on how every family is every family
Video by DCPA Video Producer David Lenk and Senior Arts Journalist John Moore.
In this daily five-part series for the DCPA NewsCenter, we introduce you to the plays and playwrights featured at the Denver Center's 2019 Colorado New Play Summit through February 24. Over the past 14 years, 29 plays introduced at the Summit have gone on to be premiered as fully staged productions on the Denver Center Theatre Company's mainstage season. Today: Beaufield Berry, author of 'In the Upper Room.'
 Omaha playwright's departed family members spoke to her. In the Upper Room is her way of making sure their voices are heard.

The play in a nutshell: Meet the Berrys, a multi-generational black family living under one roof in the 1970s. Their lives orbit around Rose, the controlling matriarch who has indoctrinated fear into every member of the house while hiding dark secrets from her mysterious past. Colorism, loyalty and twisted family dynamics are all at play in this dramatic dark comedy about the ties that bind and break us.
The playwright at a glance: Beaufield Berry is an Omaha-based playwright, novelist and arts-education professional. Her work has been performed across the country. She is a guest artist with the Inge Fest in Independence, Kansas, and an educator with Omaha Performing Arts. In the Upper Room was a finalist for the O'Neill Theatre Center's 2018 National Playwrights Conference.
Here is more of Beaufield Berry's conversation with DCPA Senior Arts Journalist John Moore:
John Moore: So do you have any Colorado connections?
Beaufield Berry: Yes, I actually lived in Colorado for two years – in Crested Butte and Telluride. In fact, I've got a Colorado State University tattoo on my side.
John Moore: Can we see it?
Beaufield Berry: Absolutely not. We can't go back in time like that.
John Moore: OK then, why don't you introduce your play?
Beaufield Berry: Ultimately, In the Upper Room is a play about family. It's about belonging. It's about tradition and generations all meeting together in one home. It's about the things we learn from each other, and the things we do to hurt each other, even when we don't mean to.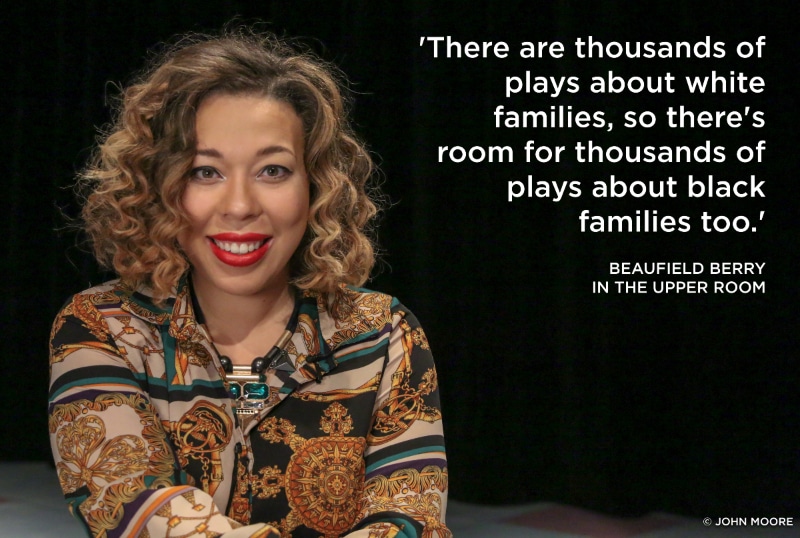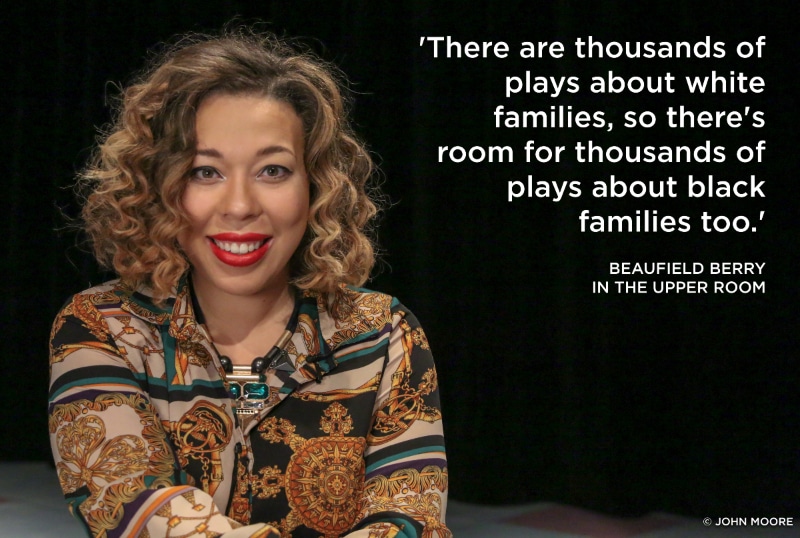 John Moore: So what happens in your play?
Beaufield Berry: The play centers around a very mysterious matriarch named Rose. She runs the house. She is in control of everyone and everything. The play shows how that trickles down through to the second and third generations living in this home. Eventually we see another side of Rose that helps us to understand where she's coming from and why her character does what she does.
John Moore: I know this play is about the Berry family, but first tell me about the origin of your first name.
Beaufield Berry: So, I was born in the '80s.
John Moore: That's all we need to know?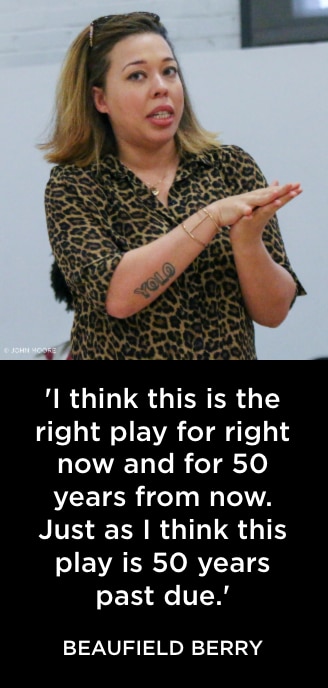 Beaufield Berry: Pretty much. No, my mother is an artist and a very creative soul. When she was having me in 1984, there was a jazz singer named Angela Bofill. My mother loved her, but she didn't love the name Angela. She did love the name Bofill, so she took it and she tweaked it and I got Beaufield. When I was a kid, I was begging people to call me Amy or Christine.
John Moore: With a great name like Beaufield?
Beaufield Berry: There were four Christines in my class, and I just wanted to be a Christine like everybody else. But now I think I've grown into it.
John Moore: So tell us about the Berrys and how they influenced the writing of this play.
Beaufield Berry: Well, the Berrys had everything to do with this play because a lot of my family members who have moved on just showed up in my brain one day out of nowhere – and they wouldn't shut up until I sat down and let them be heard. A lot of the people in this play are inspired by or directly channeling my ancestors. I truly believe they came back and spoke to me and invested themselves in this piece. So it's been quite a journey writing it and then seeing it come to life through all of these amazing actors.
John Moore: I'm fascinated by this idea of being visited because this seems to come up time and again when I talk to playwrights. You said you were haunted when writing this play. How did that happen?
Beaufield Berry: I did feel haunted. And my house felt haunted – but not in a scary way. In a very peaceful, energetic way. I felt supported by all of the voices and by the presence of my past family members. It was like a big blanket of love wrapped around me – but also these loud, black voices telling me, "Uh-uh, I didn't say it like that. I said it like this." And I would say, "OK, let me get that down for you."
John Moore: I hear you wrote this play in just three days.
Beaufield Berry: Yes, I did. I was pregnant with my second child. And I truly believe that when I was pregnant with that baby there was a creative world being made, because I did some of my best and most prolific writing during that time. One night I got up from my bedroom in the middle of the night and I walked into the office and I sat there and it just came out. It just moved. But the play had gone largely untouched since then. So being able to be here [in Denver] and dive back in and see the mechanics of this play at work and putting it all together for this reading has been really magical. It's been a really great experience, especially with a director and dramaturg you love and trust so well and so fast.
John Moore: Tell us about the setting of the play, and how the varying generations of your family play into the story.
Beaufield Berry: My play is set in 1974. Everybody lives in one house. If you were a lower-income family then, that's what you did. You don't ship off your elderly. Everybody's here in this family compound living together and making it work. I think when everybody sleeps and eats in the same house, that creates this vortex of dynamic relationships, because nobody can go home.
John Moore: Because they already are home.
Beaufield Berry: Exactly. I wanted to really explore how, say, a 16-year-old girl in the 1970s interacts at home with a grandmother who was born in the Deep South in the 1930s.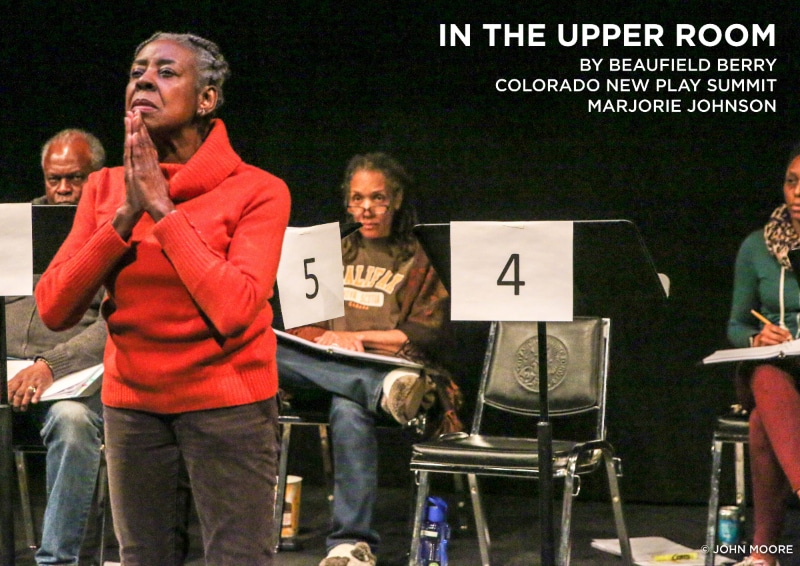 John Moore: The history of the American theatre suggests that from Long Day's Journey Into Night to Death of a Salesman to August: Osage County, when you tell the story of one specific family, you're really telling the story of America at any given time. Is your story in some ways the story of America in 1974?
Beaufield Berry: I love that question so much. I say this all the time: Yes, I am talking about my family in this play, but I'm also talking about your family. I am talking about a black family. I'm talking about every family. That's something I really want my audience to walk away with. I think it's important for all of us to see black families on stage being complex and loving and kind and horrible to each other in the same way we see other theatre families on the stage. There is a character in this story every single audience member can connect to. Someone who reminds them of their uncle or grandmother or whoever.
John Moore: And has secrets.
Beaufield Berry: Oh, yes. My family has a lot of secrets, too. I really think the message of this play is that every family is every family. Removed from our racial, social and economic differences, every family can connect on some level with what it is to love people who drive you crazy.
John Moore: Have we ever seen a family like yours on the American stage before?
Beaufield Berry: Part of what's special about this play is that, no, we haven't seen a family like the Berrys represented in any other writer's canon. We tend to think that the Black Experience is a monolith, and it's not. There are a million different ways to be in a family, to be black, to be white. The ranges in black families are just as high and low and up and down as the ranges in white families. There are thousands of plays about white families, so there's room for thousands of plays about black families too. I think we just have to get back to the idea that theatre is for everyone.
John Moore: You also mentioned colorism, which is its own category of racism. Explain how that plays a role in the family dynamics of your play.
Beaufield Berry: So we've got an older-generation grandmother and her two granddaughters. One is light-skinned and one is dark-skinned. And we can see the difference in the way the grandmother treats the light-skinned sister. She dotes on her. She loves her. She lets that be known. She tells people she can be a model. Whereas the grandmother is usually angry with the dark-skinned sister. She snaps at her. She takes things out on her. She berates her. She humiliates her. And I really wanted to show that dichotomy because it's something we're only just starting to talk about in the black community. People who are light-skinned do benefit from light-skinned privilege, and we all know that. It even happens in families that are loving and kind. Sometimes it goes unnoticed, but that little dark-skinned girl is going to take that home with her and carry that with her for the rest of her life. This issue is fraught with emotion, but there are a lot of conversations happening in our communities right now about how we can start to fix this for ourselves.
John Moore: Why do you think this is the right play for right now?
Beaufield Berry: I think this is the right play for right now and for 50 years from now. Just as I think this play is 50 years past due. And that's not to be cocky. I feel that way about a lot of plays. I feel the timing in the world right now is so ripe with so many wonderful new black voices, Latina voices, female voices, and, yes, white male voices, too. There's room for so many people. My hope for my play is that it transcends time and politics and any other outside factors and remains true to what it is at its core, which is the magic of the family.
John Moore: What do you want to say to these Denver audiences who will be coming to the Summit as among the first to meet your family on stage?
Beaufield Berry: I tell people to always be open to seeing shows outside of your experience. And be open to being informed by those stories. Learn from them and fall in love with them as deeply as you would any other play. Don't be scared of new plays.
John Moore: Thoughts on being a featured playwright at the Colorado New Play Summit for the first time?
Beaufield Berry: As we speak we are only three days in, and it's already been amazing. The time I'm being given to work and to recalibrate is so important. Before we get to the end game of the Industry Weekend reading, we get to have this first public audience. And then we get a whole second week to tweak and fix and re-write. It's both an amazing gift and an amazing opportunity.
John Moore: Can you give me a sense what the perception is of the Colorado New Play Summit nationally?
Beaufield Berry: Well, it's a big [bleeping] deal, I'll tell you that. A big [bleeping] deal. People are excited. And I love it.
John Moore was named one of the 12 most influential theater critics in the U.S. by American Theatre Magazine in 2011. He has since taken a groundbreaking position as the Denver Center's Senior Arts Journalist.
In the Upper Room
In The Jones Theatre
Directed by Gregg T. Daniel
Dramaturgy by Jacqueline E. Lawton
Cast and crew:
Rose: Marjorie Johnson
Eddie: Kim Estes
Janet: Erin Cherry
John: Donathan Walters
Josephine: Nadia Ra'Shaun Williams
Yvette: Ambyr Michelle McWilliams
Jackie: Stephanie Berry
Delores: Perri Gaffney
Stage Directions: Ilasiea Gray
Stage Manager: Randall K. Lum
Stage Management Apprentice: Emry Rockenfield
2019 Colorado New Play Summit: Ticket information

Through Sunday, February 24
303-893-4100 or INFO
Photo gallery: Your first look at In the Upper Room
Photos by John Moore for the DCPA NewsCenter
https://www.denvercenter.org/wp-content/uploads/2019/02/800-Beaufield-Berry-Quote.jpg
538
800
John Moore
John Moore
2019-02-18 17:15:58
2019-02-20 18:37:07
Summit Spotlight: Beaufield Berry on how every family is every family