A grand reopening to a long-awaited theatre season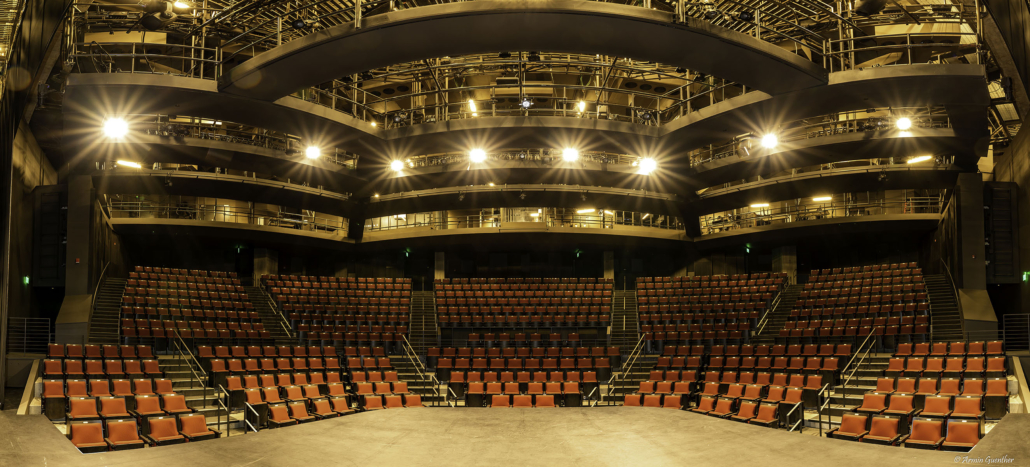 New Year's Eve 1979 was not just the birth of a new year. It was the beginning of professional theatre in Denver.
Long-time philanthropist, occasional actress and former Denver Post owner, Helen G. Bonfils, dreamed of a regional theatre in her hometown. But it was her lawyer, co-producer and executor, Donald R. Seawell, who created not only the company, but also its home.
Based on advice from leading theatre design experts, Seawell assembled four "roles" to conceive the Helen Bonfils Theatre Complex in the 1970s: The Producer (Seawell), The Architect (Pritzker Prize winner Kevin Roche), The Designer (Jo Melziener, Broadway set designer) and The Artistic Director (Gordon Davidson of LA's Mark Taper Forum).
According to an oral history with Seawell, "After we had the plans, we mocked up every theatre on a sound stage in LA, actually MGM Studios where Gone With the Wind was shot. Gordon had his whole company there — actors, directors, sound men, light men, even the janitors— to make sure we didn't overlook a broom closet."
Ground broke in late 1974, and the Denver Center Theatre Company made its debut with a three-day opening gala that featured The Caucasian Chalk Circle, Moby Dick: Rehearsed and The Learned Ladies.
Called a "Triumph of Architecture in Denver" by The New York Times, the Bonfils has now welcomed nearly 6 million guests to more than 400 productions.
But even the "Mona Lisa" needs to be maintained. Starting in 2015, the DCPA embarked on the most ambitious undertaking in its master plan — renovation of three theatres, the lobby and backstage areas to improve fire/life safety issues, enhance accessibility and advance the technical capabilities by decades.
Much like at its inception, the right team was assembled: Semple Brown Design, Turner Construction and Cumming Group joined COO Gretchen Hollrah and Director of Construction Projects Jeff Gifford. They developed a $54 million plan to take the Bonfils into the next century.
"In some ways, we've restored spaces to their original purpose," said Chris Wineman, Principal, Semple Brown. "In others, we've completely re-thought the space based on the 40 years of experience DCPA has had in the building. But the bottom line has been elevating the experience for the patrons and the artists."
"We have modernized the acoustics to enhance the performance for both actor and audience," said Gifford. "We have made significant improvements to the infrastructure of lighting, sound, scenery and AV, which will allow us to focus on the art of making plays instead of retro-fitting a space to accommodate theatrical elements that didn't exist 43 years ago."
With $29MM from the voter-approved Better Denver and Elevate Denver bond funds, DCPA Chair-elect Hassan Salem was tapped to lead the $17MM "A Grander Opening" capital campaign. To date, more than 165 individuals, businesses and foundations have contributed including 100% participation by the Board of Trustees.
Board contributions include four signature gifts from Marvin and Trustee Judi Wolf, Trustee Robert and Judi Newman, Secretary/Treasurer William Dean Singleton, and Dorota and Trustee Kevin Kilstrom.
"Because of the tremendous display of support from our Trustees and the community," said DCPA President & CEO Janice Sinden, "the DCPA Theatre Company is not only able to reopen after a 20-month hiatus due to the pandemic, but our spaces can now fully accommodate artists' imaginations, inspire students' creativity and welcome guests to stories that reflect their lives.
"We are so grateful to these donors and to our partners who transformed ideas on a page into a theatrical blank canvas with limitless possibilities."
The first theatre to be renovated was the Kilstrom Theatre (416 seats), which began in March 2016 and was completed September 2017. After being entirely gutted, it was rebuilt in its original pentagonal configuration with two seating levels and increased main-floor seating.
Renovation of the former Stage Theatre, Ricketson Theatre, Bonfils lobby and backstage areas was announced in June 2018. Despite the mandatory closure of public venues due to COVID-19, construction continued, ensuring that the theatres were ready when performance could resume.
The Wolf Theatre (689 seats) was dismantled to the ground. Its former wooden undergirding was replaced with fire-retardant steel beams, platforms and a sprinkler system. The stage and seating area were rebuilt and feature new seats, increased wheelchair seating, and an acoustic paneled back wall. Despite being the largest theatre in the Bonfils Complex, the Wolf retains its intimate seating area with just 13 rows.
Alterations to the Singleton Theatre (200 seats) include increased backstage space for props and set pieces and an improved trap space beneath the stage. The adjacent lobby features a repositioned bar and new restroom location to improve patron flow.
One of the most significant transformations is the central lobby. Instead of entering the Singleton Theatre from a separate entrance, all patrons will enter a unified lobby. "We have added five elevators to the building," said Gifford. "Three are public facing and two allow performers and technicians to get to stage level in the Wolf and Singleton theatres."
When miners first settled in Colorado, Denver boasted 13 legitimate theatres before it had a hospital or school. The community has a long and deep commitment to the arts. Now, in 2021, the "crown jewel" of downtown Denver sparkles anew, thanks again to our community — the voters, Trustees, individual, businesses, foundations and employees — who voluntarily gave of themselves to ensure the future of the DCPA.
Help the DCPA close the gap! Naming opportunities and seats are available. Visit denvercenter.org/granderopening.
https://www.denvercenter.org/wp-content/uploads/2021/11/6N8A4485-Wolf-Pano.jpg
1200
2648
DCPA Press
DCPA Press
2021-11-05 16:29:31
2021-11-22 10:51:42
A grand reopening to a long-awaited theatre season