A Q&A with Kurtis Blow, the rap legend who puts the "hip" in The Hip Hop Nutcracker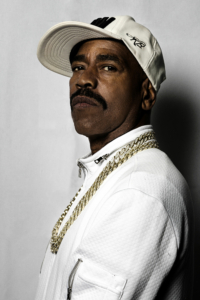 Anyone who knows rap or hip hop knows Kurtis Blow. As the first rapper to be signed by a major label, Blow has been blowing up the charts since 1979 with 10 albums in 11 years including the self-titled "Kurtis Blow," "Deuce," "Party Time," "Ego Trip" and "America."
As a founding father of hip hop, Blow was eager to return to the stage with The Hip Hop Nutcracker. But a return after the pandemic didn't always seem so certain…and not for the reasons you might think.
Less than a year ago, the 62-year-old Blow had heart transplant surgery.
"I'm feeling great!" he said in a recent exchange. "My recovery from the heart transplant, less than a year ago is going very well! I have been blessed with a new 34-year-old heart. I don't foresee any problems in performing in the future, as I have regained my full strength and I'm in good health and getting stronger every day. Praise God!!"
Blow, a deeply religious man, co-founded the Hip Hop Church where he serves as rapper, DJ and Minister. In his official bio he says, "…in terms of these young people out here who love God but do not like to go to church, only Hip Hop can bring them back."
Maybe the same thing is true of the theatre.
"The show is a one-of-a-kind, holiday experience that brings together the entire family," Blow described. "Your kids, mom and dad, and the grandparents can enjoy this show together!
"I can't wait to get back on stage with these talented hip hop dancers and musicians! And I can't wait to see the audience standing on their feet and throwing their hands in the air and everyone saying, 'Oh yeah!'"
While the delivery of Tchaikovsky's classic story might be different, Blow assures us this new twist on a beloved tale will be familiar. "We still have Byron the nutcracker, Maria Clara, the mouse king who is now the mouse queen played by a female b-girl," Blow explained. "What is different is we have a DJ playing hip hop beats throughout the performance. The sound of the fusion of Tchaikovsky's classical music with modern hip-hop beats is unbelievable."
"Hip hop is for everyone just like The Hip Hop Nutcracker. Audiences have responded to the sprit and message of our show: LOVE conquers all. I really believe that. And we show that every night."
DETAILS
The Hip Hop Nutcracker
Nov 19-20, 2021 • Buell Theatre
https://www.denvercenter.org/wp-content/uploads/2021/11/kurtis-blow-portrait.jpg
4500
3000
DCPA Press
DCPA Press
2021-11-05 15:25:05
2021-11-18 11:19:56
A Q&A with Kurtis Blow, the rap legend who puts the "hip" in The Hip Hop Nutcracker