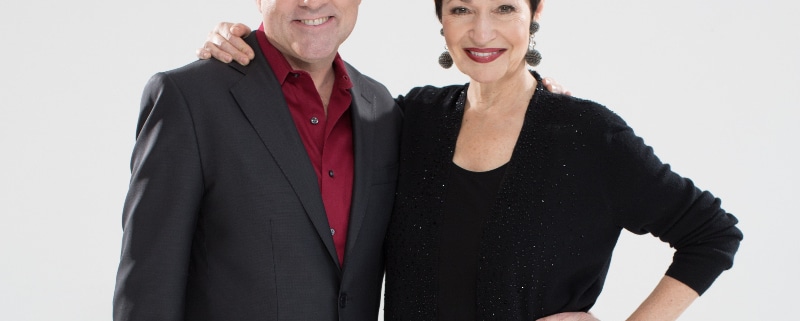 Ahrens, Flaherty and Anastasia: Legendary songwriters revisit legendary tale
From the archives: this post was originally published on July 31, 2019
What they came up with 'is a story that is just as transporting as the source film, but in a more grown-up way'
If you didn't know any better, you might be hard-pressed to believe that the same songwriting team wrote the vastly different musicals Lucky Stiff, Ragtime, Once On This Island, Seussical and, now, Anastasia. That span covers madcap farce, historical drama, Caribbean-flavored deities, children's theater and an adapted animated fantasy adventure.
And that's just a small sample from the catalog of Theatre Hall of Famers Lynn Ahrens and Stephen Flaherty, whose newest work takes on the enduring myth of the Russian Duchess long hoped to have survived the massacre of the Imperial Romanov family.
"Lynn and I don't like to repeat ourselves. We really try to go in different directions," Flaherty said of these 36-year collaborators. If you want to know what they might take on next, just imagine the furthest thing possible from the thing they've just finished.
"Every time we get done with a show, we ask ourselves, 'What haven't we done?' What country have we not visited? What historical period have we not yet traveled?' " Ahrens said.
And perhaps above all: What musical style have they not yet explored?
"My own personal playlist is insanely eclectic," Flaherty said. "When I was growing up, I studied classical music, but I was really into R&B. I spent time in Nashville. When Lynn and I had the opportunity to work on Ragtime, I had already played in a ragtime band as a way of putting myself through college. The music for Seussical was based on a lot of the music I loved growing up as a kid, from R&B to Spike Jones."
What most appealed to Ahrens and Flaherty about Anastasia was its irresistible legend. "It's not a true story; we all know that," said Ahrens. "We know what happened to Anastasia. We know where her ashes are. But the myth that she may have somehow survived has persisted for all these years, even in Russia, where they absolutely love this story. They want our musical to come there so badly because there is something passionate at its heart, and it is filled with love."
Anastasia, with a book by longtime collaborator Terrence McNally, is set years after the execution of Tsar Nicholas II and his family. It opens as a young amnesiac shows up in Russia with only a few hazy memories and a keepsake that suggests she might be Grand Duchess Anastasia Nikolaevna. As "Anya" sets out to discover the mystery of her past, two con men make plans to pass her off as the real thing to the Dowager Empress in Paris, hoping to get money from the woman who would be Anastasia's grandmother. The sadistic Rasputin has been replaced here by Gleb, a Bolshevik general who has orders to hunt down and kill the girl.
Lynn Ahrens and Stephen Flaherty: The shows
Anastasia
Little Dancer
In Your Arms
Rocky
Ragtime
Seussical
Once On This Island
My Favorite Year
Chita Rivera: The Dancer's Life
The Glorious Ones
A Man of No Importance
Lucky Stiff
Dessa Rose
Emperor's New Clothes
The stage musical, best known for the song "Journey to the Past," is an adaptation of the classic animated 1997 film with an original score by Ahrens and Flaherty. "Ever since, we wished someone would make it into a stage musical one day – and take us along for the ride," Ahrens said.
Nearly 20 years later, they got their wish. And their own journey to the past. "The original film took us on this amazing experience to the Oscars and beyond," said Ahrens. "But the film was skewed to a much younger audience. And all these years later, here was this chance to revisit the same source material but make it deeper and richer."
In keeping with their mantra of not repeating themselves, the songwriters dug in to create something completely new. They kept just six songs from the film score and wrote 16 new ones. Ahrens and Flaherty are emphatically not precious with their work.
"We throw things out and rewrite things and try new things like you can't believe," said Ahrens. "We wanted to write songs for the Dowager Empress, and give Dimitri more of a voice. And we wanted to create the character of Gleb."
Then there was the McNally Factor. The master playwright was just honored for Lifetime Achievement at the recent Tony Awards after having opened his 25th Broadway play. Ahrens and Flaherty had previously collaborated with McNally on Ragtime and A Man of No Importance.
"Terrence really wanted to bring his own imprimatur of great writing to the project. We had already made ours," Ahrens said. No one, Flaherty added, was interested in simply putting the film on the stage.
"This is a more grown-up version of the Anastasia tale. This is more romantic and more adventurous. We have real relationships and real family connections." — LYNN AHRENS
"We really wanted to re-conceive the story, re-examine the myth and, frankly, be more historically accurate," Flaherty said. "We were literally going from a two-dimensional medium into a three-dimensional medium, so we felt the characters needed to have more depth and drama in their lives."
What they came up with, Ahrens believes, is a story that is just as transporting as the source film, but in a more grown-up way. "Obviously, kids can come and have a great time. But this is a more grown-up version of the Anastasia tale," Ahrens said. "This is more romantic and more adventurous. We have real relationships and real family connections."
Just before the developing new musical opened in its pre-Broadway debut in Hartford, Ahrens had a moment of dread when she saw a group of grown women enter the lobby dressed as characters from the movie. "They had tiaras and ballgowns and wigs, and I thought, 'Oh, my God. They're expecting to see the movie,' " Ahrens said.
"After the performance, I went up to one of these young women and I said, 'What did you think?' She told me, 'Well, I got nervous at first because I looked at the Playbill and there were different songs and different characters. And my favorite song 'Journey to the Past' wasn't in the same place as it was in the movie, so I was afraid I wouldn't like it. But then I saw the show, and I realized that I grew up on the movie – and the musical grew up for me.' "
To any Anastasia film fans coming to see the musical for themselves, Ahrens says, in a nutshell: "Fasten your seat belts and prepare for something that's the same – only different."
DETAILS
Anastasia
April 14 – 16 • Buell Theatre
Tickets
Online bonus: More of the conversation
Here are additional excerpts from John Moore's conversation with Lynn Ahrens and Stephen Flaherty:
John Moore: Congratulations on your recent Tony Award for Once on This Island.
Lynn Ahrens: Thank you. We're still sort of glowing from that.
John Moore: Does it ever get old?
Lynn Ahrens: Believe me, it  never gets old to win the Tony.
John Moore: How do you decide which projects are going to warrant a couple of years of your life?
Lynn Ahrens: As dissimilar as our shows are, the writing process that goes into them is slightly dissimilar for each one as well. With Dessa Rose, for instance, I wrote 50 pages of libretto first to try and convince Stephen to do the project.
Stephen Flaherty: Yeah, it was a very tricky novel and I couldn't find my way into it. I said to Lynn, "I know it's very clear for you, so try to put as many of your ideas on paper so I can see what you're seeing."
Lynn Ahrens: And a lot of the songs and themes from Ragtime were just Stephen wandering around coming up with melodies in his head and putting them down on paper for me in little snippets. They're all quite different.
Stephen Flaherty: After Lucky Stiff, I really was looking for something more emotional and more lyrical. And oddly, Lynn just by chance found the novel "My Love, My Love, Or The Peasant Guy," by Rosa Guy, and that inspired Once on This Island. So that was just a bit of a lucky moment. After Ragtime, which was a wonderful opportunity and a wonderful working experience but a very heavy, dramatic show, I think we both were feeling it's not a bad idea to lighten up a bit. So that's when Seussical happened.
Lynn Ahrens: A lot of it has to do with a love of research, a love of reading, a love of looking at art, a love of finding out about different cultures and different kinds of people. In each of these shows, so much of it is me trying to put myself into the psyches and the worlds of those people. With Ragtime, for example, reading about whalebone corsets and that sort of thing. We just had a West Coast premiere of a show called Marie, which is set in 1881 in the world of the Paris Opera Ballet. And  to learn about how toeshoes are constructed and what the ballerinas went through in terms of their training and their discipline and their lives as poor, young girls on the streets of Paris was just fascinating.
John Moore: Is there one thing all of your stories all have in common?
Lynn Ahrens: I would say community and family. It's just that your family can be an an immigrant man, a white woman and an African American child. Or it can be straight friends to a gay man."
Stephen Flaherty: As for our songs, if they have one thing in common it's that I have an insanely high degree of choral singing in all of our shows. I personally am just in love with the sound of many voices singing together. I find it much more thrilling, to tell you the truth, than a solo or a duet. And I think that's really the sound of community and the sound of all of us connecting with one another and breathing at the same time, which I think is a profound thing to witness.
John Moore: With Anastasia, how concerned were you with taking historical liberties given what is known about the real Anastasia?
Stephen Flaherty: It's a very different thing when you're writing for the theater versus writing for Hollywood. With everybody working on a film, you don't have your destiny within your own hands. You're a bit of a hired gun as a songwriter or a composer. And so the story can change in a story meeting. But with this stage musical, we really did want to go back to more of the real historical roots. And I think that was something that Terrence McNally was interested in as well.
John Moore: Let's talk more about working with Terrence. Can working with a book writer of that caliber in some ways dictate the direction that you and your score go in?
Lynn Ahrens: That's interesting because Anastasia was, in a weird way, an anomaly. With Ragtime, Terrence was the first person hired onto the creative team. We were hired second. And he provided all of us with a 60-page treatment of how he saw the material playing out. He brought the idea of A Man of No Importance to us. He said, "I've seen this movie that I think could make a musical." But in the case of Anastasia, of course, we had already done the original movie, and we brought him on. And it was a very different process because of that.
Stephen Flaherty: But I would say the tone changed in some of the songs because of Terrence. For example, "Rumor in Saint Petersburg," the opening song in the film, is a rather happy-go-lucky song. But on stage, there are much darker ingredients. Terrence told us, "I think there needs to be more tension in the arrangement." Even though technically we used the same choruses, and it's pretty much the same melody, there is definitely a darker quality that weaves the story together. And it functions in a different dramatic way, as well. That's because of Terrence.
Lynn Ahrens: Terrence is a great playwright, but the thing that makes him a great book writer is that his dialogue has a musicality and a poetry to it that I respond to very strongly as a lyricist. I can take his dialogue and just feel where a song should come. By the way, he came up with the character of Gleb, a young man who has ascended to an officer's position in the new Russia. In our story, his father was one of the guards who ended up assassinating the Romanovs and he is trying to rationalize why his father did that. He says, "You know, you follow orders. You do what is expected of you." And out of that notion came his song, "Revolution is a Simple Thing." That song come out of Terrence McNally's writing because he doesn't just write dialogue. He writes poetic passages that lend themselves very beautifully to music and lyrics. So he's a big influence on our writing. We're so happy to be his pal.
Stephen: Terrence loves theater more than any person I know. I think he is one of the rare playwrights who can really balance comedy with drama. There is a real sense of empathy and compassion in everything that he writes. There's also an intelligence, but at the same time a playfulness. And he's slightly a bad boy, which I think comes into play in Anastasia. He's just one of our great, great living playwrights, and we're lucky to be a friend as well as a collaborator.
John Moore: I just want to finish up by asking you about Anya, and how this historical character is a woman for today's audiences – specifically for young women.
Lynn Ahrens: Anya is a princess who doesn't need a prince to save her. She saves herself. I'm very proud to have written her because she's pretty much the first animated heroine who is self-actualized and who went on a journey of self-discovery without being saved.
John Moore: Is there anything you want audiences in Denver to know before they come to see Anastasia?
Lynn Ahrens: This is a story about reuniting with family and discovering who you are. I think people should come with their families and hug each other.
https://www.denvercenter.org/wp-content/uploads/2019/07/Lynn-Ahrens-and-Stephen-Flaherty.-Photo-by-Nathan-Johnson.jpg
598
800
John Moore
John Moore
2023-02-22 13:00:57
2023-02-22 13:10:35
Ahrens, Flaherty and Anastasia: Legendary songwriters revisit legendary tale