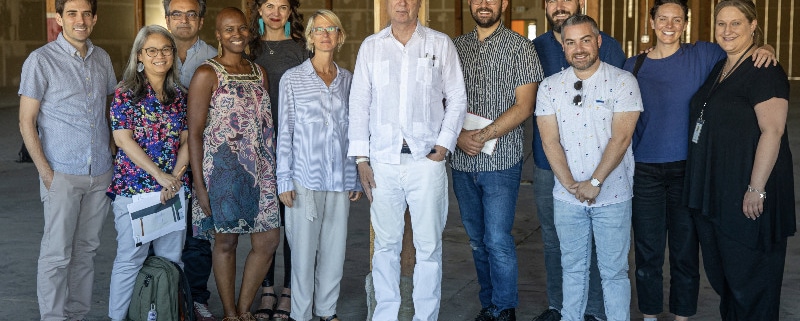 Announcing the creative team for 'Theater of the Mind'
DCPA Off-Center will present world premiere of co-creation by David Byrne and Mala Gaonkar in August
The Denver Center's Off-Center programming wing has announced the creative team for the world premiere immersive production Theater of the Mind, coming to Denver in August, co-created by Talking Heads frontman David Byrne and writer Mala Gaonkar.
Theater of the Mind will be a 15,000-square-foot immersive experience taking just 16 audience members at a time through a journey of self-reflection, discovery and imagination, inspired by and grounded in neuroscience. Led by a Guide whose stories are inspired from the creators' lives, audiences will explore how they perceive the world through sensory experiments that reveal the inner mysteries of the brain.
Theater of the Mind's creative team is led by Director Andrew Scoville with Colorado-based Assistant Directors Amanda Berg Wilson and Betty Hart. The team includes technology design by Heidi Boisvert with creative technology consultation from Brooklyn Research and slow immediate, scenic design by Neil Patel, lighting design by Jeanette Oi-Suk Yew, sound design by Cody Spencer, costume design by Sarita Fellows, casting by Grady Soapes, CSA, and dramaturgy by Douglas Langworthy.
Full performance schedule and ticket on-sale will be announced at a later date. To sign-up for a ticketing alert, visit theateroftheminddenver.com.
DCPA Off-Center is presenting Theater of the Mind in association with Nate Koch, LeeAnn Rossi and the Arbutus Foundation.
Read our exclusive interview with David Byrne on Theater of the Mind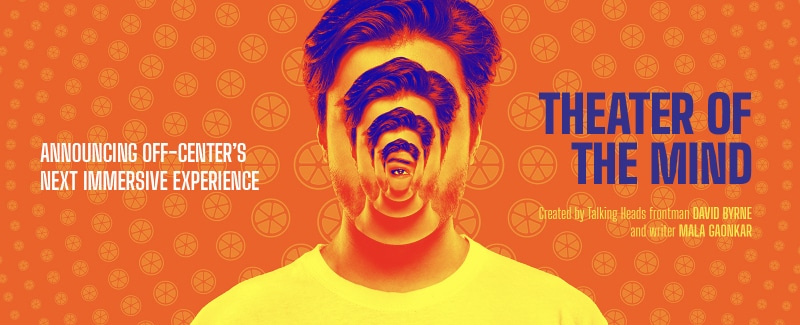 Theater of The Mind: At a glance
The story at a glance: Inspired by both historical and current lab research, Theater of the Mind takes you on an immersive journey inside how we see and create our worlds. Co-created by Talking Heads frontman and artist David Byrne and writer Mala Gaonkar, the show uses stories from their own lives to shape a narrative you'll see, feel, taste and hear. Witness the wonders of your mind for yourself as you follow The Guide through a spectacular 15,000-square-foot installation with 16 fellow audience members. As you explore intriguing environments, participate in a narrative and try a series of sensory experiments, your Guide will question how beliefs, memories and even our identities are less fixed than we think. Caution: the brain may wander. Side effects may include a distrust of your own senses, a disorientation of self, and a mild to severely good time. You may not be who you think you are. But we're all in it together.
Presented by: Off-Center
Created by: David Byrne and Mala Gaonkar
Directed by: Andrew Scoville
Opening: August 2020
Where: The location will announced later
Tickets: An on-sale date will be announced later. To sign up to receive more information, visit theateroftheminddenver.com.
CREATORS
David Byrne (Co-Creator). David Byrne's recent works include the Broadway debut of David Byrne's American Utopia (2019); the launch of Reasons to be Cheerful, an online magazine focused on solutions-oriented stories about problems being solved all over the world (2019); the solo album American Utopia (2018), which was nominated for Best Alternative Album at the 61st Grammy Awards; Joan of Arc: Into the Fire, a theatrical exploration of the historical heroine which premiered at The Public Theater in New York (2017); The Institute Presents: NEUROSOCIETY, a series of interactive environments created in conjunction with PACE Arts + Technology that question human perception and bias (2016); Contemporary Color, an event inspired by the American folk tradition of color guard and performed at Brooklyn's Barclays Center and Toronto's Air Canada Centre (2015); Here Lies Love, a 22-song theatrical production about the life of Imelda Marcos, authored in collaboration with Fatboy Slim that premiered at The Public Theater in New York (2013), traveled to London's National Theater for a sold-out run (2014–15), and was remounted at the Seattle Repertory Theater (2017); Love This Giant, a studio album and worldwide tour created with St. Vincent (2012); and How Music Works, a book about the history, experience, and social aspects of music (2012). In 2015 Byrne curated Southbank Centre's annual Meltdown festival in London. A co-founder of the group Talking Heads (1976–88), he has released nine studio albums and worked on multiple other projects, including collaborations with Brian Eno, Twyla Tharp, Robert Wilson, and Jonathan Demme, among others. He also founded the highly respected record label Luaka Bop. Recognition of Byrne's various works include Obies, Drama Desk, Lortel, and Evening Standard awards for Here Lies Love, an Oscar, Grammy, and Golden Globe for the soundtrack to Bernardo Bertolucci's The Last Emperor, and induction into the Rock and Roll Hall of Fame with Talking Heads. Byrne has published and exhibited visual art since his college days, including photography, filmmaking and writing. He lives in New York City.
Mala Gaonkar (Co-Creator) is a research analyst and a co-founder of Surgo, a non-profit focused on developing open-source analytical tools supporting public health solutions.
DIRECTORS
Andrew Scoville (Director). Andrew Scoville is a theater director specializing in immersive layouts, technological landscapes, and hybrid-genre theater-making with an emphasis on integrating science ideas into theatrical experiences. Director:The Brobot Johnson Experience (Bushwick Starr, The New York Times Critics' Pick), Escape the Planet (NY Hall of Science commission with astronomer Moiya McTier), People Doing Math (podcast recorded live at the National Museum of Math, Public Theater Under the Radar Festival, Strand Book Store, etc), Piano Tales (La MaMa, Lincoln Center, Bouley Test Kitchen, etc). Associate Director: Here Lies Love (directed by Alex Timbers, Public Theater, National Theater UK, Seattle Rep), Sweeney Todd (directed by Bill Buckhurst, Barrow Street Theater), Bloody Bloody Andrew Jackson (directed by Alex Timbers, Broadway). Head of Upper Level Projects at Playwrights Horizons Theater School, NYU Tisch. Co-director FGP NYC.
Amanda Berg Wilson (Assistant Director). As director: The Wild Party, Between Us: The Whiskey Tasting (DCPA Off-Center); 9 to 5, Pride and Prejudice (Creede Repertory Theatre); God's Ear, Failure: A Love Story, Rausch, Men On Boats, United Flight 232 and many more (The Catamounts). As performer: Sweet & Lucky (DCPA Off-Center); Detroit (Curious Theatre Company); There is A Happiness that Morning Is (The Catamounts). Amanda is Artistic Director of The Catamounts, a Boulder-based company dedicated to adventurous theatre.
Betty Hart (Assistant Director). Lady Day at Emerson's Bar and Grill (DCPA Cabaret and Vintage Theatre); The Scottsboro Boys, Crowns (Vintage Theatre); Hooded, or Being Black for Dummies (Aurora Fox); The Darker Face of the Earth, Evelyn in Purgatory, A Thousand Circlets, Jim Crow and the Rhythm Darlings (Essential Theatre); Loose Change, On Empty (Kaiser Permanente Arts Integrated Resources). Special/Awards/Training: 2018 True West Award Winner.
Forbes: David Byrne's American Utopia is a 'giant Broadway hit'
PRODUCERS
Melissa Cashion (Producer/Production Manager) joined the DCPA team in 2014 as Associate Production Manager and was part of the production management team that oversaw more than three dozen plays during that time. She also production managed all of Off-Center's immersive and experiential work including Sweet & Lucky (created by Third Rail Projects) and The Wild Party. From 2008-2014 she served as Production Manager and Special Events Coordinator for Dallas Children's Theater where she also worked as a Director, Puppeteer, Lighting Designer, Stage Manager and Voiceover Artist. In 2017, Melissa joined the DCPA artistic team as Artistic Producer and has been producing for the Theatre Company and Off-Center since. Melissa loves bringing new, experiential work to life.
Nate Koch (Producer) is a Lortel Award-winning (Sweeney Todd, 2017) and Drama Desk Award-winning (Queen of the Night, 2015) producer, general manager, and consultant, primarily for immersive works. His company, ENVEEKAY, leads the creative, producing, general management, venue acquisition, permitting/licensing and overall execution for multi-disciplinary projects that defy general categorization – whether they be theatrical and site-specific works, art installations, hospitality projects, or any kind of "it's ____ meets ____" experience that involves an audience having a transformative experience in an extraordinary location. Additional past projects, partnerships, and consultation includes: Hebru Brantley's Nevermore Park, Madison Wells Media, Secret Cinema, David Korins Design, Punchdrunk, Superfly, Olafur Eliasson's Little Sun Foundation, SPACE on Ryder Farm, Google, Ars Nova, Joey Parnes Productions, the TEAM and Sleep No More. enveekay.com @nate__koch
Charlie Miller (Producer). Charlie is Associate Artistic Director at the Denver Center for the Performing Arts. He is the co-founder and Curator of Off-Center, credited with bringing immersive theatre to Colorado and helping establish Denver as a national hub for immersive art. Off-Center's large-scale immersive and experiential projects over the last six years have garnered local and national praise and attracted a significantly younger audience to the DCPA. His most recent project, Camp Christmas, brought rave reviews and almost 70,000 attendees. Charlie is a sixth-generation Denverite and loves creating new theatrical experiences for his hometown.
LeeAnn Rossi (Producer). LeeAnn Rossi is a creative producer. She works with artists to ensure their vision is brought to life in whatever form that may take—from books, albums and film to theater and live performance.
CREATIVE TEAM
Heidi Boisvert (Technology Designer) is an artist, scientist and creative technologist. She designs expanded reality and transmedia storytelling experiences and devises networked dance and theatre using biocreative technology. She is the founder of futurePerfect lab, a boutique creative agency and think-tank that harnesses the power of pop culture, emerging technology, and neuroscience to ignite culture change. Heidi is currently Director of Emerging Media Technology at CUNY and an MIT research affiliate. She received her PhD in Electronic Arts from RPI.
Brooklyn Research (Technology Consultant) is a creative technology consultancy working at the intersection of art and technology and has worked with a wide variety of partners including the Metropolitan Museum of Art, Google, and Jim Hodges. The team for this installation consists of Patrick Rummage, Johnny Lu, and Ezer Longinus. Brooklyn Research was founded in 2012 by Alex Dodge, Ezer Longinus, and Johnny Lu as a co-research space for independent researchers building new technology in Brooklyn, NY.
slow immediate (Technology Consultant) is the creative engineering R&D studio of Xin Liu and Gershon Dublon. With projects from immersive theatre and multi-sensory virtual reality to outer space robotics, the duo applies science, engineering and design to create unexpected, intimate moments of perception that bridge the inner self and the outside world. Through both original commissions and collaborative productions, the studio's work has been shown in venues including the Sundance Film Festival and Ars Electronica. Based in New York City, slow immediate is an incubee of the New Museum's NEW INC Creative Experiments program. Theater of the Mind marks their Denver debut.
Sarita Fellows (Costume Designer). Selected credits include A Bright Room Called Day (Public Theater); Native Son (The Acting Co); Original Sound (Cherry Lane Theater); Hatef**k (The Women's Project); A Chronicle of the Death of Two Worlds, (New York Theater Workshop). Regional credits include: Top Girls, Her Portmanteau (A.C.T); The Royale (A.T.C); Ain't Misbehavin' (Signature Theatre); Pipeline (Studio Theatre); The African School Girl Play (Pittsburgh Public Theater); Haunted Life (M.R.T); Two Trains Running (Weston Playhouse); Berta Berta, A Late Morning with Reagan (C.A.T.F); Having Our Say (Philadelphia Theater Co). MFA NYU/Tisch.
Douglas Langworthy (Dramaturg) is currently the Director of New Play Development at the DCPA Theatre Company.  His adaptations include: The Three Musketeers (with Linda Alper and Penny Metropulos) and Women in Love (with Art Manke). His translations from German include: Faust, The Good Person of Szechuan, Spring Awakening and The Prince of Homburg. He has written modern English translations of Shakespeare's Henry VI plays for Oregon Shakespeare Festival's Play On! Project.
Neil Patel (Scenic Designer). Born in Wales and educated at Yale College and the Accademia di Belle Arti di Brera, Neil has applied his passion for design and storytelling to distinguished work in Theater, Opera, Dance, Film and Television. Recent credits include: "Dickinson" (Apple TV+), "The Path" (HULU), Little Boxes (Netflix), Dil Dhadakne Do (Excel Entertainment), Some Velvet Morning (Tribeca Films), Time and the Conways (Broadway), Father Comes Home from the Wars (Parts 1, 2 & 3) (Royal Court London), Mughal E Azam (NCPA Mumbai and Delhi), Alcina (Washington National Opera), Norma (LA Opera) and Shadowland (Pilobolus).
Grady Soapes, CSA (Casting) is the Director of Casting and Artistic Producer with DCPA. Selected casting credits include Twelfth Night, Indecent, A Doll's House and A Doll's House, Part 2 in repertory, Oklahoma!, Last Night and the Night Before, The Constant Wife, The Who's Tommy, The Wild Party, A Christmas Carol, This Is Modern Art and casting associate on many other Denver Center productions. Choreography credits include Twelfth Night, Goodnight Moon, Anna Karenina, As You Like It, Drag Machine, Lord of the Butterflies, DragON (DCPA); Comedy of Errors (Colorado Shakespeare Festival); The Music Man (Perry-Mansfield). Grady is the producer of the Colorado New Play Summit and former producer of the Colorado New Play Festival.
Cody Spencer (Sound Designer). Credits include: Broadway Bounty Hunter, Joan of Arc: Into the Fire, Here Lies Love (Lortel Award) and "The Pee Wee Herman Show." Some of his work as Associate Sound Designer includes Mean Girls, Lazarus, Beautiful, The Book of Mormon, Bring It On: The Musical and Annie. In addition to theatre, Cody has co-designed some of New York's biggest concert venues including Brooklyn Steel, Terminal 5 and Webster Hall.
Jeanette Oi-Suk Yew (Lighting Designer). Vietgone and Smart People (DCPA Theater Company). KPOP (Hewes Design Award, LIT Design Award; Lortel and Drama Desk nominations); Emily Mann's Gloria: A Life with Diana Paulus (Daryl Roth Theater); Aziza Barnes' BLKS (Woolly Mammoth); Lauren Yee's Song of Summer (Trinity Rep); Carla Ching's Nomad Motel (Atlantic Stage II); NEVERMORE PARK, an immersive art experience powered by the imagination of artist Hebru Brantley (Chicago). Upcoming: Choir Boy (DCPA Theatre Company) and Sweet Land, a site-specific opera at L.A. Historic Park (Los Angeles). Recipient of the NEA/TCG Career Development Program. jeanetteyew.com
About the DCPA's Off-Center
Off-Center produces unexpected theatrical experiences that put the audience at the center of the story. What began in 2010 as a small theatrical test kitchen has grown into a signature line of programming for the Denver Center for the Performing Arts, credited with bringing immersive theatre to Colorado and helping establish Denver as a national hub for immersive art.Among Off-Center's large-scale productions that have garnered local and national praise are: Sweet & Lucky created with New York-based Third Rail Projects, The Last Defender with The House Theatre of Chicago, Perception featuring live music by Tom Hagerman of DeVotchKa, and a 360-degree staging of The Wild Party, which was produced in Stapleton's reclaimed airplane hangar. With support from the Doris Duke and Wallace foundations, Off-Center has been recognized as a leader in developing new programming that attracts new audiences.
https://www.denvercenter.org/wp-content/uploads/2020/01/TOTM-Creative-Team-Adams-VisCom.jpg
453
800
DCPA Press
DCPA Press
2020-01-23 17:25:46
2020-01-23 17:25:46
Announcing the creative team for 'Theater of the Mind'