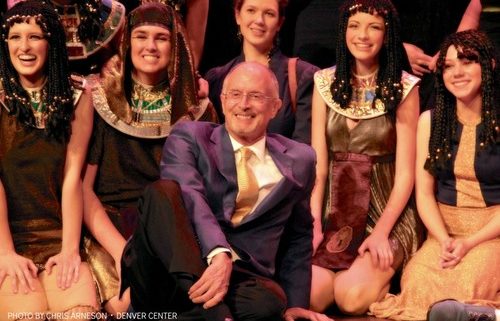 Bobby G Awards program expanding to statewide and year-round
After just two years, the Denver Center for the Performing Arts is expanding its popular Bobby G Awards into a year-round program, President Randy Weeks announced today. And for the first time, Colorado high schools statewide will now be eligible for consideration. Both changes are effective with the upcoming fall semester.
Weeks said the moves are in response to the program's exponential growth. An overflow crowd of more than 800 filled the Denver Center's Seawell Ballroom in 2013. Last month, attendance doubled to 1,600 at the Buell Theatre.
[[MORE]]
Denver Center President Randy Weeks on the Buell Theatre stage with the Bobby G Award recipients on May 29, 2014. Photo by John Moore.
The Bobby G Awards are Colorado's regional awards program recognizing outstanding achievement in high school musical theatre. In the past, a team of professional adjudicators has been dispatched to spring musicals presented by public and private high schools in the seven-country metro area only. Their scorecards determine the nominations for a Tony Awards-style awards ceremony, which includes performances by the nominated schools. Students and educators are honored for achievements in performance, design, direction, choreography, technical production and overall excellence.
"What makes me the most happy is just experiencing the kids experiencing the event," Weeks said. "I cant tell you how many times at this last awards ceremony where kids came backstage and said, 'This incredible. I can't believe I'm going to perform at the Buell Theatre. This is where I saw my first musical.' It was such great fun for them."
Before, fall musicals were not eligible for Bobby G's consideration. With this new expansion, high schools now can choose to submit either a fall or spring musical for adjudication – a process that includes extensive, constructive feedback from local theatre professionals.
"I think that's quite terrific about the program," Weeks said of his adjudicators. "It's not an easy job. But we hope what they provide is a learning tool for those brave souls who are out there running these high school theatre programs.
The pool of participating schools has grown from 15 in 2013 to 20 this year, and Weeks expects to accommodate at least 30 high schools statewide in 2014-15. Registration opens on Aug. 18, and will remain open until all available slots are claimed. For information, email BobbyGAwards@dcpa.org.
"Athletics are traditionally honored in every high school," said Weeks. "I consider the Bobby G program to be the same kind of opportunity for kids in the arts. We think of these awards as our version of letter-sweaters. The Bobby G program gives them an opportunity to participate in a statewide competition. It's like going to the state championship in football."
Each year, the Bobby G Awards' Outstanding Leading Actor and Actress advance to the National High School Musical Theater Awards. That's a week-long immersion in New York known affectionately as The Jimmy Awards, which culminates in a performance on a Broadway stage.
Bobby G Awards reps Conner Kingsley and Abby Noble in Times Square last month for the Jimmy Awards.
Last month, Conner Kingsley of Lakewood High School and Abby Noble of Grandview High School represented Colorado at the Jimmys, There they met or trained with Broadway professionals such as Wicked composer Stephen Schwartz, Rocky the Musical star Andy Karl and Aurora native Andy Kelso, star of Kinky Boots.
"This entire program has literally changed my life," said Noble, who will attend the University of Northern Colorado in Greeley this fall. "Honestly, to go to New York and be able to perform on Broadway because of the Denver Center is something I never could have even imagined. Just the fact that the Bobby G Awards program exists is just such a win for all of us."
Kingsley said the Bobby G Awards already are making a difference in how the performing arts are being respected at area high schools
"I think with these awards, our schools are going to get more funding and more recognized," said Kingsley, who is bound for Tulane University in New Orleans. "It means more higher-up officials will understand that this is really important for schools, that we are doing something for matters, and that it helps us grow as people."
Weeks calls the Denver Center's investment in the Bobby G Awards program "a giveback" to the community.
"We've all talked about the ongoing decline in arts funding in education all over the country," Weeks said. "This is our way helping to bring performing arts in schools more to the front again."
The Bobby G Awards is more than just an annual awards ceremony. Among the many practical, year-round benefits of participating include:
Professional teachers from the Denver Center Theatre Academy staff teaches a customized class for each participating school
Adjudicator feedback
Social media training
Discounted tickets to Broadway touring shows
Private talkbacks with Broadway touring casts
The entry fee is $200 per school, but scholarships are available to those schools that need it.
Become an Adjudicator
The Bobby G Awards is now accepting adjudicator applications. Adjudicators must hold degree(s) in relevant fields (music, theatre, dance, etc.) and/or have extensive work experience in one of those disciplines on a professional or academic basis and/or are professional artists or educators with wide knowledge of the American Musical Theatre canon. Candidates must be outstanding writers with the ability to effectively communicate their impressions, evaluate production elements as well as student performances in a constructive manner. A stipend of $50 per adjudicated show is offered to adjudicators. Interested individuals should email BobbyGAwards@dcpa.org for more information.
https://www.denvercenter.org/wp-content/uploads/2018/04/featured-image-852.jpg
333
500
John Moore
John Moore
2014-07-11 18:13:00
2018-04-11 16:33:14
Bobby G Awards program expanding to statewide and year-round