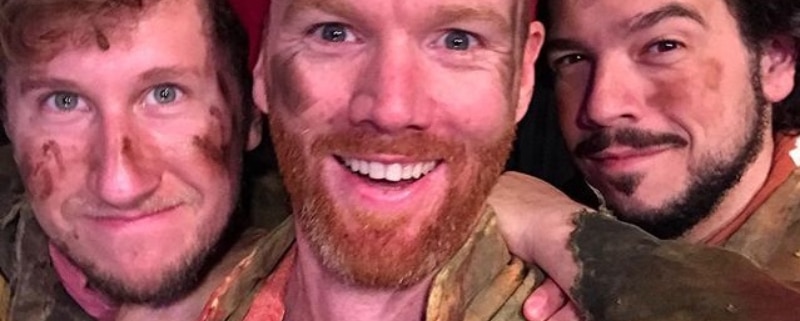 Cañon City actor Richard Barth dreamed a dream, and it came true
From the archives: this post was originally published on July 27, 2018
Richard Barth returns to Colorado in Les Misérables, hoping his success serves as an inspiration for other aspiring artists

Colorado-raised Richard Barth may never have reached Broadway if it weren't for the encouragement he received from his grade-school music teacher, Dena Brady. When he was in fifth grade at the former Skyline Elementary School, she was the first person to tell him he was good at singing. It was a compliment that changed the course of his life.
"I got to do the fifth- and sixth-grade musicals and, looking back, that was a big awakening for me." Barth told the DCPA NewsCenter.
He continued acting through his time at Cañon City High School, where he performed in many school musicals and attended summer musical camps at the Sangre de Cristo Arts Center in Pueblo. He also joined marching band and Concert Choir, where he met an inspirational choir director named Todd Albrecht.
"My high-school music director is sort of a force of nature in my hometown," Barth said. "Kids there realize that this kind of training and activity can prepare them for their everyday lives, whether they want to pursue this as a career or want to get a business degree and know what it's like to be on stage before doing some public speaking."
While Barth knew he loved performing, he wasn't sure if he wanted to pursue it as a career at first. After encouragement from friends and family to audition for training programs and receiving some scholarship money, he decided to take the risk and attended the Hartt School in Connecticut.
"I thought at the very least I'll go get a musical-theatre degree while someone else is helping me pay for it and then see where it goes from there," he said. "Then I had some really nice mentors in college who made me think this was something I could do as a profession."
Barth stressed that there is no one path to becoming a performing artist. Success happens differently for everyone. Some people find success early on in their career, but it can take others years. Barth had some immediate satisfaction in the business because he booked the national tour of Miss Saigon during his finals week in college. He didn't get to perform in a Broadway show until he was in the business for 11 years, though, and some of them were difficult.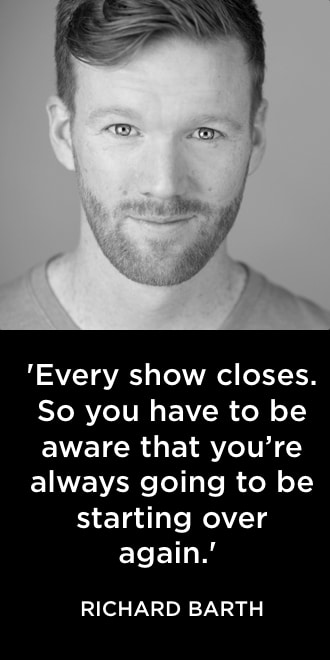 "One of the most important things to remember in performing arts is that every show closes," Barth said. "Cats ran for however long it did on Broadway, but eventually it closed. So, you have to be aware of the fact that you're always going to be starting over again."
One of the biggest heartbreaks Barth had in the business was when he was part of 2008 Broadway bound musical Ace. The recession hit during the show's run and as a result, it never made it to Broadway.
"The set was built, the costumes were all made, and we had Christiane Noll and Emily Skinner in the show. We were supposed to move to Broadway, and it didn't happen," he said. "After a lot of investment of time and creative energy, it was a really upsetting moment."
Following that disappointment, Barth continued performing. He did readings and recorded demos for new musicals, one of which was 2014 Tony Award winning A Gentleman's Guide to Love and Murder. While he was getting to do exciting work, he wasn't making enough money to pay the bills. So, he ended up waiting tables on the side.
"People would ask me 'Are you still acting? Are you still in the business?' The best response I could come up with was 'I'm still getting out of bed and going to auditions,' " he said.
Scheduling auditions around waiting tables was tiring and difficult. Barth said it was easy to get caught in the trap of working late in a restaurant, going out with friends after work and then being too tired to get up the next morning to audition.
"I had to remind myself that the reason I was in New York City was to pursue a career as an actor," he said.
Barth thinks positivity is key when getting through difficult moments in life. One of his tricks for staying motivated to go to auditions is to always view them as a performance. Actors don't get many chances to perform when they are between shows, but they still get the 3 minutes or so they have at auditions to perform for those present in the room.  Barth believes an audition is an opportunity that shouldn't be taken for granted.
"An actor I once worked with told me that you have to view callbacks as victories," he said.  "You may not actually book the job, but anytime they say they would like to see more of you deserves some small celebrating."
Barth had some success when he was cast in the 25th anniversary tour of Les Misérables. He was part of that production for nearly three years and then was in a six-month run of the show in Toronto. After those tours ended, he returned to New York and was cast in a production of Kiss Me Kate in Cape Cod, Mass.
The day before flying out to do the show, though, he got a call from his agent. She told him an actor in the Broadway cast of Les Misérables was injured, and they wanted Barth to replace him immediately. Even better, if he joined the show, he would get to perform in the Tony Awards that week. He knew it wasn't an opportunity he couldn't pass up.
But there was still the awkward business of having to call up the theater in Cape Cod and tell them he couldn't be in their show. Fortunately, the artistic director of Kiss Me Kate was also a director for one of the shows he was in at the Hartt School in 2000. The first read-through of that show also was scheduled for the same night as that year's Tony Awards. Barth became emotional recalling something the director had told the cast that night.
"He told us, 'Well, I bet some of you are disappointed not to be watching the Tony Awards, but you can either watch the Tony Awards or train to be on them someday,' " Barth said. "So, I called him and I quoted that line to him and he gave me his blessing many times over. He was thrilled for me."
Everything after that happened very quickly. Barth started Les Misérables that day with barely any time for rehearsing, and then got to perform in the Tony Awards with the cast that Sunday night.
"I went from being unemployed to being on the Tony's nine days later." Barth said. "It was pretty magical."
After spending two years on Broadway in Les Misérables as a swing (that's an actor who understudies several roles), Barth moved from New York back to Colorado. He took a much-deserved break from performing for about a year, tending bar in Fort Collins and trying to figure out what he wanted to do next. He hiked two 14ers last year and also took some time to reconnect with his hometown of Cañon City. He visited the high school there, helping the music students prepare for performances and competitions. Barth even gave some performances of his own.
"On Mother's Day, I got to go home and do a band concert of Gershwin music in Cañon City," he said. "I got to do that with my friend who was Laurey when I was Curly in Oklahoma! back in high school."
In March of this year, Barth got a call from Les Misérables asking him to join the tour again, and he accepted. This time, he's playing Courfeyrac, one of the student leaders of the rebellion. In Barth's own words, this character is all-in on the rebellion and is a little bit bloodthirsty. Most excitingly, Courfeyrac is the character who gets to sing the first solo line of the show.
"When I was a swing, I was a big fan of the character Feuilly. He gets some really great stuff to sing. But I also liked Courfeyrac a lot, so it's really exciting to be back here in Denver and get to play one of the two of them." he said.
Barth hopes his story inspires aspiring actors who have dream of performing on Broadway. Many people have the misconception that it's harder to become a performing artist when you're from a small town, but Barth proves otherwise. While he recalls being a little jealous of friends who grew up in New York City, he thinks today's world is interconnected enough that anyone can make it big.
Barth's advice: "Be kind and good to work with. You get to a certain point where everyone who comes in to audition is talented, so it often comes down to, 'Who do I want to spend six weeks with creating a piece? And who is going to go out on tour and play nice with everyone else around them?' "
Honestly, being kind and good to work with is great advice for any profession.
DETAILS
Les Misérables
May 10 – 21, 2023 • Buell Theatre
Tickets
https://www.denvercenter.org/wp-content/uploads/2018/07/Richard-Hatch-800-Les-Miserables.jpg
766
800
Savannah Nichols
Savannah Nichols
2023-03-08 09:00:59
2023-03-08 10:23:03
Cañon City actor Richard Barth dreamed a dream, and it came true