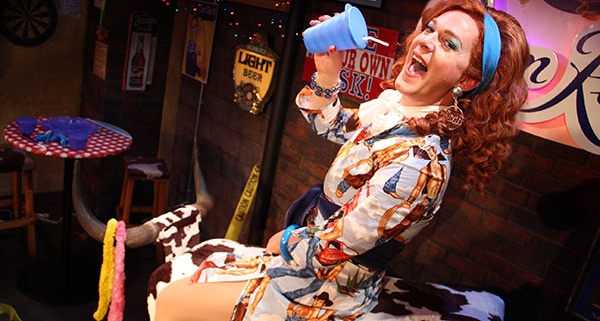 Our fast-talkin', red-headed Alabama girl is back and ready for the last rodeo of her original show, Never Wear a Tube Top while Riding a Mechanical Bull (and 16 Other Things I Learned While I was Drinking Last Thursday). Since debuting the show in the Garner Galleria Theatre in 2014, Dixie Longate has shared laughs and life lessons with Denver audiences. After canceling shows including Never Wear a Tube Top… in the spring of 2020, we caught up with our ol' gal as she was packing her bags for her return to Denver.
Note to the reader: Make sure to read Dixie's responses with the speed of lightin', the slur of gin and a heavy Southern drawl, y'all.
DCPA: We are so excited to you're heading back to Denver!
Dixie: Are you kidding me? I cannot stinkin' wait! Everyone's so neighborly there. We were supposed to be there in April 2020, right when everything was getting shut down. So, this has been a long time coming.
DCPA: What are some of your favorite things about Denver?
Dixie: Well, it will take me a couple of days to get acclimated, on account of the fact that y'all don't have no air. But there's always something amazing going on. I love that little neighborhood right there by the DCPA, in the downtown area. There's so much great stuff to do, and with more and more people moving in, it's been expanding. New places to eat, new places to shop, new places to go and see things. I know I'll be runnin' all over the city, just spendin' my time doing fun things and contributing to the local economies.
DCPA: This is the last stop for your show. You started it in Denver and you're ending it in here. What does it feel like to come full circle?
Dixie: This all started in 2014. I remember walking into the theatre when the set was finally built. Seeing the whole set, I had created in my mind realized on stage was amazing. As I traveled with the show, it was never quite the same. The show was built here for the Garner Galleria. It fits like a glove. When we went to other theatres, we accommodated for the space, moving and changing things around a little bit.
This will be my third time back at the Denver Center with the show. Every time I come back, it feels so good. It's nice being able to perform it the way it was always meant to be performed, in that space, with that group of people. I'm so stinkin' excited about it!
DCPA: I must ask, how do you ride a mechanical bull with a tube top?
Dixie: Oh my lord. Well, first of all, when you ride a mechanical bull, there are a lot of different steps, all of which I talk about in the show. But, when you get up there, you gotta clamp your legs just so and have your back just right, so it don't get all wrenched when you're ridin' it. You got to hold on to the bull with one hand and drink in the other. And, if you're real good, you can put both hands out, not even holdin' on to the bull. But that takes practicin' and don't come overnight.
It's best not to ride a mechanical bull with a tube top because it's just gonna fall off. Then your boobs will be in everyone's face. It's especially bad when the Reverend shows up. You don't wanna be flopping around in front of him. You know how he gets. It's always good to mind what you're wearing when you're gonna be mountin' one of those things. Otherwise, you're gonna be showin' things you didn't even wanna be showin'.
DCPA: What were you up to during Covid?
Dixie: About 11 weeks in, it looked like things weren't going to open up anytime soon, so I opened up my suitcase and put everything away. Let me tell you something. I've been on the road since 2008. I lived out of that suitcase. So, when I took everythin' out and put it away, I knew I would be home for a while.
So, I worked on a virtual show, Dixie's Happy Hour. The show's not just about being happy and having a happy hour but also goes into my background and how I grew up. I put the whole show together in a theatre and filmed it. Then sent that film to all these art centers, including the Denver Center of Performing Arts. It was a fun show, and I was glad to do something like that. But not doing it in front of an audience was weird. I couldn't see people or hear them laughing.
Then there's the kids. I had to learn them because the school was closed. And you gotta figure out what you're gonna do with 'em. The kids they're not as entertained by these 5-piece puzzles as it says on the box. So, you gotta come up with different things for them to do.
I had to drop out in 4th grade to take care of my Meemaw, who was sick of cancer. So, when my son, whose in 5th grade, told me we had to learn fractions, I didn't know what to do. I only know two math problems: how much chloroform to give the baby so that he's asleep during the day but not so groggy when the social worker shows up. And, what is the calculation between the height of the bridge and the rate of the current, so if somebody accidentally falls off that bridge, you know how far and fast their body needs to float down the stream before all evidence of their fingerprints is washed away. You never learn those at school. You gotta learn those on your own.
But, teaching fractions is hard. I ended up teaching a quarter glass of wine, a half glass of wine, a three-quarters glass of wine, and a full glass of wine, which they call an Episcopalian poor.
DCPA: Speaking of your kids, do you have any advice for parents that you learned throughout the pandemic?
Dixie: Yeah, don't have 'em! It's a great idea to have kids when there's not a pandemic, but when there is, you're like, "ooh, that's a mistake." You know, because then you gotta seem 'em all the time.
DCPA: Summer is approaching. It's already getting warm in Denver. Do you have any fun summer fashion trends?
Dixie: I think the best thing to do is not wear clothes. We haven't been wearin' pants for the last two years. Now people are going out and about again, and they're like, "oh, I don't have pants on yet!"
But really, anything that makes you feel comfortable. What I love is that during this pandemic, a lot of people figured out that they don't want to be burdened and tied down by things that don't make them happy no more. I love the idea that people are getting out and havin' more fun with themselves, their style, who they want to be, and what they want to accomplish in their lives. I like that.
DCPA: What would you say is your favorite drink?
Dixie: Oh my Lord, there are so many I like. I've always been a margarita girl. When I go to the DCPA, there's a bartender that used to make me a "Kir Royale." I look so classy when I put it to my mouth. It's so regal. It's champagne, Chambord, and a little somethin' extra.
Over the pandemic, I started makin' all different kinds of drinks. I made a Vesper, like the original martini that James Bond would drink in the movies. It is 100% tons of alcohol. It is Gin and Vodka mixed and Vermouth. It is so lethal. They are so delicious; gotta sip 'em slow though. And then when the girl scouts was comin', I made a Thin Mint Martini. It was so good. I mean, I put a lot of things in my mouth in my life, and this is one of the better ones.
DCPA: Well, we are so excited to have you and can't wait to see you again!
Dixie: Me too! I know we're not back in the way we were before the pandemic. I think it will take a bit to see everybody returning to the theatre feeling safe and comfortable again. I'm happy that the DCPA is opening their doors back up to me and letting me come in and makin' people smile again. That's the most important thing.
Be sure to catch this Dixie this summer in Never Wear a Tube Top While Riding a Mechanical Bull (and 16 Other Things I Learned While I Was Drinking Last Thursday). It'll be one hell of a hootenanny.
DETAILS
Dixie's Never Wear a Tube Top…
June 22 – July 17 • Garner Galleria Theatre
Tickets
https://www.denvercenter.org/wp-content/uploads/2018/06/dixie-s-never-wear-a-tubetop98e1d5b47a054131b84cd2241cf3115b.jpg
400
600
Madison Stout
Madison Stout
2022-06-16 13:26:36
2022-06-16 15:44:20
Catching up with Dixie