David Byrne, Mala Gaonkar to open 'Theater of the Mind' in Denver with Off-Center
Massive theatrical immersion will take the audience on a deep dive into the human brain
Rock 'n Roll Hall of Famer David Byrne will head to Denver in August to present the world premiere of a new immersive theatrical production called Theater of the Mind in collaboration with co-creator Mala Gaonkar and co-produced by the DCPA's Off-Center.
Inspired by both historical and current lab research, Theater of the Mind will take the audience on a deep dive into the human brain to see how we see and create our worlds. The 15,000-square-foot, one-hour immersive experience will take just 16 audience members at a time through a journey of self-reflection, discovery and imagination, all inspired by and grounded in neuroscience.
"As far as I can tell," Byrne told the DCPA NewsCenter, "this show is pretty unprecedented.
"I have long had an interest in creating something that incorporated the sensory experiments we often read about in a way that was entertaining and engaging, but still gave people an experience that was visceral and profound.
"When people come out of this thing," he added, "my hope is that they will have had a really good time."
Byrne is best known as the frontman for the new-wave rock band Talking Heads, but Byrne is not the same as he ever was. Not that he ever has stayed the same for very long. The chameleonic global artist's entire adult life has been one stunning, morphing, unpredictable artistic evolution. He  currently has what Forbes magazine is calling "a giant Broadway hit on his hands" with his theatrical Broadway concert American Utopia. After that wraps next year, he heads to Denver to open Theater of the Mind. The exact location will be announced at a later date.
Led by a guide whose stories are inspired from the creators' lives, audiences will explore how they perceive the world through sensory experiments that reveal the inner mysteries of the brain. Byrne and Gaonkar will use stories from their own lives to shape the narrative the audience will see, feel, taste and hear.
Off-Center Curator Charlie Miller said Theater of the Mind "will allow every audience member to experience the world in a new way through its groundbreaking combination of science, design and storytelling. I am delighted that Off-Center gets to bring this one-of-a-kind project to life, and I can't wait to share what's cooking in David and Mala's brilliant minds with Denver next summer."
Byrne and Gaonkar, a research analyst and longtime Byrne colleague, have been developing Theater of the Mind for several years. They chose to partner with Off-Center, Byrne said, because of its track record for presenting successful immersive projects such as Sweet & Lucky and The Wild Party.
"When I was passing through Denver last year on a concert tour, I was approached by Charlie about a possible collaboration," Byrne said. "Off-Center is nationally admired for its immersive work, and they have the skill and experience to bring this complex production to life, and a committed audience who will appreciate it. They know what they are doing. We are so pleased to be premiering Theater of the Mind in Denver with such wonderful partners."
Byrne, 67, emerged as a major counterculture icon in the late 1970s when his groundbreaking band Talking Heads burst onto the national music scene. With his darting eyes, oversized suits, paranoid cynicism and mistrust of authority, Byrne became the younger generation's symbolic answer to the Cold War Reagan 1980s. Byrne embodied a prevailing anxious spirit perfectly captured in Jonathan Demme's seminal, time-capsule concert film Stop Making Sense.
But Byrne has always been a thoughtful and intellectual Renaissance Man with vast artistic curiosities spanning film, photography, opera, fiction and non-fiction writing. This year, he launched Reasons to be Cheerful – an online magazine focused on solutions-oriented stories about problems being solved all over the world.
His interest in live theatre in many ways began with his band, which was always its own kind of theatrical endeavor.
"I started getting interested in live theatre after I had been in New York for a few years," the Scottish-born Byrne said. "This was the early '80s, when Talking Heads was becoming more well-known. That's when I started checking out the downtown theatre groups in New York."
He was drawn to the work of JoAnne Akalaitis, the avant-garde Lithuanian-American director who founded Mabou Mines, an artist-driven experimental-theatre collective that is still presenting original works and re-imagined adaptations of classics. He also began working with renowned visual artist Robert Wilson, who directed the avant-garde opera Einstein on the Beach.
"They kind of blew my mind," Byrne said. "In the theatrical world, it felt like, 'Oh they are doing to theatre what punk rock was supposed to do to music: Shake things up and completely reimagine how this thing can be done.' I found that very exciting."
The tense and nervous Byrne of the Talking Heads era has long ago morphed into the settled life of a father and multifaceted intellectual whose own Luaka Bop music label fostered global music ranging from Portuguese punk to Venezuelan disco. For 25 years, Byrne has fought to keep his contentment from ever giving in to complacency. "Nobody ever wants to go see a movie about a happy family," he said. "It's boring."
Theater of the Mind promises to be anything but. "There will be a little bit of a wild moment, and some funny stuff, and the audience will develop some empathy for the stories. But most of all, I hope they will begin to question their identity and how they are perceiving the world around them. Are our identities fixed, or are they constantly changing?
Byrne's identity, certainly, constantly changes.
Theater of the Mind will be directed by Andrew Scoville, known for hybrid-genre theatre-making with an emphasis on integrating science ideas into theatrical experiences. It is produced by DCPA Off-Center, Nate Koch, LeeAnn Rossi, and the Arbutus Foundation.
John Moore was named one of the 12 most influential theatre critics in the U.S. by American Theatre Magazine in 2011. He has since taken a groundbreaking position as the Denver Center's Senior Arts Journalist.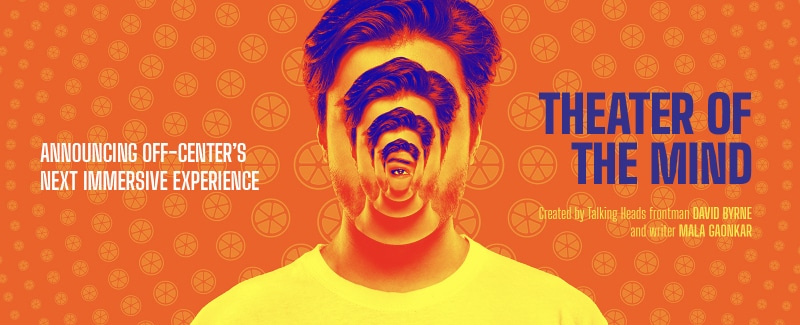 Theater of The Mind: At a glance
The story: Witness the wonders of your mind for yourself as you follow "The Guide" through a 15,000-square-foot installation with 16 fellow audience members. As you explore intriguing environments, listen to storytelling and try sensory experiments, you'll reveal how beliefs, memories and even our identities are more malleable than you think. Caution: the brain may wander. Side effects may include a distrust of your own senses, a disorientation of self, and a mild to severely good time. You may not be who you think you are. But we're all in it together.
Presented by: Off-Center
Created by: David Byrne and Mala Gaonkar
Directed by: Andrew Scoville
Opening: August 2020
Where: The location will announced at a later date.
Tickets: An on-sale date will be announced later. To sign up to receive more information, visit theateroftheminddenver.com.
Online bonus: More of the conversation with David Byrne
Here are more excerpts from John Moore's conversation with David Byrne:
John Moore: Let's talk about the origin of Theater of the Mind.
David Byrne: For me, it started with reading something in a magazine called New Scientist about an experiment these scientists in Stockholm published called "Being Barbie." It's where you're allowed to be embodied in the body of a doll and you re-scale your view of the world — the room and the furniture — from a doll's point of view. You can either be the size of a doll, or the size of a giant, depending on your perspective. When I read about that, my first reaction was, "That is so cool. I really wish I could try that out." So I reached out to them, and eventually they gave us their blessing to re-create their experiment so that more people could experience this phenomenon. At some point, I mentioned that to my friend Mala, and she said she had always wanted to find a way to bring the creative side of science outside of the lab and make it accessible to a larger public. I said to her, "I think the way to do this is as an experience where you are immersed in the body of a doll." You can read something in a book, but the only way to really understand it is to experience it yourself. Anyway, that was the idea – partly selfishly for myself to experience this science stuff. And then it began to expand.
John Moore: So is this theatre or a science experiment?
David Byrne: We have learned that rather than it being just a science experience it needs to be more a theatrical experience. Mala and I both feel this needs to have not a conventional story but some kind of narrative thread that pulls you through. It can't just be that one thing after another happens to you and it's over. You have to feel like there is a reason you are going through this.
John Moore: Tell me more about "The Guide."
David Byrne: A new group of 16 will go in every 15 minutes, and each group will be led by The Guide. The actor who plays this character will to lead them from room to room, but will also talk to them about their own lives, and things that they have seen and experienced, and the things they are not quite sure about.
John Moore: So would you call this audience-participation theatre?
David Byrne: I am aware that when you call something an immersive show, sometimes people go, "No, no, no. I am not going to be dragged up onstage and embarrassed." We are very sure not to put people on the spot. Not to single people out. Not to touch people in any kind of way. This has to be fun and novel and exciting. You have to be reassured and have a sense that you are going to trust that your Guide is going to take care of you, and make sure that everything is going to be OK. That's when you feel open to having new experiences.
John Moore: Will we be hearing any of your music as they go along?
David Byrne: Although I have done musical theatre before, this is not musical theatre. There is one song in the middle where people won't expect it, but I won't be performing it – at least not live, anyway.
John Moore: But sound must play a large part in this.
David Byrne: It does. And some of that is about how we perceive sound, and some of that is about creating a mood, and giving you a sense of what kind of space you are in. Are you in a suburban backyard all of a sudden? Is that a dog barking over there? A lot of it is creating a space with sound – but not necessarily music.
John Moore: What are you looking for in a physical location?
David Byrne: We need a place that has enough space to contain all of the various rooms that we need and can accommodate the flow of people from one room to another. Some rooms have to be of a certain size. Some can be quite small. And there are practical considerations. We don't want it to be too far outside of town, for example.
John Moore: In closing, I just have to ask about the legacy of Talking Heads. It's been 28 years but movie theatre are still hosting Stop Making Sense movie parties. You have explored so many different art forms since then, but what does it mean to you that your music from that specific period continues to have such an ongoing impact on the generation that has followed Talking Heads?
David Byrne: I think that's all pretty amazing. It's incredibly flattering that people still go to that movie, and that they get up and dance to it, and that it still moves people, and that it doesn't seem all that dated. I was recently shown a video of a high-school theatre class in Seattle that performed Stop Making Sense from top to bottom as their year-end project. The students played all the music themselves. It was unbelievable. I thought they should go on tour. I am hoping that maybe one day people will look back at American Utopia that same way.
About the DCPA's Off-Center
Off-Center produces unexpected theatrical experiences that put the audience at the center of the story. What began in 2010 as a small theatrical test kitchen has grown into a signature line of programming for the Denver Center for the Performing Arts, credited with bringing immersive theatre to Colorado and helping establish Denver as a national hub for immersive art.Among Off-Center's large-scale productions that have garnered local and national praise are: Sweet & Lucky created with New York-based Third Rail Projects, The Last Defender with The House Theatre of Chicago, Perception featuring live music by Tom Hagerman of DeVotchKa, and a 360-degree staging of The Wild Party, which was produced in Stapleton's reclaimed airplane hangar. With support from the Doris Duke and Wallace foundations, Off-Center has been recognized as a leader in developing new programming that attracts new audiences.
https://www.denvercenter.org/wp-content/uploads/2019/11/David-Byrne.-PHOTO-BY-DAVID-LENK.jpg
619
1000
John Moore
John Moore
2019-11-07 15:24:23
2020-01-19 15:41:56
David Byrne, Mala Gaonkar to open 'Theater of the Mind' in Denver with Off-Center