Digging Deep Into Denver's Immersive Community
On November 4-6, more than 300 artists in the immersive community will gather in Denver for an international networking event and arts festival at the Denver Immersive Gathering (DIG) hosted by Immersive Denver. Attendees will go on a producer's tour of Camp Christmas, visit Meow Wolf's Convergence Station, and get a backstage tour of Theater of the Mind.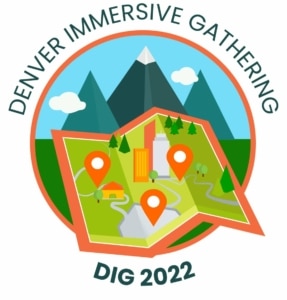 The organization's Co-founder David Thomas and Director Christine Woods are adamant that the DIG is not an industry conference but a gathering. "Our first two events were educational and examined the state of immersive," Thomas explained. "This is the first time we have an entertainment component. We are getting people into town, networking with one another, and engaging them in the creative work."
As the event tagline says, "fewer talks, more talking."
Earlier this year, Charlie Miller, Executive Director and Curator of DCPA Off-Center, reached out to Immersive Denver, hoping organizers would consider hosting the next immersive event in conjunction with Off-Center's Theater of the Mind. As a national hub for immersive art, the creative team — Thomas, Woods, Miller and Noah Nelson of No Proscenium — thought the DIG was a perfect way to showcase Denver's immersive offerings.
Immersive takes many forms, making it hard to define, but interactivity and environmental aspects are essential parts of the experience. Installations that put audiences in the world in a very physical way, like Meow Wolf, may not be theatre, but the experience is still immersive. Additionally, VR, haunted houses, and escape rooms are different facets of immersive. Though all vary widely, they share a common, audience-centricity.
Woods shared her litmus test of judging if something is truly immersive. She said, "If the show fundamentally does not work without the audience member present, then it's not immersive." People tend to see immersive as the "fun" part of arts and entertainment. "It's interactive, engaging, about the audience and how they feel. It's about what they want," Thomas added.
The immersive form provides a unique opportunity to engage artists from all different areas of the industry. "The confluence breeds so much creativity and collaboration," Woods shared. Each artist is a master in their space and possesses particular strengths others may lack. There's so much learning when they join forces and support one another to create something extraordinary.
In Denver alone, numerous companies are producing good work, including Odd Knocks, Control Group, Spectra Art Space, and Prismajic. Denver has a vibrant escape room scene and, until recently, had the country's highest density of escape rooms.
Nationally, Punchdrunk and Third Rail Projects are leaders in the space. The New York-based Third Rail Projects partnered with DCPA Off-Center in 2016 to produce Sweet & Lucky, Off-Center's first large-scale immersive theatre project.
"Sweet & Lucky was the first immersive show I ever saw. It blew my mind," Woods shared. "I was doing escape rooms at the time, and I knew this is what I wanted to do with my career."
Colorado is a cultural attractor, and people are noticing. Between projects such as Camp Christmas and Theater of the Mind, news about escape rooms and even the redevelopment of Casa Bonita, things happening in Denver are reaching artists across the United States. In part, the immersive story is being told as the Colorado story.
"One of our goals with the DIG is to get Denver to see immersive as an important component of the arts," Thomas explained. "We will never be a film production center like Hollywood or a…book publishing center the way New York is. There's history there. But nobody's in charge of immersive. Could Denver become the number one immersive city in the United States?"
Yes, if Immersive Denver gets its way. Luckily, a lot of the infrastructure already exists and is in place to support this goal. The SCFD metro-area cultural tax and the City of Denver's Office of Special Events are huge proponents of the arts many other cities don't have. Plus, the City of Denver's Arts and Venues division will announce plans to support immersive work in Denver at the DIG. This existing infrastructure and the talented artists congregating in Denver are all pieces that help the immersive art form evolve.
Denver has reached a moment in time when a lot of things are happening. The DIG is taking advantage of this moment, galvanizing artists across the metro area and beyond to collaborate, produce new work, and highlight, on a national stage, what's unique about our city.
To learn more about Immersive Denver, the DIG, and where to get tickets, visit Immersive Denver.
DETAILS
DIG: Denver Immersive Gathering
Nov 4-6, 2022
TICKETS
https://www.denvercenter.org/wp-content/uploads/2022/10/ezgif-3-f60ef5e10f.jpeg
1129
1080
Madison Stout
Madison Stout
2022-10-13 13:35:31
2022-10-13 13:37:46
Digging Deep Into Denver's Immersive Community