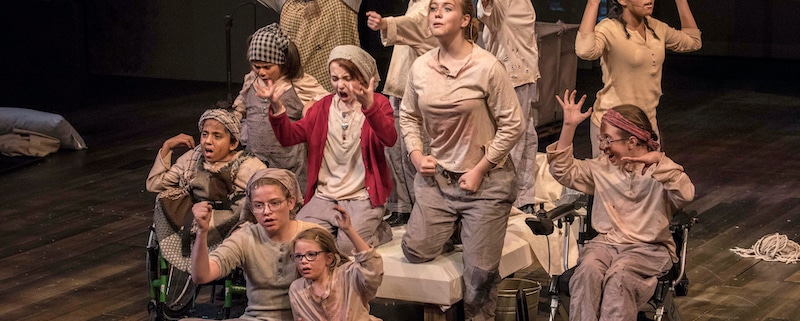 DCPA and Phamaly extend collaboration to Queens
For nearly 30 years, the Denver Center for the Performing Arts (DCPA) and Phamaly have been like peanut butter and jelly — better together. In addition to hosting its annual summer production and providing rehearsal space, the DCPA also collaborates with Phamaly to offer classes specifically welcoming to individuals with disabilities, with increased flexibility for accommodations. Now, through an online platform, these sessions can be extended to other disability-affirmative companies.
Phamaly was founded in 1989 by five students with disabilities who were frustrated by the lack of theatre opportunities available to disabled actors. The company continues to be one of the only theatre companies to exclusively feature actors with disabilities.
Similarly, in 2017, Queens Theatre in New York City made an intentional decision to work with more artists from the disabled community. To that end, they started the Theatre for All initiative, which includes an actor training program.
As two of the only programs of their kind in the country, Phamaly and Queens Theatre have formed a natural bond that has most recently been on display this summer in a salon of Phamaly-led play readings that involved actors and directors with disabilities from across the country. Upcoming sessions will feature discussions with leaders in the field of disability and theatre around topics of casting, aesthetics and inclusive narratives. So extending online class opportunities was an obvious choice.
"Gregg Mozgala [Director of Inclusion at Queens Theatre] and I have been friends and peer artists for years," said Regan Linton, Artistic Director of Phamaly. "We had been discussing the lack of training opportunities for artists with disabilities at all levels. As we suddenly found ourselves moving into exclusively virtual environments during COVID-19, it felt like the perfect opportunity to collaborate and finally convene disabled artists from across the country – even some who live far away from Phamaly or Queens Theatre – to connect and work together.
"You don't become a practicing or professional artist without years of training, cultivation and exposure to theatre as a craft," Linton continues. "Unfortunately, many people with disabilities from childhood through adulthood are excluded from theatre programs and classes at schools, theatres, and beyond. These classes are a first step to nurturing those with disabilities as theatre artists. Ultimately, ALL classes, education, and training programs should be welcoming and accommodating of individuals of all abilities, creating equitable access to the arts."
The DCPA is committed to making sure anyone who wants to experience high-quality arts education has the opportunity to participate. Each year nearly 60 Phamaly company members enroll in these classes and their participation is fully funded by the DCPA's Lewis Myers Scholarship Fund.
In light of COVID-19, DCPA Education has adapted all of its classes to provide virtual opportunities for students. In fact, there are more than 85 classes available for the upcoming fall session alone including four that are inclusive of artists with disabilities:
Script Analysis: 3 sessions/2 hours each • Sep 15, 22 & 29
Stella Adler Workshop: 1 session/2 hours • Oct 15
Acting on Camera Workshop: 1 session/2 hours • Oct 19
Viewpoints Workshop: 1 session/2 hours • Oct 28
"The virtual training space is a little different, but much of that 'different' is also accessible and offers great opportunities for redefining our approaches to artistic training," Linton concludes. "Ultimately, once you establish a shared understanding of the virtual sphere, it can be fruitful and engaging, and complementary to in-person training."
The DCPA offers year-round acting classes to people of all ages and skill levels. If you or someone you know has accommodation needs, please contact DCPA Education at 303.446.4892 or visit denvercenter.org/education.
https://www.denvercenter.org/wp-content/uploads/2020/06/The-cast-in-Phamalys-production-of-Annie.-Photo-by-Michael-Ensminger.jpg
534
800
DCPA Press
DCPA Press
2020-09-01 08:39:09
2020-09-01 08:39:09
DCPA and Phamaly extend collaboration to Queens