Discussion Questions to Complement The Color Purple
Alice Walker's Pulitzer Prize-winning novel, The Color Purple, was published in 1982 and subsequently adapted into a film in 1985 starring Oprah Winfrey before becoming a Broadway musical in 2005. Now widely produced by regional theatres across the country, DCPA Theatre Company audiences will experience this moving story March 31-May 7 in the Wolf Theatre.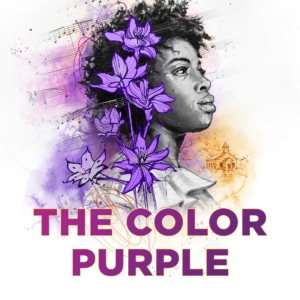 Deepen your experience with these thought-provoking questions before or after the show.
Discuss the meaning of the title and its relationship to beauty.
What is the importance of Celie "seeing herself" reflected in the mirror?
Why must Celie call her husband Mister? What is the affect on her?
Does Shug replace Nettie in Celie's life? What does Shug teach Celie about being loved and the importance self-identity?
How are Celie's letters to Nettie like prayers? Do the letters betray the opening line of the novel: "You better not never tell nobody but God"?
Where does Celie find the strength to overcome adversity?
Author Alice Walker has used the term "womanist" in her writings, which focuses on discrimination against women in the context of race, class, and gender while "feminist" refers exclusively to gender. Would you characterize The Color Purple has having a "womanist" or a "feminist" perspective?
What does the novel disclose about the impact society has on education? Sexism? Racism? Community roles?
The Color Purple is set between 1910 and 1940. How has our world changed? How have the roles, expectations and treatment of Black women evolved?
How is faith — that of faith in friends, family and religion — portrayed in The Color Purple?
What does the author share about the difference between self-value and the value others see in us?
How do we find our voice when society has labeled us voiceless? What factors shape our identities?
What do the violent scenes tell us about the nature of abusive cycles? Is it man vs. man, man vs. self, or man vs. nature?
What is the main message of The Color Purple?
DETAILS
The Color Purple
March 31-May 7, 2023 • Wolf Theatre
Tickets
https://www.denvercenter.org/wp-content/uploads/2022/08/TC22-23-Web-Tiles9.jpg
2031
5000
DCPA Press
DCPA Press
2023-03-08 09:59:17
2023-03-30 12:45:06
Discussion Questions to Complement The Color Purple