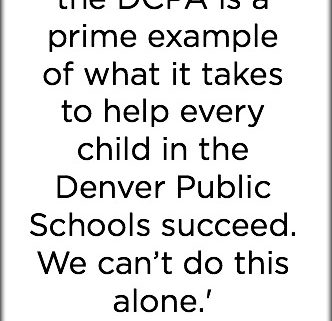 DPS Shakespeare Festival returns with DCPA as new partner
John Moore's photos of the 2014 DPS Shakespeare Festival for the DCPA NewsCenter.

The Denver Public Schools Shakespeare Festival returns for a 31st year this Friday (April 24) under a new partnership with the DPS Foundation that now includes the Denver Center for the Performing Arts.
This is the oldest and largest student Shakespeare Festival in the country. About 5,000 DPS students from kindergarten through high school will perform on 14 stages in and around the Denver Performing Arts Complex. Students from 70 schools will tackle 630 short scenes, dances, soliloquies and sonnets. That's a 15 percent increase in participation over last year.
"There is nothing else even remotely on this scale anywhere else," said Michael LoMonico of the Folger Shakespeare Library in Washington, D.C.
The daylong party opens with welcoming ceremonies at Skyline Park and continues with an Elizabethan parade down Curtis Street. A sea of kings, soldiers, maidens, jesters and ghosts donning everything from Elizabethan to African tribal garb will then spread throughout the grounds for their performances.
The city-owned arts complex has long hosted this annual Shakesplosion, but this is the DCPA's first year as a full partner. DCPA Chairman Daniel L. Ritchie says his non-profit champions the student fest for two simple reasons: It's important … and it's fun.
"We have a common history over 30-plus years in the community," said Ritchie. "Our focus on great theatre classics provides a shared vision. And our commitment to engage youth through theatre education motivates us with a unified purpose. Together, we will combine history's greatest plays with passionate teachers and inspired young actors to expose thousands of students and spectators to the joy of live theatre."
Kristin Heath Colon, President and CEO of the Denver Public Schools Foundation, calls the new partnership with the DCPA "a prime example of what it takes to help every child in the Denver Public Schools succeed. We can't do this alone."
Since 2006, the DPS Foundation has awarded 946 classroom grants totaling $1.26 million that subsidize enrichment programs and activities that go beyond individual schools' limited budgets. Among these "A to Z" grants are stipends that help the poorest schools make costumes or help pay for other festival costs.
Students from Lowry Elementary School perform Sonnet 74 for the Denver Sonnets Project as part of last year's DPS Shakespeare Festival.
​
The free festival, started in 1985 by teacher Joe Craft, has now given about 100,000 students the chance to jump on a stage and screw their courage to the sticking post. One of them was Marty Schettler, a 1999 graduate of Manual High School. He's now a 34-year-old mathematician, software developer and father of two boys.
"I was in the festival a couple times; most memorably in 10th grade," said Schettler. "We did a scene with the two sets of lovers from A Midsummer Night's Dream. I just remember it being so much easier to connect with the text after rehearsing and performing it. It was a really great way to get a taste of performing without having to commit to a whole play – especially a Shakespeare play."
That's because Shakespeare can be nothing if not intimidating at first. But, four centuries later, the Bard continues to be regarded as the most important playwright in the English language. And the DPS Shakespeare Festival allows students to get used to his language early in life. That gives them a competitive academic advantage because studies have shown that when students don't encounter Shakespeare for the first time until they are in a high-school class, they have more difficulty understanding Shakespeare and engaging with the words.
Dana Bergren, a senior at George Washington High School (pictured right) has been performing in the Shakespeare Festival almost every year since the fourth grade. She says that annual exercise helped her overcome the intimidation factor long ago.
"Since I've done it for so long, I have a better understanding of it," said Bergren, who will be portraying the brooding prince Hamlet in a gender-swapped scene on Friday. "I also feel like it helps take the stigma and intimidation of it away. When you realize that it's just words like any other play, that makes more fun and less scary."
Colon said the DPS Shakespeare Festival not only gives students the chance to perform and develop their public speaking and critical thinking skills, it gives them an important opportunity to express themselves and interact with peers.
That is particularly important in the Denver Public Schools district, which in 2011 reported that 70 percent of its students live below the poverty level, 12 percent have identified education disabilities and 46 percent speak languages other than English in their homes.
"In my classroom, 100 percent of my students speak English as a second language," said Rachael Nyberg-Hampton, a teacher at Munroe Elementary. "So one of the things we struggle with is expression when speaking." Shakespeare, she adds, provides students with new strategies for improving their reading levels.
Colon says that's all part of the school district's commitment to the development of the whole child. "And the Shakespeare Festival is a critical component of that," she said.
John Moore was named one of the 12 most influential theater critics in the U.S by American Theatre Magazine in 2011. He has since taken a groundbreaking position as the Denver Center's Senior Arts Journalist.
​
The 2014 DPS Shakespeare Festival parade. Photo by John Moore.
2015 DPS Shakespeare Festival Schedule:
10 a.m.: Opening Ceremonies in Skyline Park (15th and Arapahoe)
10:15 a.m.: Elizabethan Parade from Skyline Park to the Denver Performing Arts Complex
10:45 a.m.-4:15 p.m.: Student performances on 14 stages throughout the DPAC
Noon-2:45 p.m.: The Shakespeare Challenge Bowl at The Joe Craft Theatre (inside the Helen Bonfils Theatre Complex).

Schools and stages:
(Name of stage, followed by participating schools. Note: Schools that are in The Challenge Bowl might be on two stages.)
BLACKFRIARS STAGE: Gateway, Southmoor, Kennedy, Montclair, Colfax, Greenwood, Traylor, Carson and Edison.
BOAR'S HEAD: DSST at Green Valley Ranch, Hill, Brown, Newlon and Bill Roberts.
CURTAIN: Grant Ranch, Dennison, Doull, Skinner, Goldrick and DaVinci Academy.
FORTUNE: Denver School of the Arts
HOPE: McAuliffe, Lowry, Marrama, Thomas Jefferson, Columbian, Lincoln, Golden and Palmer.
INNS OF COURT: University Park, Park Hill, MSLA, Ashley, Cheltenham, Corey, Aurora Academy, Sandoval, Henry, Kaiser and Hamilton.
JOE CRAFT: Munroe, Holm, DCIS at Fairmont and Archuleta. This is also The Challenge Bowl Stage.
RED LION: Steele, Morey and Grant Beacon.
ROSE: Polaris at Ebert, GALS, Denver Green School, George Washington and Bromwell.
SWAN: Highline Academy, Merrill, George Washington, Force, Thomas Jefferson, Slavens and DSST at Cole.
THEATRE: Swigert, Highline Academy and Steele.
WHITEFRIARS: Steck, Gust, McKinley Thatcher, Sabin, Kunsmiller, Denver Montessori, DSST at Stapleton and Lowry.
WHITEHALL : Bradley, Kennedy, Teller, Hamilton and Smith
OLDE GLOBE: Hill, Montclair, Newlon, Polaris at Ebert, GALS, Morey, University Park, Sabin, Merrill, Smith, Skinner, Barrett, DSST at Stapleton, Palmer, North, Slavens and Bromwell
https://www.denvercenter.org/wp-content/uploads/2018/04/featured-image-2170.jpg
569
332
John Moore
John Moore
2015-04-20 18:30:00
2015-04-20 18:30:00
DPS Shakespeare Festival returns with DCPA as new partner