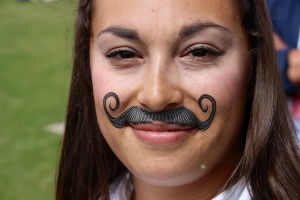 2015 Shakespeare Festival is a celebration of Will Power
VIDEO:
Video by David Lenk for the DCPA NewsCenter.
PHOTOS:

Photos from the 2015 Denver Public Schools Shakespeare Festival. All photos by John Moore for the DCPA NewsCenter. All photos are available for free downloading at a variety of file sizes. Just click here
By John Moore
DCPA Senior Arts Journalist
Jessica Quiñónez locked hands in a circle with her 15 students from Newlon Elementary School and told them not to be nervous when their time came to perform at today's 31st annual Denver Public Schools Shakespeare Festival.
But … her line of little Shakespeareans did look a teensy-bit nervous, from her dapper young Petruchio with the swashbuckling musketeer hat down to her lovely little Bianca.
"But there is no reason to be scared, because you have practiced for this for so long," she reassured them.
Oh, and one more thing, she told them: "Be loud!"
They listened.
For Quiñónez's students, six months of hard work culminated with only about 5 glorious minutes of performance time under a tent on the grounds of the Denver Performing Arts Complex.
And it was worth every millisecond of it, said Quiñónez (pictured at right).
"They got so amped up to do this, and they learned so much," said Quiñónez, whose third- through fifth-graders performed two short scenes and a dance from The Taming of the Shrew.
"They learned how to act and how to become their characters. But more important, they learned how to be on a team together, and they learned how to embrace each other's different cultures," she said. "Everybody is different but we all came together for one goal, and that was to perform at the festival and, of all things, on the Olde Globe stage."
The 31st DPS Shakespeare Festival drew more than 5,000 students from 70 schools in grades kindergarten through high school who performed more than 640 short scenes, dances, soliloquies and sonnets. They all had to audition to get in, and those deemed most promising by the judges were invited to perform today on the Olde Globe Stage. This was the first time students from Newlon, located in Denver's Barnum West neighborhood, have been invited to perform alongside the best of the best.
"That was a huge accomplishment for our school," said Quiñónez.
Newlon Elementary teacher Jessica Quiñónez (above and right) with her students and director, Devin Seligsohn. Photo by John Moore.
School office manager Devin Seligsohn directed the project, starting in November. The costumes mostly came from the DPS' district warehouse, but like many teachers, Quiñónez and Seligsohn threw in about $250 of their own money to cover other expenses.
And like about half of the DPS enrollment, many of Quiñónez's students are learning English as a second language. She said learning Shakespeare "absolutely" has helped her students improve their English. One of her little thespians speaks fluent Spanish, but practicing to play Biondello for the festival gave her the confidence not only to say her words in the Bard's English – she threw in a little accent as well. Her character assists Lucentio in his scheme to win the love of Bianca.
"She really embraced this whole experience, and it has helped her with her English," said Quiñónez. "I think it's the fun of it that makes learning more interesting. It really makes her want to learn the words.
"It's just amazing for them to be able to do all of this this at a DPS school."
While the DPS Shakespeare festival has long played out in and around the DCPA's grounds, this was the DCPA's first year as a full partner of the event. DCPA Director of Education Allison Watrous said it's a partnership that makes perfect sense.
"We are the Denver Center for the Performing Arts, in the center of downtown – and this is our school district," she said. "The DPS is one of our greatest partnerships already, so if we can be a champion for them, that's what we want to do. Especially for those schools that do not have arts programming due to budget cuts or time constraints, it's great that we can support this program."

DCPA Director of Education Allison Watrous was the Grand Marshall of this year's parade. Photo by John Moore.
Watrous served as the Grand Marshall for the short parade that preceded the astonishing array of performances that played out every few minutes on 14 stages spreading from Sculpture Park to – no kidding – the upper decks of the nearby city parking lot.
She said the Newlon students' experience is a perfect example of the festival's goal to emphasize process over performance.
"As actors and theatre artists, we know that process is the most important part," she said. "It's the preparation that gives us the chance to figure out what these words mean, how to say them and how to best put them out into the world.
"We know that theatre gives students portable skills. Will they end up in theatre? Maybe not, but the skills they learn here are skills they can use in their careers."
In her introductory remarks to the crowd that gathered this morning at Skyline Park, Watrous called this festival a treasured community event that continues to enrich the lives of students.
"Shakespeare and the theatre shows us the power of language and gives us the ability to see the world in metaphor, and to paint with images. These rich gifts lead up to empathy and critical thinking," she said.
"The DCPA is dedicated to arts in education, and believes that every student deserves opportunities like this."
CLICK HERE TO SEE OUR FULL GALLERY OF FESTIVAL PHOTOS
Every year, exceptional students are chosen to portray Shakespeare and Queen Elizabeth at the opening ceremonies. This year's honorees were seniors from Denver School of the Arts: Noah Anderson, who has been active with DCPA Education programs for several years and last year was an understudy in the Theatre Company's production of black odyssey; and fellow senior Stacey Tilton. And, as always, Denver City Auditor Dennis J. Gallagher serenaded the crowd with an always letter-perfect, memorized sonnet.
Injured Denver police officer released from hospital
Many at the front of the crowd for the morning parade saw a disturbing sight when the horse that was to lead the festival dignitaries in a carriage suddenly bucked and kicked a Denver police officer square in the face. The officer suffered a facial laceration and was bleeding profusely. A Denver police spokesman said the officer never lost consciousness and was treated and released after being transported to Denver Health.

John Moore was named one of the 12 most influential theater critics in the U.S by American Theatre Magazine in 2011. He has since taken a groundbreaking position as the Denver Center's Senior Arts Journalist.
More NewsCenter coverage of the DPS Shakespeare Festival:
DPS Shakespeare Festival returns with DCPA as new partner
Photos: 2014 Denver Public Schools Shakespeare Festival

Queen Elizabeth, as played by Stacey Tilton, is second from left. Noah Anderson, as Shakespeare, is far right. Photo by John Moore.
https://www.denvercenter.org/wp-content/uploads/2018/04/featured-image-2160.jpg
200
300
John Moore
John Moore
2015-04-24 17:03:00
2015-04-24 17:03:00
2015 Shakespeare Festival is a celebration of Will Power