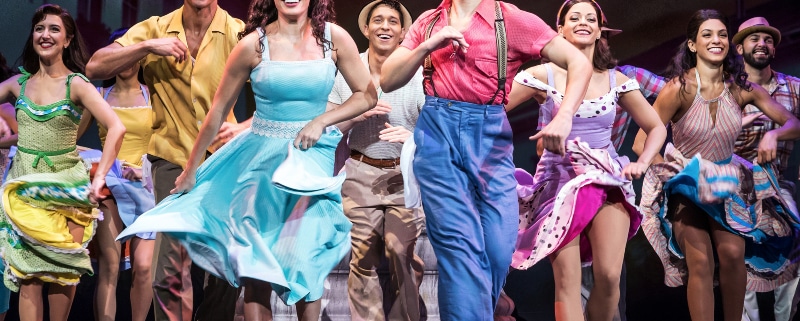 Emilio Estefan exclusive: 'On Your Feet!' is a call to action
Fans of the Estefans might not realize the harrowing obstacles the couple have faced on their rise  from penniless Cuban immigrants to proud realizers of the American Dream
There's much more to the title of Emilio and Gloria Estefan's hit Broadway bio-musical than meets the feet. Yes, On Your Feet! features one of the most infectious catalogues in pop-music history. There are few audience members the rhythm isn't going to get … out of their seats.
But On Your Feet! is not just an invitation to get up and dance, producer and husband Emilio Estefan says. It is a call to action.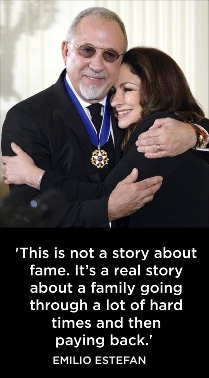 "The reason we called it On Your Feet!  is because you can be rich, and you can be famous, but you have to get back on your feet many times throughout your lifetime," Estefan told the DCPA NewsCenter. Fans of the couple who have been so abundantly blessed might not realize the harrowing obstacles the Estefans have faced over the past six decades as they have risen from penniless Cuban immigrants to proud realizers of the American Dream. It's a story powerfully told in On Your Feet! by Oscar-winning book writer Alex Dinelaris (Birdman).
In 1990, Gloria broke a vertebra in her back when the bus carrying her husband and band collided with a tractor-trailer on a snowy mountain highway in Pennsylvania. After a four-hour surgery to implant rods in her spine, doctors told Gloria she would never walk properly again. But a year and a miraculous recovery later, she embarked on a world tour. Soon after came the birth of her second child.
And that's why the Estefans' musical takes its title from one of Gloria's biggest hits.
"That was a time when we were on top of the world. But
then Gloria had to start all over again," Emilio said. "Instead of complaining, we got back on our feet. Our attitude about life is that when everything is going negative we convert it to positive — and I think that's a great mindset for all people to have."
That might sound easy coming from Estefan in 2018. After all, he has produced hits for Jennifer Lopez, Marc Anthony, Jon Secada, Ricky Martin, Shakira and many more. He's been nominated for 42 Grammy Awards and won 19. He's made hit movies such as Madonna's Evita and Three Men and a Baby. He owns restaurants, a hotel and piece of the NFL's Miami Dolphins. He's won the Presidential Medal of Freedom. On Sept. 2, he and his wife will celebrate their 40th wedding anniversary.
"You definitely have to be 100 percent in love to stay married for 40 years," Estefan said. "If you want to spend your life with a person, you have to respect that person and admire that person. I consult with Gloria on everything. She's been my best friend, and the best mother. I think with time, you just love the person even more."
On the surface, the Estefans appear to have it all — and they would agree. But none of it has come easy.
Gloria Fajardo was just a toddler when her parents fled Havana in 1957 to escape Communist dictator Fidel Castro. Her father, who had been a bodyguard for President Fulgencio
Batista, fought for the U.S. at the Bay of Pigs and in Vietnam, but upon his return was diagnosed with a paralyzing form of multiple sclerosis — possibly as a result of exposure to Agent Orange. Gloria spent much of her teenage years as his primary caregiver while her mother worked. "Childhood was such a bad time for Gloria, and her father died so young," said Emilio, who himself fled Havana for Spain at age 14. "When you leave Cuba, the only thing you're allowed to take is what you have on. But the only thing I wanted was to live in freedom."
The two met in Miami in 1975, and their rise in the pop-music world is the stuff of legend. Emilio was a sales manager for the rum dealer Bacardi and the percussionist for a band called the Miami Latin Boys. He met Gloria at a wedding the band was playing, and a few weeks later Emilio asked her to be the lead singer. By 1980, they formed Miami Sound Machine, which five years later would become Latin music's first enormous crossover hit, not only in the U.S. but throughout the world.
And again — it wasn't easy. Those running the music industry thought Estefan's brand of fusion-pop was too Cuban for Americans and too American for Cubans.
"When I went to Sony with our first crossover album, they told me to take all the horns and percussion out," Emilio said. "But I said, 'I don't want to copy what is on the radio,' and the guy told me, 'Go back to your country.' I said, 'This is my country. I am an American!' "
When Estefan first visited Sony, in fact, "they would never even let me go upstairs," he said. Eight years later, he was the company's president. "And that's when I signed Ricky Martin and Jennifer Lopez and Marc Anthony and everybody else," Estefan said with a laugh.
The Estefans set out to tell their story on Broadway in 2015, he said, "as a way of thanking this county for all of the opportunities it has given to Gloria and me." The score includes all the songs Gloria made popular, including "Get on Your Feet," "Conga," "1-2-3" and "Rhythm Is Gonna Get You." But it also includes lesser-known songs that enhance the telling of the onstage story, such as "Famous" and an original song called "If I Never Got to Tell You" that Gloria wrote with daughter Emily Estefan.
On Your Feet! opened on Broadway in 2015 only after director Jerry Mitchell considered more than 3,000 actors to play Gloria over two years. Emilio said fans who attend the show might be surprised to learn that one of Gloria's biggest obstacles on her way to stardom was her own mother.
"She was totally against Gloria becoming a performer because she was afraid something would happen to her," he said. "She would say, 'How are you going to make a living? The music! The drugs! The rock and roll!' And I would say, 'Mom, it's not going to be like that. It took a lot of years for her to understand that we really love music."
Gloria's mother passed away last year without having seen On Your Feet! on Broadway. "It would have been too hard for her," Emilio said. "He died really young, and she was still so in love with him. I mean, every single day she still talks about how proud she was of her husband, and how he served his country and dedicated his life to freedom."
On Your Feet! now has been performed around the world, with companies in Japan and England set to open next.
"When the show opened in New York, I would say most of the people in the audience were minorities," Estefan said. "But you know something? When we opened in Holland, I saw people dancing and crying at the same places
in the play.
"I think that's because this is not a story about fame. It's a real story about a family going through a lot of hard times and then paying back. We made a promise many years ago that everything we do, we do to pay back this country. And I think that's a great message for everybody right now."
John Moore was named one of the 12 most influential theater critics in the U.S by American Theatre Magazine in 2011. He has since taken a groundbreaking position as the Denver Center's Senior Arts Journalist.
On Your Feet!: Ticket information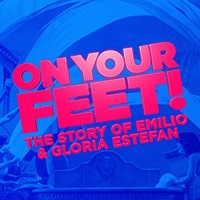 From their humble beginnings in Cuba, Emilio and Gloria Estefan came to America and broke through all barriers to become a crossover sensation at the very top of the pop music world. But just when they thought they had it all, they almost lost everything. From international superstardom to life-threatening tragedy, On Your Feet! takes you behind the music and inside the real story of this record-making and groundbreaking couple who, in the face of adversity, found a way to end up on their feet. Directed by two-time Tony Award winner Jerry Mitchell (Kinky Boots), with choreography by Olivier Award winner Sergio Trujillo (Jersey Boys) and an original book by Academy Award winner Alexander Dinelaris (Birdman), On Your Feet! features some of the most iconic songs of the past 25 years — and one of the most inspiring stories in music history.
Performances Aug. 8-19
Buell Theatre, Denver Performing Arts Complex
Tickets start at $25
Call 303-893-4100 or BUY ONLINE
Groups of 10 or more: 800-641-1222
https://www.denvercenter.org/wp-content/uploads/2018/07/Christie-Prades-as-Gloria-Estefan-Adriel-Flete-and-Company-ON-YOUR-FEET-©-Matthew-Murphy.jpg
543
800
John Moore
John Moore
2018-07-24 14:47:41
2018-08-20 11:15:57
Emilio Estefan exclusive: 'On Your Feet!' is a call to action