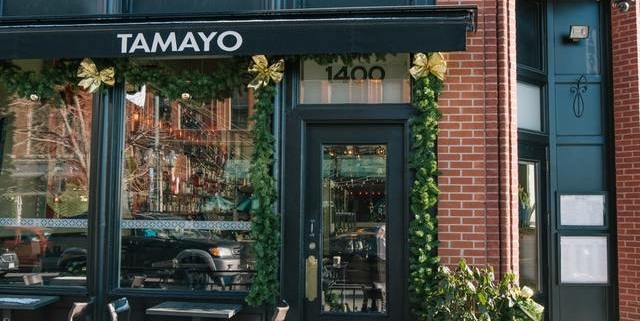 Family-Friendly Meals Before or After the Show
From the archives: this article was originally published on November 18, 2022
Make an event of going to the theater with kids by having a meal before or after the performance at one of these five spots, each located near the Arts Complex. From burgers to seafood to tacos, the options cover a vast range of tastes.
In general it's a good idea to book a reservation in advance, just to make sure there isn't a wait if you're going before the performance. But even without a reservation, eating out is doable as long as you give yourself about two hours before curtain. Or take all the stress away and head to the restaurant for a post-show snack and chat about what you just saw.
Since 1927 Sam's No. 3 has catered to Denverites looking for solid diner fare. Lucky for us, one of the three locations is just a couple blocks away from the Denver Performing Arts Complex. The setting is laidback and easy, both for adults and their little ones.
Like most diners, the menu here proves vast, with lists of omelets, potato pancakes, Mexican-inspired dishes, breakfast burritos, burgers, sandwiches and salads. Just make sure not to over order if you're eating before the show. You can't bring leftovers into the theatre no matter how tasty they are.
At Sam's No. 3 Downtown, located at 1500 Curtis Street, reservations aren't available, but there's plenty of seating. Head here Wednesday through Saturday from 7am to 8pm, and Sunday through Tuesday from 7am to 2pm.
TIP: Seating at the counter is often available and quick!
---
Enjoy wood-fired Neapolitan pizzas before or after a show at this nearby Italian joint. Build your own pie or order from the long list of creations, both red sauce and white sauce style. Guests can also enjoy pastas, an array of fresh salads, and appetizers such as smoked and grilled wings, fire-roasted Brussels sprouts, burrata with crostini and more.
Located at 890 14th Street, the restaurant is only open from 4 to 8p. daily, so it's best for an early dinner after the matinee or dinner before an evening show. Reservations are taken here, though it's not necessarily needed if going after the performance.
---
Inside the Denver Pavilions, just 15 minutes away on foot, you'll find 5280 Burger Bar, the best place to pre-play with comfort food. Adults can indulge in one of over a dozen burgers and chicken sandwiches, from the signature classic cheeseburger to the stuffed mushroom burger with au poivre sauce to the falafel burger with homemade tzatziki sauce.
There's a full menu of $6 kids' items too, which includes burgers, chicken tenders, grilled cheese, hot dogs and more. Add on a platter of truffle fries, a salad, a shake and/or scoop of handmade ice cream, and it's a meal hearty enough to get you through any performance without having to stock up on snack during intermission.
Find 5280 Burger Bar at 500 16th Street Mall, Suite 160. It's open daily at 11:30am and closes at 9pm Sunday through Thursday, and 10pm Friday and Saturday. No reservations needed, and if it's full, rest assured there's a quick turnaround.
---
Though Water Grill is more upscale than the previous restaurants, it can be really fun for kids too. For starters, they feel good getting to be "fancy" when heading to the theater. Plus, this place has live crab and lobster tanks to peruse while waiting for food. Best part, children don't even have to like seafood in order to enjoy dining here. There's a kids' menu chockfull of pint-sized foods such as macaroni and cheese, burgers, salmon and more.
Located at 1691 Market Street, the restaurant is just a 10-minute walk to the Arts Complex. It's open for lunch and dinner, Sunday through Thursday from 11am to 10., and Friday and Saturday from 11 am to 11pm. Reservations are accepted and recommended to secure a spot.
---
Just five minutes away is Tamayo, Richard Sandoval's Mexican joint on Larimer Square. It's an elevated dining spot with a casual attitude, and great food for both adults and kids. Those 12 and under can order off a special menu featuring chicken tacos, quesadillas, a mini steak with guacamole and mahi mahi fish tacos. Of course they can order off the regular menu too, which features tortilla soup, shrimp fajitas, lobster enchiladas and so much more.
Tamayo is located at 1400 Larimer Street. Reservations are recommended, and you can make them for brunch, lunch or dinner. The restaurant is open for lunch Monday through Friday from 11am to 3pm, and then dinner from 5 to 9pm, and 10pm on Fridays. On the weekend, book a table for brunch between 10:30am and 3pm, or dinner 5 to 10pm Saturdays, and 5 to 9pm on Sundays.
---
And if you just want a little sweet treat, make the newly opened Van Leeuwen ice cream shop on Larimer Square a destination. It's at 1459 Larimer Street, just five minutes away on foot from the Denver Performing Arts Complex.
https://www.denvercenter.org/wp-content/uploads/2022/11/24930704.jpeg
640
640
Linnea Covington
Linnea Covington
2023-08-31 09:00:00
2023-10-25 10:30:13
Family-Friendly Meals Before or After the Show