Fostering Your Child's Love for Music
By: Katilyn Erikson
Around 31% of people in the US who play musical instruments are aged between five and 17, as found in a NAMM/Gallup Survey. Approximately half of all American households, meanwhile, have a musical instrument, with instruments such as the piano and guitar being the most popular. Various studies have shown that playing music has a host of benefits for children. Much like theatre, music boosts intellectual, socioemotional, language, and motor skills. It helps the body and mind work in sync and boosts brain development. As is the case with all hobbies, however, children can sometimes learn a musical instrument then lose interest in it. How can you, as a parent, encourage your children to embark on a lifelong love story with music?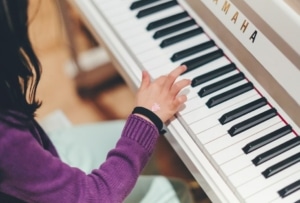 Why Did You Pick Up Your First Guitar?
If you play a musical instrument yourself, try to think back to the person or band that made you want to pick up your first guitar, keyboard, or drum kit. Was it John Lennon, Johnny Marr (guitarist of The Smiths), or Jon Lord (keyboardist of Deep Purple)? Childhood and adolescence are times in which we seek and adore heroes. Encourage your children to find their own musical role model by playing a host of genres for them at home and in your car, taking them to concerts, and interest them in everything that makes music fun—including fashion and band merch!
Widening Their Instrument Choices
If your child takes piano, guitar, or violin classes, then they can sometimes complain about the number of hours or the effort involved. It can take a while, for instance, for kids to get used to reaching all the chords in a guitar with ease. Try to balance these instruments with easy, informal sessions with easy-to-play instruments like the ukulele. Of course, the uke also has chords, but kids can usually learn and master ukulele chords faster. They can start out with online uke classes for beginners, which allow kids to choose between various activities. As the progress, consider in-person classes, workshops and jam sessions at Swallow Hill Music. Then, kids who already know musical genres may decide to learn a few jazz, blues, or rock tunes. Many ukulele classes specialize in these respective genres and most are well-structured so you can quickly pick a class that corresponds to your level.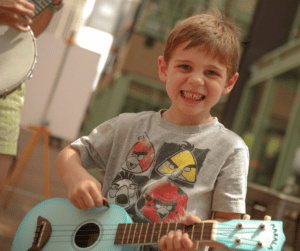 There is Power in Unity
If you saw the Jack Black film or Broadway touring musical, School of Rock, then you know that it is never too early for kids to enjoy the camaraderie and magic that arises from being part of a band. Swallow Hill Music offers parent/child classes for children six months to four years old, while group lessons for youth and teens make learning with friends fun. Teenage children will frequently know the kids who play instruments at school and may want to ask them if they would like to start their own group. Share stories with your children about all the bands that met when they were just teens—everyone from The Beatles right through to Green Day, U2, Radiohead, The Cure, and the Red Hot Chili Peppers.
If your child is more interested in classical music instruments, numerous organizations around the metro area offer classes including Arvada Center for the Arts and Humanities and  Colorado Symphony while Denver Young Artists Orchestra allows aspiring young musicians a place to practice their art as part of an ensemble.
A sizable percentage of children in the US play at least one musical instrument. This is good news, since music has a host of mental benefits. To ensure that music remains an important part of your child's life, encourage your children to find musicians they admire, give them more than one instrument to play, and suggest that they form a band with other kids who share a passion for music.
https://www.denvercenter.org/wp-content/uploads/2022/03/274695172_10166489908010355_4607353501370097901_n.png
788
940
DCPA Press
DCPA Press
2022-03-02 10:38:06
2022-03-07 10:43:04
Fostering Your Child's Love for Music