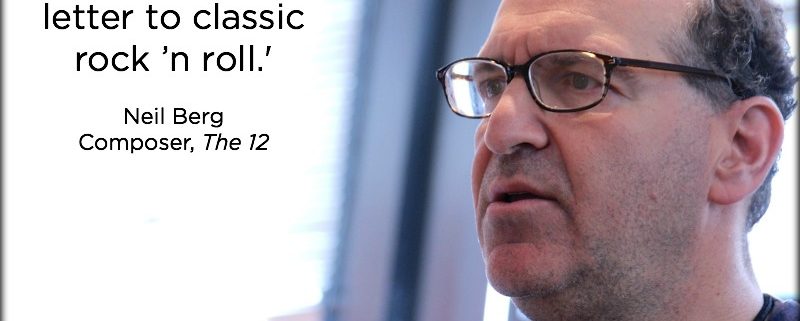 Neil Berg and the rockin' roots of 'The 12'

Neil Berg. Photo by John Moore.
By Douglas Langworthy
DCPA Literary Manager
Composer and co-lyricist Neil Berg traces his interest in musicals to an unlikely origin: seeing Annie on Broadway as a boy. "While everyone else loved 'Tomorrow,' " he remembers, "I loved 'Maybe,' her 'I Want' song." In an "I Want" song, the protagonist expresses her dreams (e.g. "Annie wants parents"). It's telling that the budding composer was interested in the song that sets the entire play in motion. Prologue spoke with Neil during rehearsals for The 12, the rock musical he created with book writer/co-lyricist Robert Schenkkan.
Douglas Langworthy: When did you start writing musicals?
Neil Berg: From the time I could play the piano, around 9 or 10. I was the youngest of three and rock 'n roll was what I grew up listening to. From my brother I got The Beatles and Led Zeppelin and classic rock. My sister was into folk — Dylan, Joni Mitchell, Peter, Paul and Mary. And my mother and father were into classical, jazz and opera. Being the youngest, it all trickled down. When I came into my own, I was into the classic rock movement. My favorite albums were all those rock operas — The Who's "Quadrophenia" and Genesis' "The Lamb Lies Down on Broadway," but my very favorite was probably Pink Floyd's "The Wall."
When I got to high school, I chose baseball, but I always loved the theatre. When I got to college my best friend bet me 20 bags of Oodles of Noodles that I wouldn't audition for the musical. I got into Brigadoon; I was the fifth fellow from the left — I'm not a very good actor — but I loved it. When they found out I could play piano, someone asked me to write my first musical — Ghost Story. My life was changed. I got asked my senior year to compose for Cider Mill Playhouse where I wrote scores for Trelawny of the Wells and Rosencrantz and Guildenstern are Dead.
I arrived in New York City a little behind because I wasn't "that "Juilliard guy," but I forged my own path. I auditioned for the BMI (Broadcast Music, Inc. Musical Theater) workshop and got in. That's how I started writing musical theatre.
(Note: Photo above: Front, from left: Anthony Federov, Terence Archie and Jordan Barbour with other cast members from 'The 12.' Photo by Jennifer M. Koskinen.)
Langworthy: Talk about how The 12 came about.
Berg: I wrote a musical version of The Prince and the Pauper that ran Off-Broadway for two years at the Lamb's Theatre in New York. Lamb's Theatre was in a former church, so every day I was going to work in a church. Being Jewish from New York, I was always fascinated by religion; by these new televangelists.
I was asked if I wanted to write a musical about the disciples, but that never got off the ground, so I came up with my original concept to write a rock song cycle. Christianity and rock 'n roll were both revolutions that changed the culture. With Christianity you have all these splinter groups, just as rock has all of its sub-genres.
So my intention was to give each disciple his own rock style — one could be Elvis, then John Lennon and Bono. I was working with a producer, Adam Friedson, who had just produced Robert Schenkkan's play By the Waters of Babylon. When I mentioned that I was interested in taking this into a book musical, he put Robert and me together.
Langworthy: Once Robert came into the picture, how did the project change?
Berg: Robert liked my parallel concept, but he felt a stricter focus would be more effective. So it was his idea to narrow it down to the story of the disciples in the room just after Jesus' death. What happens when you have a revolution and the leader is suddenly cut off? What do the followers do? This became about having belief.
Then we tried a few framing devices. What if this was a rock band on the verge of breaking up, but before they do they make this one last record. So all the different players in the band would come out and become a different disciple. It was cool, but we ultimately felt it was a near-miss. The device was more confusing than helpful, so we decided to simplify. And that's where we are now, where the struggle of the disciples is the story.
Watch short video samples of 'The 12' songs from the first sing-through
Langworthy: What musical influences are reflected in your music for The 12?
Berg: This is my love letter to classic rock 'n roll. You'll hear some of The Who, a little Led Zeppelin, a little Tom Waits. John Lennon's in there in the song called "Why." And of course the ending is very U2 — the hopefulness, everything Bono has stood for in his career.
There's a gospel song called "Rise Up" that I'm excited about because I was thinking about how the first gospel song ever would have been written. It could have been inspired by the first time anyone thought that their leader was risen.
Langworthy: Do you have a sense of how this will play to theatre audiences and audiences of faith?
Berg: Absolutely. We've done a few different workshops in different places. One of them was in suburban New Jersey. A large part of that audience was suburban churchgoing Catholic. Their response to the reading was incredible. They felt this is a part of the story that's not told. They felt that this story was theirs; they could wrap themselves around it and embrace it. And then we did it at B.B. King's in Times Square, and they loved it too. If we're telling the story the way we want to tell it, and everyone can bring their life history to it and celebrate it, that would be fantastic.

The 12: Video montage:
The 12: Ticket information
Through April 26
Stage Theatre
Tickets: 303-893-4100 or BUY ONLINE
Toll-free: 800-641-1222 | TTY: 303-893-9582
Groups of 10 or more: 303-446-4829
ASL interpreted, audio described and open-captioned performance: 1:30 p.m. April 26
Our previous coverage of The 12:
Video montage: Your first look at The 12
The 12: Three days that rocked the world
Watch short video samples of 'The 12' songs from the first sing-through
Video: Robert Schenkkan introduces The 12
The 12 opens rehearsals with a mandate to 'dig deep'
Full casting announced for The 12
Final offering of Theatre Company season: Rock musical The 12
https://www.denvercenter.org/wp-content/uploads/2018/04/featured-image-1549.jpg
533
800
John Moore
John Moore
2015-03-31 10:57:00
2015-03-31 10:57:00
Neil Berg and the rockin' roots of 'The 12'