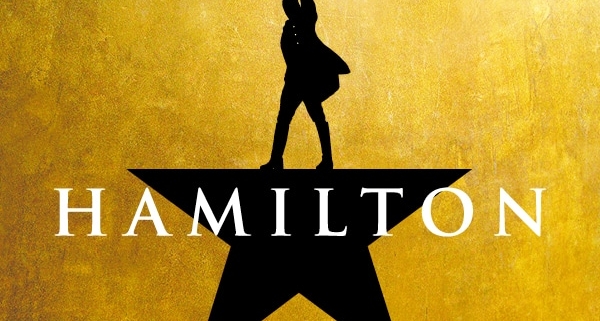 Hamilton: A new foundation for musical theatre
The history of Hamilton seems unlikely at best, maybe as unlikely as a budding nation, making a go of it in a new world.
Actor, composer and producer Lin-Manuel Miranda was on vacation in Mexico in 2008, in a hammock, relaxing. He picked up a little "light reading" — the 800-page historical biography, Alexander Hamilton, by Rob Chernow.
And, like in any good work of writing, the story sprang to life. Miranda could visualize the characters (and real-life figures) "jumping off the page, shouting to him in rhyme and verse," according to one interview.
No powdered white wigs. No buckle shoes. And no corsets atop hoop skirts.
Just hip hop.
Fast forward one year. Miranda is invited by President Barack and First Lady Michelle Obama to perform at the White House Evening of Poetry, Music and the Spoken Word. Instead of selecting a song from his recent Broadway show, In the Heights, he opted to perform "The Hamilton Mixtape."
When he introduced the number by explaining that Alexander Hamilton "embodies hip-hop," the audience laughed. In fact, Miranda later told "Tonight Show" host Jimmy Fallon that he knew Hamilton was a bad elevator pitch. "Rapping founders? I think the audience really thought it was a joke." But when his work on Hamilton was finished, laughter was replaced with admiration.
Hamilton took some time to finish after its introduction at the White House. It is reported that he worked on the songs "Alexander Hamilton" and "My Shot" for a year…each. Then, he performed 12 of his songs at Lincoln Center's American Songbook series in 2012 before beginning workshops in 2014.
Finally, seven years after that "relaxing" vacation, Hamilton was on a fast track. It debuted off-Broadway at New York's Public Theatre in January 2015, moved to Broadway's Richard Rodgers Theatre in July, launched multiple national tours and European productions, and in 2020, released a capture of the original Broadway cast on Disney+.
The response was one for the record books.
Hamilton won the Grammy Award for musical theater album, 11 Tony Awards (out of a record-setting 16) and the Pulitzer Prize for Drama. According to a 2020 report in Broadway World, more than 2.6 million people have seen Hamilton on Broadway and another 7.8 million at theatres across the country, which doesn't account for an undisclosed number of people who experienced the Disney+ streaming version, which earned "Hamilton" an Emmy Award.
This highly inspired story of a historical figure became a part of the mainstream, and Miranda became a household name. As the Chicago Tribune quipped, "When's the last time a Broadway star became a pop culture figure? This crossover of musical theatre into the vernacular of everyday people — most of whom have never seen the show but can sing it — illustrates its staying power."
But why? A fresh approach to history? The infusion of hip hop and rap that attracts a different audience? The power of compelling storytelling? Yes, yes and yes.
And… Miranda's goal. "This is a story about America then, told by America now, and we want to eliminate any distance — our story should look the way our country looks," he said to The New York Times. So the original cast — and all casts since — reflected the diversity of the country now based on the revolutionary aspirations of our founding father then.
According to Insider, "For Miranda, representing the spirit of Alexander Hamilton, the spirit of the Founding Fathers, and the spirit of the American Revolution, which emulates that of American hip-hop, was more important than visual historical accuracy."
As a consultant, Alexander Hamilton biographer Ron Chernow was regularly brought into the development process. And after the initial surprise at the diverse casting, he realized it was more than novelty; it brought an extra layer of significance to the musical.
"Within seconds you forget what racial or ethnic group [the actors] belong to," Chernow said to Playbill. "I felt within a matter of minutes…this is an inspired idea because these young performers are not only bringing extraordinary talent…they were already getting closer to the spirit of the American Revolution than anything I had seen either on stage or screen."
Will Hamilton have the lasting power in America of the U.S. Constitution or the financial system, both of which are legacies of the real man, Alexander Hamilton? Only time will tell, but the lasting impact on a generation of new theatre-goers is indisputable. Suddenly, 18th century history is not only interesting but accessible. It is not only relatable, but it's cool. And beyond all doubt, our Founding Fathers and the very fabric of our evolving, growing, continually revolutionary country are inspiring.
DETAILS
Hamilton
Feb 16 – Mar 27 • Buell Theatre
https://www.denvercenter.org/wp-content/uploads/2019/01/Hamilton_Web_Tile_600x600.jpg
600
600
DCPA Press
DCPA Press
2022-02-03 12:48:26
2022-03-18 11:49:13
Hamilton: A new foundation for musical theatre