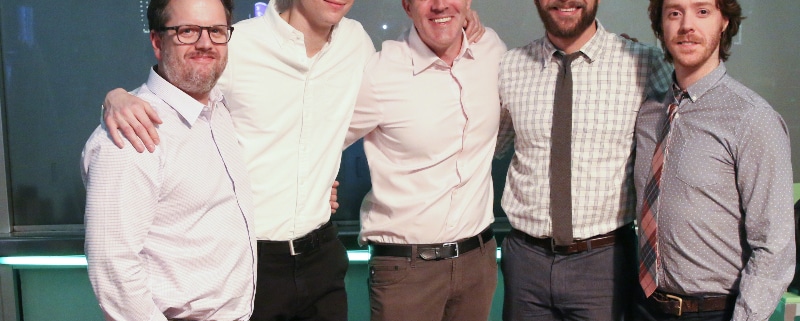 The Improvised Shakespeare Company is off and punning in Denver
EDITOR'S NOTE: Wednesday night was the opening of The Improvised Shakespeare Company's extended engagement at the Denver Center's Garner Galleria Theatre. Each performance produces a full, invented, one-time-only play based on an audience suggestion. With the Denver Improv Festival coming up in November, we asked Interim Artistic Director and longtime DCPA Teaching Artist Jessica Austgen for her thoughts on the evening.
Local improv expert: 'The plot lines came together in an intricate bloodbath worthy of Titus Andronicus'
From the prologue to the epilogue (both presented in improvised rhyming couplet), this group of deft Shakespearean improvisers tackled all the tropes of a King Lear-esque tragedy, while still keeping a sense of play weaving throughout the twists and turns of their completely made-up plot. Nothing was scripted, but this show had all the feel of a carefully penned comedy. Each night is based on an audience-suggested play title; on Wednesday it was All Is True. The plot lines came together in an intricate bloodbath worthy of Titus Andronicus, with the final fatality occurring at the hands of … a pack of feral orphans?
We met all of the expected Elizabethan characters — kings, queens, squabbling rival brothers — but the players brought us unexpected appearances onstage of the aforementioned bloodthirsty orphans, the denizens of a queenly artist retreat and even the town pervert popped in for a visit. Celia the Guard Door (you'd think it should be Door Guard, but it wasn't!) was a particularly great addition to the parade of Shakespearean archetypes careening across the stage.
The improvisers had a ball performing on DCPA Scenic Designer Lisa Orzolek's set, which is a new feature since last year's engagement, when the players invented a new play each night on a completely blank stage. Like kids in an actor's candy store, they make full use of the new archways, doors, a moving stone wall that doubled as a moveable gravestone and even a climbable castle turret.
All in all, The Improvised Shakespeare Company® was super fun.
Jessica Austgen is a DCPA Teaching Artist, playwright, actor, inprov comedian and Interim Artistic Director of the Denver Improv Festival, which returns October 31 through November 1. She is currently playing the role of Hannah Jarvis in Colorado Springs TheatreWorks' production of Arcadia by Tom Stoppard.
The Improvised Shakespeare Company is 'the smartest dumb show you'll ever see'
Video: Your first look at The Improvised Shakespeare Company®
Photo gallery: The Improvised Shakespeare Company®
Opening night party thanks to our sponsors, Centerplate and Robert Mondavi Private Select
The Improvised Shakespeare Company®: Ticket information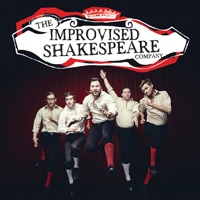 Based on an audience suggestion for a title for a play that has yet to be written, The Improvised Shakespeare Company® creates a fully improvised Shakespearean masterpiece right before your very eyes. Each of the players has brushed up on his "thee's" and "thou's" to bring you an evening of off-the-cuff comedy using the language and themes of William Shakespeare. All of the dialogue is said for the first time, the characters are created as you watch and if ever you're wondering where the story is going … so are they. The night could reveal a tragedy, comedy or history. Each play is completely improvised, so each play is entirely new.
When: Performances through March 22, 2020

Where: Garner Galleria Theatre, Denver Performing Arts Complex
Cast: The performers will rotate throughout the run. The ensemble through October 27 is Ross Bryant, Brendan Dowling, Randall Harr, Josh Logan and Blaine Swen
Tickets: Available by calling 303-893-4100, in person in the Helen Bonfils Theatre Complex at 14th and Curtis streets or, online by clicking here:

Groups: Call 800-641-1222
Denver Improv Festival: Ticket information
Take an improv class at the Denver Center
DCPA Education offers a variety of classes including beginning and short-form and long-form improv comedy. Coming up on October 26 and November 1, DCPA Teaching Artist Brian McManus will be leading a two-session course called "Discovering Long Form Improv." In long form, the actors get one suggestion and use it to generate multiple, extended scenes, effectively creating a short play or a series of scenes connected by themes and patterns. The two forms go hand in hand. This workshop will focus on developing basic long form skills including tools to help identify, build and heighten patterns, develop character relationships quickly and discover scene content with your scene partner organically. A prerequisite to enroll is "Intro to Improvisation" or instructor approval. sign up at denvercenter.org/education or inquire at education@dcpa.org.
https://www.denvercenter.org/wp-content/uploads/2019/10/Improvised-Shakespeare-Opening-Night-in-Denver.-Randall-Harr-Ross-Bryant-Brendan-Dowling-Blaine-Swen-and-Josh-Logan.-Photo-by-John-Moore.jpg
544
800
Jessica Austgen
Jessica Austgen
2019-10-17 14:13:41
2020-01-08 11:36:53
The Improvised Shakespeare Company is off and punning in Denver