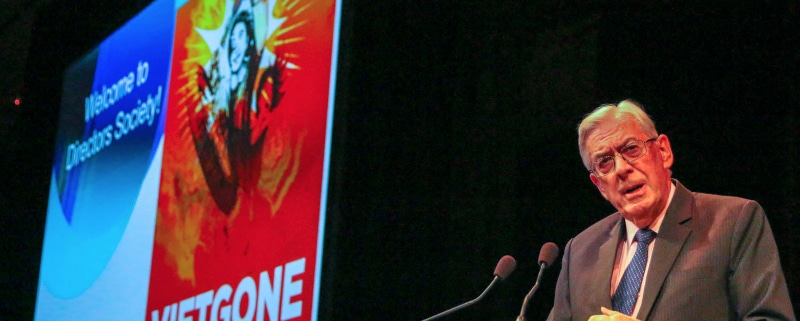 It's simple to Semple: Chairman leads by example with gift
Video above by DCPA Video Producer David Lenk and Senior Arts Journalist John Moore.
Chairman Martin Semple and fellow Trustee Isabelle Clark respond to call from Denver Center's first-ever public capital campaign
Denver Center for the Performing Arts Chairman Martin Semple is one of only a handful of people whose roots with the organization go back to before its official opening in 1979. Now his name will live into perpetuity alongside wife Jo Semple as namesakes of the Space Theatre lobby in the Helen Bonfils Theatre Complex, it was announced today.
The Semples have made an undisclosed personal contribution toward "A Grander Opening," the first public capital campaign in the Denver Center's history. The four-year project will help fund the renovation of The Stage and Ricketson Theatres, their lobbies and some backstage support areas. Additionally, longtime DCPA Trustee Isabelle Clark will have a section in The Space Theatre named in memory of her late husband, Kennith Clark. Both gifts will be celebrated tonight (October 10) following a performance of the DCPA Theatre Company's The Constant Wife.
"Frankly, my wife and I were both reluctant when we were asked if there were something we would like to put our names on," said Semple. "We simply wanted to help. We wanted to give whatever we could to ensure this place that has brought us so much joy over our lifetimes will continue to be home to a world-class theatre company with world-class facilities."
Semple has trumpeted 100 percent participation in the campaign from the 20-plus DCPA Board of Trustees, accounting for about $8 million to date. "There was a recognition on the board that if we were going to ask the community to contribute, then we on the board had to be leaders by contributing as much as we could as well," he said.
"A Grander Opening" is well on its way toward its overall goal. About $19 million will come from the city of Denver through voter-approved general obligation bonds, and the remainder from future contributions.
Semple, a partner in the Denver law firm of Semple, Farrington & Everall, has been the Denver Center's legal representative since 1978, when he was recruited by founder Donald R. Seawell to handle dicey labor negotiations on the construction of the Boettcher Concert Hall.
He keenly remembers the DCPA's weeklong opening festivities beginning on New Year's Eve 1979 – and how lucky he was to bear witness to the first performance of the first DCPA Theatre Company play – The Caucasian Chalk Circle starring Tyne Daly.
"I knew I was extremely fortunate because that was all by invitation only, and I only got in because Peter Englund, who was the Managing Director at the time, called and asked if I wanted a ticket, and I said, 'Absolutely,' " said Semple. "I had never heard of The Caucasian Chalk Circle, frankly, and I was blown away by the production. I thought it was as good as anything I had ever seen in New York or London. I just knew then that we had something really special here in Denver. I specifically remember reading articles in Time and Newsweek the next week saying this is one of the greatest theatre complexes in the United States. And now it's time to restore it to its original glory."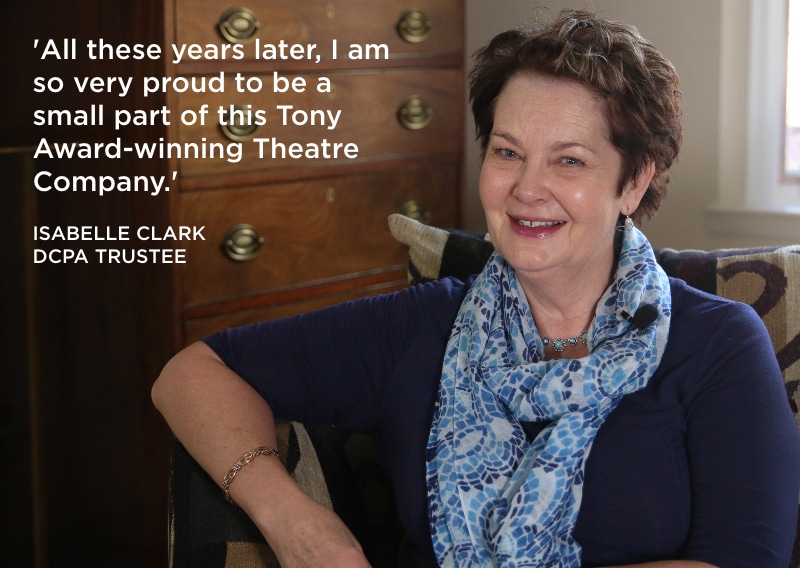 Clark, a native of Scotland, moved to Denver with her husband nearly 25 years ago. "Being a Brit, one of the first things that caught my eye was the red double-decker bus on the 16th Street Mall where tickets to the Denver Center and other arts organizations were being sold," she said. "That very night I saw The Scarlet Letter, and that was it."
"The Denver Center is deeply appreciative of the generosity of Martin, Jo and Isabelle," said DCPA President and CEO Janice Sinden. "Not only do they give extensively of their time, but their financial support of this important effort will allow our spaces to accommodate our artists' imaginations, inspire our students' creativity and welcome our guests to stories that reflect their lives."
Semple joined both the DCPA Board of Trustees and the Helen Bonfils Foundation Board of Trustees in July 2007 at the request of former CEO Daniel L. Ritchie. But as a 40-year subscriber, Semple has seen nearly all of the more than 400 plays and musicals staged by the Theatre Company since 1979.
Off-stage, Semple cites his greatest accomplishments to be successfully handling a variety of sensitive contract negotiations over the years. On-stage, he still ranks The Caucasian Chalk Circle as his favorite performance.
"Without question," he says. "It just hit me big-time." Also on his list are seeing Mercedes Ruehl star in Medea, and The Beauty Queen of Leenane, the Theatre Company's first of many plays written by bloody Irish dramatist Martin McDonagh. Perhaps because that particular playwright hits close to home. Semple was born and raised in County Tipperary in a town called Thurles, which is halfway between Cork and Dublin. "Former Artistic Director Donavan Marley often referred to the Martin McDonagh plays as 'The Martin Semple Plays,' " Semple said with a laugh.
Semple graduated from St. Patrick's College in Thurles and earned law doctorates from Catholic University in Washington D.C. and the University of Denver Sturm College of Law. His wife is from a fourth-generation Denver native.
"Jo and I are delighted to be part of this effort to preserve these great venues for future generations," Semple said. "This is one of the great organizations in the world, and 'A Grander Opening' will help us exceed accessibility standards and equip our spaces with new technological advances so that we can continue to provide world-class theatre experiences that are second to none."
Semple considers his financial contribution, and his lifetime of service to the Denver Center, to be labors of love. Clark feels the same.
"All these years later, I am so very proud to be a small part of this Tony-winning Theatre Company," Clark said. "For four decades, this incredible company of passionate and talented individuals has entertained nearly 6 million people with thought-provoking plays and heart-warming musicals. I am delighted to be able to honor Kennith, and this amazing organization, with my gift to the capital campaign."
William Dean Singleton on legacy, promises and a theatre named in his honor

Gifts announced to date also include those by Marvin and Judi Wolf to rename The Stage Theatre; William Dean Singleton to rename The Ricketson Theatre; and Robert and Judi Newman to rename The Conservatory Theatre in honor of the DCPA's late President, Randy Weeks. For ongoing updates and opportunities, please visit denvercenter.org/GranderOpening.
John Moore was named one of the 12 most influential theater critics in the U.S by American Theatre Magazine in 2011. He has since taken a groundbreaking position as the Denver Center's Senior Arts Journalist.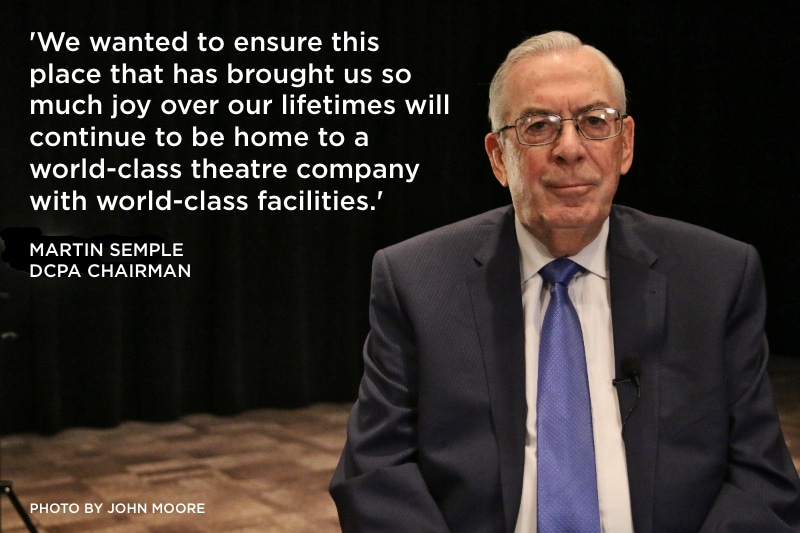 https://www.denvercenter.org/wp-content/uploads/2018/10/Martin-Semple_-Photo-by-John-Moore.jpg
606
800
John Moore
John Moore
2018-10-10 16:42:28
2018-10-18 16:02:28
It's simple to Semple: Chairman leads by example with gift