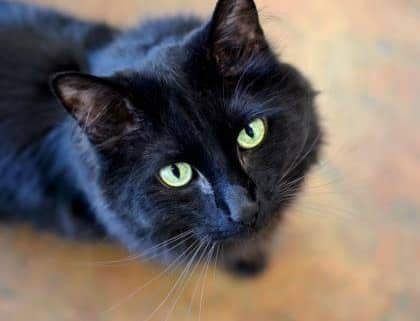 Let the memory live again – Giving Colorado's Jellicle Cats a New Life
If you're a Cats lover, then you know Jellicle Cats meet once a year for the Jellicle Ball where the wise Old Deuteronomy will choose which one of the cats will journey to the Heaviside Layer to be "reborn" into a new life. For shelter cats, finding their new "furever" home can give them a 10th life.
"There are so many cats and kittens that need adoptive homes. Over 500,000 cats were euthanized in the US alone last year," says Kris Meding, Foster and Adoptions Coordinator for Colorado Feline Foster Rescue (CFFR). "Adult cats, especially seniors, probably had a loving home for a number of years before they somehow lost that home. It's so rewarding to provide a safe loving home where a senior cat can live out the rest of its life. When you adopt (and spay or neuter) your kitten or cat, you are doing your part to help end the problem of pet overpopulation."
There are many no kill shelters and organizations in Colorado deeply passionate and dedicated to caring for and finding the right match for these fantastic felines.
As noted on its website, MaxFund is "a true, no kill animal shelter and adoption center that challenges the traditional methods of animal sheltering by leading the 'No Kill' movement in Colorado. We strive to give animals, including the injured, abandoned, and abused, a second chance at life." Kathy Gaines, Executive Director, added that the "staff at MaxFund Cat Shelter are naturally cat people. Working with cats and loving cats fills your work life with meaning. We get to see cats learn to trust us, sick cats get better, and cats who have found a potential forever family be adopted and begin a new, happy life."
Ashton Wilpiszeski, PawsCo Director, Shelter Relations Team proudly adds, "Our goal within PawsCo is to help the animals that need us the most. A lot of these cats had no hope in their previous situations, and after coming to PawsCo, they are often adopted into loving forever homes where they get to be the cats they deserve to be!"
In the musical, the tribe of Jellicle Cats reunites to celebrate who they are. If you are considering giving a cat a new life by adopting or fostering, you too should celebrate who they are by doing some research on cat behavior to find the match for you. One of CFFR's favorite resources is Jackson Galaxy.
"Cats may seem more independent and aloof, but they want to be with their people just as much as other animals," says Wilpiszeski. "Cats are smart, clean, and adapt to their people's schedules and lifestyles easily. They learn their names, routines, and some can even learn tricks or games like fetch! Even a senior kitty has love to give, and they often require a lot less play time than a kitten. No matter what your lifestyle is, there is a cat, kitten, or senior kitty that can add an endless amount of joy and love to it!
"Some cats just need a few days to settle in and get used to the new home," she continued. "More shy cats will benefit from things like meal feedings vs. leaving the food out all day to graze on, high value treats or wet food to remind them they get good things when they are with their people and play time so they can interact with the humans or other cats in the house without direct eye contact or touch. Each cat is a unique individual, but overall, they all just want to feel safe and know they can trust their new environment as much as their new people."
Meding also says that cats are social creatures. "If you have no other pets and are gone all day for work, your cat is going to want attention when you get home, no matter how tired you are." Meding suggests that "cats should be kept INDOORS. The average lifespan of a cat outdoors is 2 years due to predators, cars, and poisoning. There are lots of things you can do to 'bring the outdoors in' and enrich the life of your indoor cats."
MaxFund has adoption counselors to make certain the cat you choose will be happy in your environment. Gaines advises that "if specific issues develop, be willing to reach out for assistance in troubleshooting. Many of our staff and volunteers have assisted with common adjustment problems for years, and we're happy to help ensure your cat's transition is positive for both you and your new family member."
There are plenty of additional resources to help pet parents. Planned Pethood strives to end economic euthanasia and significantly reduce pet overpopulation and suffering of companion animals by offering affordable common sense veterinary medicine to everyone.
If you are ready to adopt, there are many resources to find current cats in need of a home:
If you are not ready to adopt or foster, volunteering with one of these organizations can help as well. Or if you're on the fence, be inspired at a live performance of Cats (Buell Theatre, May 24-29, 2022).
So, here is to all the "practical cats, dramatical cats, pragmatical cats, fanatical cats, oratorical cats, delphicoracle cats, skeptical cats, dispeptical cats, romantical cats, pedantical cats, critical cats, parasitical cats, allegorical cats, metaphorical cats, statistical cats and mystical cats, political cats, hypocritical cats, clerical cats, hysterical cats, cynical cats, rabbinical cats… aah, jellicle cats" looking for their new day to begin.
https://www.denvercenter.org/wp-content/uploads/2022/05/MacCavity-10-year-old-domestic-short-hair-mix-male-at-MaxFund.jpg
420
420
Heidi Bosk
Heidi Bosk
2022-05-03 09:02:59
2022-05-03 09:04:06
Let the memory live again – Giving Colorado's Jellicle Cats a New Life