Local Challah Featured in Fiddler on the Roof
Fiddler on the Roof audiences will see locally made loaves of bread featured in the Broadway National Touring production. In Denver, special batches of challah from a local bakery will be shared by the actors on the Buell Theatre stage.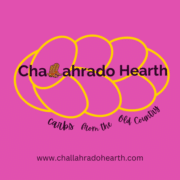 Jenna Gragg, Assistant General Manager at the Jewish Cultural Center (JCC) Mizel Arts and Culture Center, connected with the Fiddler on the Roof team to select a local baker. "I connected with the team of Fiddler on the Roof through the company's Stage Manager, Abby Bobb, and Assistant Stage Manager, Jenna Wadleigh. I have worked professionally with each of them in varying capacities over the past ten years and was thrilled when they both accepted positions on the Fiddler on the Roof tour," she shared. Gragg's love for the production (and avid Instagram engagement) led her to see a collaboration between the tour and the JCC in Calgary, prompting her to connect. 
There are dozens upon dozens of excellent bakeries in the Denver-metro area, but Gragg knew the perfect local baker for this request. "We recently brought in a local challah baker to teach classes [at the JCC] and provide challah to our local community, so I jumped on the opportunity to explore the partnership!" 
Challahrado Hearth brings "the challah of the 1970s Upper West Side" to Denver. The hands behind the challah, Luisa Hagemeier, practiced law for 25 years before switching to baking – and hasn't looked back.  
When Hagemeier learned she would be baking challah for the tour of Fiddler on the Roof, the excitement was overwhelming. Watching the film and stage productions of Fiddler was something special she shared with her parents, who have since passed on. "I wished I could call them up and share the news that I was going to be part of it," she shared.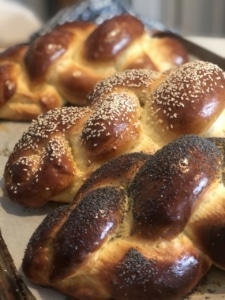 Her passion for challah was ignited at the Silver Moon Bakery on the Upper West Side in New York City, where she worked tirelessly to master the complicated two-strand braiding style. Hagemeier admitted, "I was so bad at it that I was constantly worried I would get fired!" But the hard work paid off. "As I worked more and more with challah, I just really came to love the whole process of challah making. For whatever reason, making challah actually feels kind of spiritual to me; it makes me feel connected to my heritage." 
In Judaism, challah is a ceremonial bread eaten on Shabbat and other Jewish holidays. "I think the most important significance of challah to Judaism, that we all can relate to, is that it is the vehicle through which we begin our ritual meals, on which we make the motzi and thank God for bringing us together and nourishing us," Hagemeier said. Challah might be unfamiliar to people who aren't Jewish – though you don't have to be Jewish to enjoy this delicious bread. Hagemeier says it makes for excellent French toast.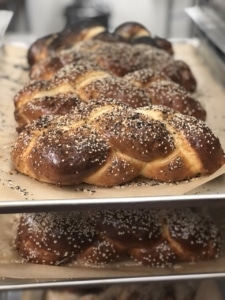 Both Gragg and Hagemeier hope that a local connection through Fiddler on the Roof introduces people to Jewish culture. "We are hoping that by creating local connections with organizations like the JCC Denver, audiences feel welcome to connect, learn more, and visit our facilities. What the audience experiences in one night, we hope to provide for a lifetime through our programming at both the JCC Denver and JCC Mizel Arts and Culture Center," Gragg explained. "Fiddler on the Roof continues to thrive nearly 60 years after its Broadway debut as it tells a uniquely Jewish story in a way that is relatable and universal to anyone who walks through the doors." 
If you're interested in trying challah or are looking for something special for your next celebration, Challahrado Hearth collects orders on their website. Orders may be picked up every Friday from the Jewish Community Center at 350 S Dahlia Street in Denver.  
https://www.denvercenter.org/wp-content/uploads/2023/03/thumbnail_image0-e1678812051655.jpg
870
960
Emma Hunt
Emma Hunt
2023-03-14 10:41:00
2023-03-14 10:44:31
Local Challah Featured in Fiddler on the Roof