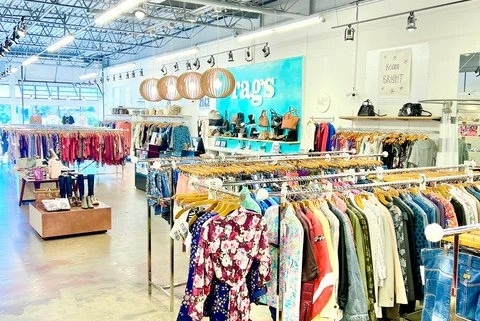 Being "Fetch" on a Budget
If you want to be "fetch" on a dime, our social fans have you covered. We asked our followers where to send the cast of Mean Girls for the area's best clothes and accessories to fit every budget. In addition to good ol' garage sales, which camdensharkey highly recommends, be sure to check out these cost conscious and sustainable options.
Now mads_glaze may literally "shop" in his/her/their best friend's closet, but there are also four metro area consignment stores called My Best Friends Closet. Located in Aurora's Southlands Mall, The Shops at Northfield in Central Park, Littleton's Bowles Crossing and The Orchards Town Center in Westminster, this re-sale clothing chain invites customers to buy, sell and trade. Plus, they have a generous selection of men's soon-to-be-yours selections too.
---
Antigonebiddle is a frequent shopper of Déjà Blue Boutique. An upscale store operated by Goodwill of Colorado, this intimate boutique is nestled in Cherry Creek North at 303 University Boulevard. While there is a small sampling of home goods and men's clothing, women will score big with a wide selection of everything from shoes and jewelry to evening gowns and fur coats. All purchases benefit Goodwill's mission to provide career development resources and life-skills training to more than 124,000 Coloradans each year.
---
Stargatehsthespians recommended FashioNation. Located at 1594 Broadway, FashioNation has been around for 35 years. The store specializes in shoes and boots including Dr. Martens, Demonia and TUK plus assorted accessories, bags and clothing. The most unexpected line of products is baby fashion — so even newborns to toddlers can be as fetch as their parents.
---
Denver's own Neyla Pekarek (former member of The Lumineers and composer of the DCPA Theatre Company's recent world premiere of Rattlesnake Kate) enthusiastically endorsed Judith & Joe. "Ethnically & sustainable sourced, women owned & operated. Sooo fetch!" Pekarek declared. Located at 3040 Blake Street #100 in Denver, Judith & Joe specializes in home goods, gifts, clothing and accessories. They describe their selection as "classic, modern styles with a focus on quality and longevity." And you get to feel good about your sustainable purchase!
---
If you're already visiting Déjà Blue Boutique in Cherry Creek, Antigonebiddle also suggests stopping in at Rags Consignments at 201 University Boulevard.  If, however, you're up north, there are two locations in Boulder at 3129 28th Street and a warehouse at 2890 Bluff Street. Specializing in women's and men's boutique and designer brand consignment, the brightly lit and welcoming locations are an inviting oasis for the bargain shopper.
---
When all else fails, our social follower philliplomeo recommends Sam's No. 3…whether to get a quick pick-me-up to reenergize your shopping excursion or to snag one of those oh-so-fetching paper hats to set a new trend we just don't know. Nevertheless, Sam's No. 3 is located just a few simple blocks from the Arts Complex at 15th & Curtis.
https://www.denvercenter.org/wp-content/uploads/2022/12/ezgif-3-2b73fca490.jpeg
480
480
Suzanne Yoe
Suzanne Yoe
2022-12-09 09:00:36
2022-12-08 13:30:20
Being "Fetch" on a Budget