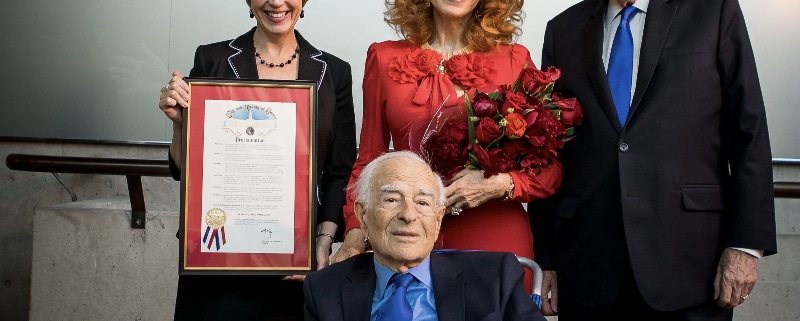 Marvin Wolf, namesake of new Marvin & Judi Wolf Theatre
Philanthropist believed 'giving has to be part of all of our lives'
To most, Marvin Wolf was an oil and gas pioneer, attorney, arts patron and philanthropist. But when it came to his wife of 37 years, the savvy businessman was a hopeless romantic.
"How many women get a stage for Valentine's Day?" said Judi Wolf, whose husband, Marvin, bought the naming rights to the Denver Center for the Performing Arts' signature stage as a gift for the woman who is known around Denver as simply "Red." When the Stage Theatre reopens after a full rebuild in November, it will be named The Marvin & Judi Wolf Theatre.
"This is a gift that he gave me from the heart, and the idea that there will be people who will enjoy it long after we are gone gives me goosebumps," Judi Wolf said at the time.
Marvin Wolf, who persevered through kidney failure in his later years, died peacefully March 15 at his home in Denver. According to his wife, Marvin was never much of a theatre man until he met Judi. Later he built a stage just for her enjoyment in the basement of their home. Talk about a man of the theatre.
"Judi is so engrossed with theatre, and she does so much for it that I had no option other than to go along with her," he once said with a laugh.
But Marvin Wolf was completely serious about his reasons for supporting the next generation of theatregoing at the Denver Center. He called contributing to the DCPA's "A Grander Opening" capital campaign a privilege. "It's just marvelous what is is going on with all of the facilities that are available here," he said.
"I remember taking the phone call from Judi and Marvin together," said Denver Center President and CEO Janice Sinden. "It was 10 o'clock on a Sunday morning, and they told me they wanted to make the lead gift to our capital campaign and name the Stage Theatre The Marvin & Judi Wolf Theatre. I immediately asked if I should come over so we could talk over the details in person. They said no – they we were just excited to share the news that Marvin wanted Judi to have a theatre in her name. Mission accomplished!"
When the DCPA announced the first capital campaign in its 40-year history in 2018, the Wolfs were the first to step up, said DCPA Chairman Martin Semple. The capital campaign is funding the renovation of the DCPA's Stage and Ricketson theatres; the overhaul of all backstage and support areas, and the redesign of the Helen Bonfils Theatre Complex lobby.
Marvin Wolf had an ulterior motive beyond the perfect gift for his wife. "He told me, 'I want to make sure that Don Seawell's dream lives on for world-class productions in a world-class theatre,' " Semple said.
Humble beginnings
Marvin Wolf was born in Kimball, Nebraska, in 1931 to Leon and Dora Wolf. He was raised in Cheyenne, Wyoming, where his father was the tailor on the Francis E. Warren Air Force Base. Marvin's first jobs were on base delivering laundry and hauling ice blocks.
He earned his undergraduate degree from Northwestern University in 1952 and his law degree from the University of Colorado School of Law in 1954. He was admitted to the Colorado Bar and briefly practiced law, but was intrigued by the oil and gas industry. He and his brother, Erving, soon founded the Wolf Land Company, which later became the Inexco Oil Company. Under their leadership, Inexco discovered Wyoming's 4 trillion-cubic-foot Madden Gas Field, one of the largest natural gas reserves in the United States, and the Key Lake Uranium Mine in Saskatchewan, Canada, which once produced 15 percent of the world's uranium. Inexco was acquired by Louisiana Gas, and while his brother continued on with the larger company, Marvin Wolf chose to remain independent and opened Wolf Energy in Denver. Many of the city's leading oilmen passed through the halls of his company, and it was often referred to as "Wolf University" for its ability to contribute quality professionals to the oil and gas industry. Wolf held leadership positions with the Rocky Mountain Oil & Gas Association and was inducted into the Colorado Oil & Gas Hall of Fame.
Though he was a practicing attorney for only a short time, Wolf maintained a deep affinity for the study and development of lawyers and law as a licensed attorney. He proudly carried his "bar card" for Colorado Attorney Registration #37 in his wallet. His connection to the University of Colorado School of Law deepened over time and he counted among his friends the school's successive Deans and many faculty members over the years. In 1981, his challenge grant provided the funds for the Law School's Natural Resources Law Center that became the Getches-Wilkinson Center. He also funded the Wolf Scholarship that funded the tuition for countless law students who were members of the University of Colorado Law Review, the Judi Wolf Scholarship for law students committed to advocating women's issues, and, in memory of Judi's father, the Jules Milstein Scholarship given to faculty for excellence in published legal research.
Wolf also endowed chairs at the Dean's discretion under the names of both Dean Gene Nichol and Dean David Getches. And, with his brothers, Wolf led the campaign to build a new building for the law school. That new building, named for their parents, provided the law school with a future for the study of law in Colorado. Wolf had a sustained dedication to education and these combined scholarships and donations provided hundreds of people the opportunity to pursue excellence in legal scholarship. Wolf received CU Law School's Norlin Award in 1993, an honorary Order of the Coif award in 1997 and the law school's most distinguished honor, the Knous Award, in 2003. Wolf was extraordinarily proud that his daughter Wendy ('84); stepson Marco ('97); and grandchildren William ('17) and Meredith ('18) graduated from his beloved University of Colorado School of Law.
While he always loved football and never missed a chance to enjoy and critique the Denver Broncos, it was the performing arts that brought Marvin the most joy in his later years. He regularly attended live theatre, symphony, opera and ballet for as long as his health would allow. Along the way he provided significant charitable support to performing-arts organizations throughout Colorado including Opera Colorado, the Denver Symphony Orchestra, the Denver Art Museum, Temple Emanuel of Denver and the Anti-Defamation League.
But above all else was his commitment to the Denver Center for the Performing Arts. When the Buell Theatre was under construction, Wolf collaborated with Seawell to create the Marvin & Judi Wolf Reception Room at the Buell Theatre. Both Marvin and Judi hosted countless performance intermissions in The Wolf Room with cookies and milk.
"I just think giving has to be part of all of our lives, whether it is large or small," he once said in an interview with the DCPA NewsCenter.
Wolf's friendship with Seawell was one of the most significant of his life. The pair were often inseparable, dining together most every Sunday, traveling together, and continuing to improve the arts with programs such as The Best of Broadway. "They found in one other the same qualities of discipline, service and leadership and their efforts ensured a lasting legacy of support and excellence for Denver's performing arts," said his stepson, Marco Chayet. "That legacy will be evident when the Marvin & Judi Wolf Theatre opens."
Wolf is survived by Judi, his wife of 37 years; his daughter, Wendy Kaufman, and her husband, Bob Kaufman, and their children, John, William and Meredith; his stepsons, Lance Chayet and his wife, Barbara Chayet, and their children, Grant and Logan; Victor Chayet, his wife, Susan Chayet, and their son, Devon; and Marco Chayet, his wife, Paige Chayet, and their son, Caleb.
Interment will be private and a memorial service will be held at a later date in Denver. Donations in his memory may be sent to the University of Colorado Foundation for the benefit of the Leon and Dora Wolf Scholarship, 1800 Grant Street, Denver, 80203.
Much of the background for this report was provided by Marco Chayet.
Marvin Wolf: Photos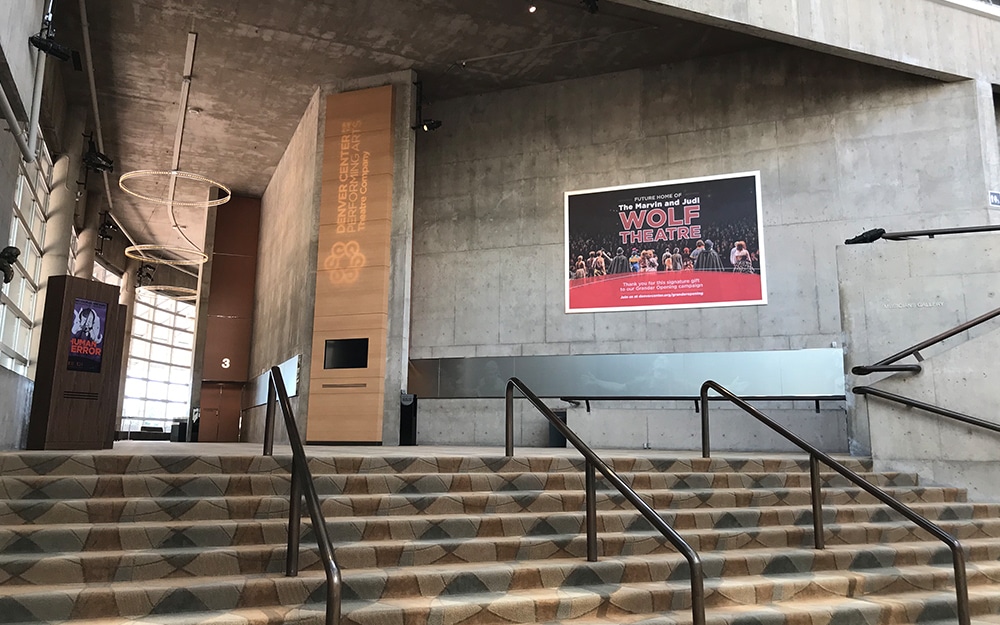 https://www.denvercenter.org/wp-content/uploads/2020/03/Marvin-Wolf-featured.jpg
544
800
John Moore
John Moore
2020-03-23 14:21:44
2021-09-28 09:22:21
Marvin Wolf, namesake of new Marvin & Judi Wolf Theatre