Meet the Bookmobile at LITTLE RED
When families come to see LITTLE RED, a musical retelling of the classic children's story, Little Red Riding Hood, they might start thinking about all of the other familiar children's books too.
On Dec. 17, the Denver Public Library's Bookmobile will be there with many books to choose from. Start learning about other variations on this fairy tale and many more.
WHAT'S A BOOKMOBILE?
You might only be familiar with the central Denver Public Library adjacent to Civic Center Park in downtown. There are also 26 branch libraries in neighborhoods throughout the city, one bookmobile, and one book bike as well.
A bookmobile is like a library (or bookstore) on wheels that allows people to select books to read without having to travel to a location, possibly far from home. When the idea first was executed back in 1930, it was called a "rubber-tired library" as well as "Public Library auto trailer" or "Traveling Branch" or "Reading Rocket."
In the 1950s the Denver Public Library's bookmobile was known as "Gerstenslager, Bookmobile King," a specific production vehicle for this purpose. Gerstenslager was a builder of stagecoaches, then vans and trucks used by fire departments, libraries and perhaps most familiar as the Oscar Meyer Weinermobile. These individually custom-painted vehicles, sometimes called Gerties, displayed the name of each library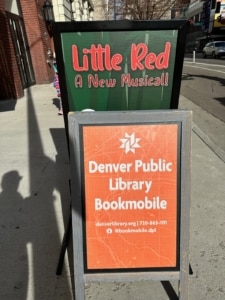 In the 1960s, "El Numero Cinco" debuted in Denver to serve Spanish readers and the next big notable leap was in 2010 with the "Reading Rocket." This version of the bookmobile features illustrations by Nate Williams that show an outer-space theme on Sprinter vans. There is a fleet of bookmobiles today so they can get out to multiple locations, reaching even more readers, in places like schools that don't have libraries or school librarians, senior centers, food banks, and elsewhere.
Just as it was originally intended, the bookmobile today goes to locations where there may not be a library nearby or people may not have the ability to get to a library. The schedule for the bookmobile can be found on the library's website and through the end of 2022, will primarily be going to senior centers around Denver.
BOOKMOBILE AND THE DCPA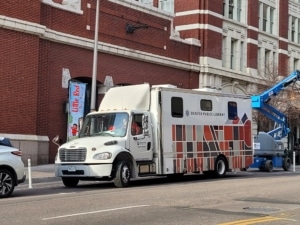 The bookmobile is now developing partnerships in the community, such as their new relationship with the Denver Center for the Performing Arts.
"At Denver Public Library, our partnerships with community organizations allow us to bring the library into communities using our bookmobiles," said Hana Zittel, Community Engagement & Outreach Manager for Denver Public Library. "In partnering with the DCPA, the library gets to connect early readers with books that connect with their experience seeing a live show. Our Children's Library team works to create great book choices to take home to continue the experience of LITTLE RED."
The bookmobile will be on site on Sat., Dec. 17 from 12-3:45pm where theatergoers are invited to check out books from the van. If you don't have a library card, you can sign up for one while visiting the bookmobile; if you have a library card already but don't bring it to the theater, they can easily look you up in their system. All books can be returned to your nearest library by their due date.
https://www.denvercenter.org/wp-content/uploads/2022/11/Bookmobile-at-Little-Red.jpg
1512
2016
Mindy Sink
Mindy Sink
2022-11-16 11:40:53
2022-11-16 11:41:06
Meet the Bookmobile at LITTLE RED