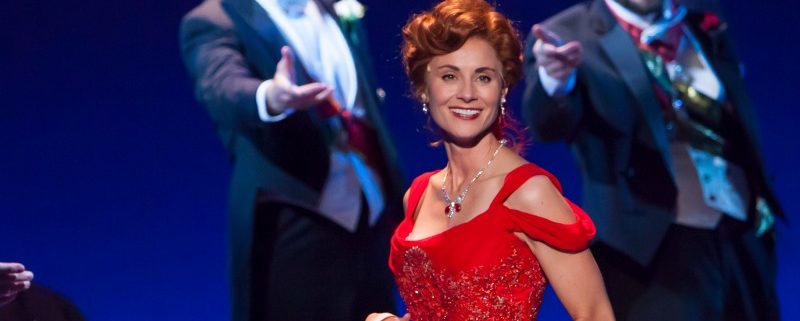 Molly Brown opens: The rags-to-riches story of Denver's heroine


Beth Malone as Molly Brown in "The Unsinkable Molly Brown." Photo by Jennifer M. Koskinen.
"Colorado, My Home!" Molly Brown sings out in the Denver Center for the Performing Arts' highly anticipated new staging of The Unsinkable Molly Brown.
It's true of the title character. It's true of the actor singing it. And, thanks to many forces coming together at just the right time, it's also true of the musical itself.
The Unsinkable Molly Brown is coming back to life right here in the Titanic survivor's adopted home state. And it even stars Colorado native Beth Malone in the title role.
That the public's first look at the new Molly Brown is happening here in Denver, three-time Tony Award-winning Director Kathleen Marshall said, is perfect.
"To do this story about one of the most famous residents in Denver history in what became her hometown?" she said. "There's no better word for it."
Molly Brown tells the story of perhaps the most colorful woman in Colorado history. The original 1960 Broadway musical was beloved by some but was also problematic, and it has since drifted amiably toward the musical horizon.
Enter writer Dick Scanlan, a three-time Tony nominee and a devotee of both composer Meredith Willson (The Music Man) and book writer Richard Morris (Thoroughly Modern Millie).
"One of the challenges of the original is that Molly was very inconsistent," Scanlan said. "In one scene she is very bright, and in the next she will be … the opposite of that. It is still the story of a girl who grows into a woman, but now it's the same person growing, and I think that can make the love relationship that much deeper."
Scanlan's first incarnation of the new The Unsinkable Molly Brown happened as a staged reading at the DCPA Theatre Company's 2009 Colorado New Play Summit. He first got the idea to revisit the musical in 2006 and eventually earned permission from Willson's widow to revisit both her husband's score and Morris' book, which has been completely rewritten.
"Dick has kept the songs you love…and hopefully he's gotten rid of the ones you don't," Producing Artistic Director Kent Thompson said.
In perhaps the most intriguing twist of all, Rosemary Willson also allowed Scanlan to add four previously unpublished Willson songs, making for a theatrical presentation that is at once old…and new again.
Scanlan was gifted with a life story of near-mythic proportions. Molly Brown was a factory girl who transformed herself from a teenage illiterate into American royalty. She was a human-rights activist and philanthropist who famously survived the sinking of the Titanic. She and husband J.J. Brown moved to Denver after striking it rich when they discovered gold in one of Leadville's silver mines. How rich? Try $20 million rich. Though snubbed by high society, Molly Brown raised money for children's causes, fought for workers' rights at her husband's own mines, and twice ran for Congress before women even had the right to vote.
In Molly Brown's 1932 obituary, The Denver Post's Jack Carberry wrote: "She was a pot rustler who, shamed by her ignorance, mastered music, literature and the arts to storm the portals and pass the barriers of society."
But while Scanlan promises audiences will see a much deeper Molly Brown than they did in the 1960 original, The Unsinkable Molly Brown remains very much a musical. And a musical comedy at that.
"This is not a documentary," Marshall added. "This is a historical fiction. This is the journey of Molly Brown as a woman, and her marriage."
That means this is also a romance.
"Oh it is very much a romance," Scanlan said.
Though Molly and J.J. signed a separation agreement after two children and 23 years of marriage, they continued to care for each other until J.J.'s death.
"These are two people who can't live with each other and can't live without each other," Marshall said. "They are both single-minded and pig-headed. That's what thrills them about each other, but it also causes enormous problems between them."
Historians say the Browns never divorced only because the Catholic Church would never have allowed it, but Marshall thinks anyone who has been in a long-term relationship can identify with the bond that continued throughout the Brown's lives.
"I think that's recognizable to audiences, and I think that's human," Marshall said.

If we know anything about theatre audiences, we know this: They love strong women, they love stories they already know, and, more than anything: Audiences love love.
In all three of those areas, Marshall said, this new Molly Brown should be smooth sailing.
"I love the fact that we have a strong female character at the center of it driving the narrative," she said. "The score is Americana at its best. It's big and strong and openhearted and optimistic. Those are the same qualities this show has, and Molly Brown has."
Marshall hopes she has created something "that entertains and delights and amuses audiences…and perhaps moves them as well."

John Moore was named one of the 12 most influential theater critics in the U.S by American Theatre Magazine in 2011. He has since taken a groundbreaking position as the Denver Center's Senior Arts Journalist.

The Unsinkable Molly Brown
Sep 12 – Oct 26 Stage Theatre
Accessible Performance | Oct 18, 1:30pm
Tickets: 303.893.4100 | denvercenter.org
800.641.1222 | TTY: 303.893.9582 Groups (10+): 303.446.4829
Kathleen Marshall works out details with the orchestra in the pit below her at rehearsal for The Unsinkable Molly Brown. Photo by John Moore.
The Unsinkable Molly Brown: Ticket information
Performances begin Sept. 12
Stage Theatre
Runs through Oct. 26.
303-893-4100, or go to the Denver Center's web site at www.denvercenter.org
Our Previous Molly Brown coverage on Denver CenterStage:

https://www.denvercenter.org/wp-content/uploads/2018/04/featured-image-1389.jpg
574
800
John Moore
John Moore
2014-09-12 16:11:00
2014-09-12 16:11:00
Molly Brown opens: The rags-to-riches story of Denver's heroine