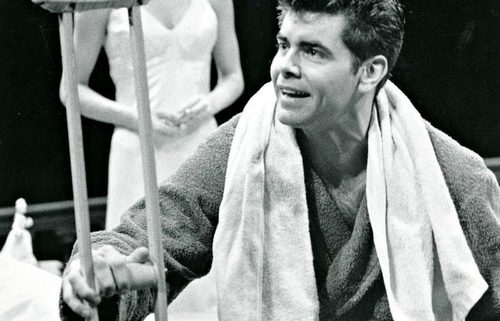 Burke Moses returning to Denver for 'The Unsinkable Molly Brown'
Burke Moses starred as Brick in the Denver Center Theatre Company's "Cat on a Hot Tin Roof" in 1989, opposite Leslie Hendrix. Photo by T. Charles Erickson.
Stage and screen star Burke Moses, known nationally for originating the role of Gaston in Broadway's Beauty and the Beast, and locally for one powerhouse season with the Denver Center Theatre Company, is returning to Denver to reinvent the role of Leadville Johnny Brown in The Unsinkable Molly Brown, it was announced today.
The Denver Center Theatre Company will launch a newly refreshed version of Colorado's quintessential Broadway musical on Sept. 12. It will be helmed by acclaimed director Kathleen Marshall and writer Dick Scanlan. This revised musical features a new book and a score that preserves some Meredith Willson songs from the original while adding previously unpublished songs from Willson's catalog.
"The process of taking a musical that doesn't quite work and make it work, as Kathleen Marshall and Dick Scanlan are trying to do, is the most fascinating area of musical theatre to me — other than creating a brand new show," said Moses, who recently played Mr. Trevor Graydon in a lavish Thoroughly Modern Millie (also co-written by Scanlan) at the Paper Mill Playhouse in New Jersey, and Harold Hill in Willson's classic The Music Man at the Arena Stage in Washington D.C.
It is Moses' deep affinity for Willson that made returning to Denver irresistible.
"The first thing I thought was, "Am I really going to get to sing unpublished Meredith Willson songs?' " Moses said. "I'm Meredith Willson's biggest fan. The Music Man is my favorite show. It is the Casablanca of musicals."
Moses' casting means both leading roles in the Denver Center's The Unsinkable Molly Brown will be played by actors with significant national stage careers who have previously performed on Denver Center stages. The previously announced Beth Malone, a native of Castle Rock, will be playing Molly Brown.
Moses was born in New York and grew up in Evanston, Ill. He attended the esteemed Carnegie Mellon University in Pittsburgh, but afterward, he said, "I couldn't get shot in a musical coming out of school." Not until 1988, when then-Denver Center Artistic Director Donovan Marley found Moses in New York and cast him to play Billy Bigelow in Carousel. He immediately followed that by playing Brick in Cat on a Hot Tin Roof.
"The Denver Center was the first regional theatre that took a chance on me as a musical performer," Moses said. "I was a baritone with a lower voice, but my face looked like a kid — so there were not a whole lot of baritone parts for a young guy."
Until Billy Bigelow came along.
"That truly was my first big musical," Moses said. "And what a wonderful show that was. It was just a glorious production."
That was a crazy season at the Denver Center. While Moses was rehearsing for Cat on a Hot Tin Roof, Peter Pan was opening on another stage with John Cameron Mitchell (Hedwig and the Angry Inch) playing the boy who refuses to grow up.
"I remember there was this this one moment when the Lost Boys face off with the pirates, and the actors all go, "Hah!" and they freeze in this en garde position, "Moses said, "at which point, one kid in the audience yelled, 'This is gonna be great!' The entire audience just lost it. That was perfect."
Of his time in Denver, Moses recalls: "As an actor, all you can collect are memories, and I have many wonderful memories from Denver. The Denver Center was always considered one of the top regional theatres in the country, so I am very grateful for my time there."
One of Moses' co-stars in Carousel was Denver East grad Rebecca Eichenberger, who played Mrs. Snow on her way to her own considerable Broadway career.
"That's fantastic he's coming back to Denver," Eichenberger said. "He has grown into that suave leading man he showed glimpses of all those years ago in Carousel."
Carousel set Moses on a path that led to his Broadway debut four years later, as Sky Masterson in Guys & Dolls. The next year, he was cast to create the role of Gaston in the original Broadway, London, and Los Angeles productions of Beauty and the Beast.
"Like everyone else, I started my career in the ensemble," Moses said. "And then all of a sudden, boom, you get this job. … And that was a big, big, job."
Beauty and the Beast changed the trajectory of Moses' career, in different ways. He became instantly known in theatre circles, but in the immediate aftermath, "I got offered a lot of roles that were almost identical to Gaston," he said. "So at first, I wanted to get away from it. Like the Ti-D-Bol Man, I am going to my grave probably as the original Gaston."
But as the years have gone by, Moses added, "You start to realize the rarest thing in theatre is a big, fat hit. And that was a mega-hit. I mean, one day I opened the mail, and there is a gold record. At the end of the day, you are going to be known for your hits. But often that's not always where the really great work happens. It often happens in the regional theatre — and most of my great moments have happened in the regional theatre."
Moses is known to TV audiences for his work on "Loving," "One Life to Live" and "As the World Turns." On Broadway, he also played Fred Graham in the hit revival of Kiss Me Kate, and Herakles in Stephen Sondheim's Frogs. He made his debut with the NY City Opera as Joey in The Most Happy Fella. He has written a first-person book about his experiences in the musical theatre, Stanislavski Never Wore Tap Shoes, a book about the craft of acting for the musical stage.
Moses arrives in Denver Aug. 5 to begin rehearsals for The Unsinkable Molly Brown, the true story of an uneducated, poor, mountain girl who leaves her mountain cabin in search of a wealthy husband, respect and a better life. The original 1960 Broadway production was a hit, running into its third year at the Winter Garden, and was made into a popular movie starring Debbie Reynolds.
But the musical isn't often performed in the regional theatre anymore, mainly because of its problematic book, which is being reconstructed by Scanlan. With some of New York's heaviest hitters on the creative team, including 10-time Tony-nominated lighting designer Donald Holder, Moses believes the cast and crew have a great opportunity to make Molly Brown popular all over again.
"One never knows when these things are going to hit," Moses said. "That's the puzzle that we come to Denver with. But it's always the puzzle that's fascinating to me. And to work with the best people: If you can put yourself in these kinds of positions, as I was invited to do when I first came to Denver, that's what it's all about."
His goal for Denver this time around?
"Let's hope we can make this thing unsinkable."
John Moore is the Senior Arts Journalist for the Denver Center for the Performing Arts. In 2011, he was named one of the 12 most influential theatre critics in America by American Theatre Magazine. Reach him at jmoore@dcpa.org
PREVIOUS COVERAGE:
Video: Kathleen Marshall talks about directing 'Molly Brown'
Story: Denver's Beth Malone cast as Denver's Molly Brown
Story: Tony-winning Broadway producer – and NBC Chairman – providing enhancement for 'Molly Brown'
Video: Lighting designer Donald Holder up for 10th Tony Award
Burke Moses starred as Billy Bigelow in the Denver Center Theatre Company's "Carousel" in 1988. Above, opposite Suzan Hanson as Julie Jordan; below, with Mick Regan as Jigger Craigin. Photos by Ted Trainor.
Burke Moses as Brick, with the late Jim Baker as Big Daddy in the Denver Center Theatre Company's "Cat on a Hot Tin Roof" in 1989. Photo by T. Charles Erickson.
Previous Molly Brown coverage on MyDenverCenter.Org:

https://www.denvercenter.org/wp-content/uploads/2018/04/featured-image-861.jpg
572
500
John Moore
John Moore
2014-07-07 18:04:00
2018-04-11 16:33:25
Burke Moses returning to Denver for 'The Unsinkable Molly Brown'