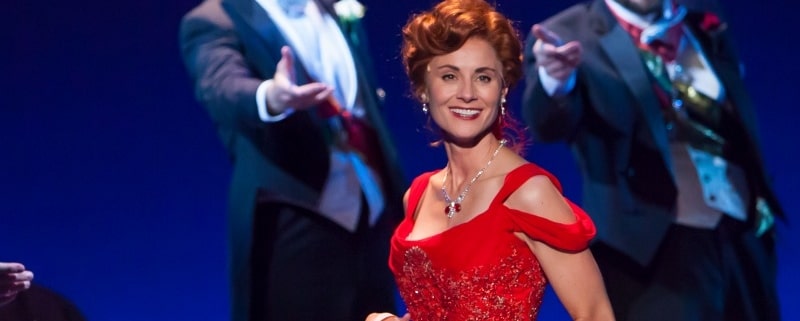 Denver Center-born The Unsinkable Molly Brown will be staged off-Broadway in 2020
Colorado legend Molly Brown is about to make her return to New York.
Eleven years after The Unsinkable Molly Brown was first re-introduced as a reading at the Denver Center's 2009 Colorado New Play Summit, the wholly re-imagined musical will be performed in New York in 2020 starring Denver native Beth Malone, it was announced this week.
This new off-Broadway revival will be presented by Transport Group from February 7 through March 22, 2020, at the Abrons Arts Center – and with much of the original core creative team intact.
The DCPA Theatre Company first introduced a completely re-imagined version of The Unsinkable Molly Brown as a reading in 2009, followed by fully staged production starring Malone in 2014. The director remains three-time Tony Award winner Kathleen Marshall working alongside Dick Scanlan, who fashioned both a new book and a refreshed Meredith Willson score. The Music Director is again Michael Rafter.
Marshall calls the resulting musical "Americana at its best: Big, strong, open-hearted and optimistic. And those are the same qualities Molly Brown had."
The Unsinkable Molly Brown continued its creative life following Denver with a 2017 summer production at The Muny in St. Louis, followed by a high-profile reading for Roundabout Theatre Company later that year. Marc Kudisch played Brown's husband, J.J., at the 2009 staged reading in Denver and again at The Muny. Full casting for the Transport Group production will be announced at a later date.
Malone, a graduate of Douglas County High School in Castle Rock who went on from the Denver Center's Molly Brown to earn a Tony Award nomination for Fun Home, said one of the benefits of the upcoming New York production is that a cast recording will now be made.
"We will have a great limited run and after that she'll either be released for regional licensing or transfer for a Broadway revival," Malone told the DCPA NewsCenter. "Either way, Molly Brown will be alive in the theater canon again where she belongs, and I'll be able to live my dream of bringing a little bit of Colorado to the Big Apple."
Molly Brown tells the story of perhaps the most colorful woman in Colorado history. Brown was a factory girl who transformed herself from a teenage illiterate into American royalty. She was a human-rights activist and philanthropist who famously survived the sinking of the Titanic. She and J.J. Brown moved to Denver after striking it rich when they discovered gold in one of Leadville's silver mines and built a $20 million empire. Though snubbed by high society, Molly Brown raised money for children's causes, fought for workers' rights at her husband's own mines, and twice ran for Congress before women even had the right to vote. In her 1932 obituary, The Denver Post's Jack Carberry wrote: "She was a pot rustler who, shamed by her ignorance, mastered music, literature and the arts to storm the portals and pass the barriers of society."
The original 1960 Broadway musical, composed by Willson (The Music Man) with a book by Richard Morris (Thoroughly Modern Millie), was beloved by many but was nothing if not problematic. The musical was drifting amiably toward the theatre horizon when Scanlan earned permission from Willson's widow to overhaul the original score in 2006. Scanlan and Rafter eliminated some songs and added others from the Willson canon. In the end, six songs remained untouched from the original Broadway musical. Scanlan introduced 11 "new" songs to the score, though many aren't entirely new. Scanlan also was allowed to add additional lyrics written by Willson or original lyrics written by himself. Some songs draw from several sources.
While Scanlan promises New York audiences will see a much deeper Molly Brown than they did in the 1960 original, he said The Unsinkable Molly Brown remains very much a musical. And a musical comedy at that.
"This is not a documentary," Marshall added. "This is a historical fiction. This is the journey of Molly Brown as a woman, and her marriage."
That means this is also a romance.
"Oh it is very much a romance," Scanlan said.
Why Lin-Manuel Miranda's father is obsessed with The Unsinkable Molly Brown
Though Molly and J.J. Brown signed a separation agreement after two children and 23 years of marriage, they continued to care for each other until J.J.'s death.
"These are two people who can't live with each other and can't live without each other," Marshall said. "They are both single-minded and pig-headed. That's what thrills them about each other, but it also causes enormous problems between them."
Historians say the Browns never divorced only because the Catholic Church would never have allowed it, but Marshall thinks anyone who has been in a long-term relationship can identify with the bond that continued throughout the Brown's lives.
"I think that's recognizable to audiences, and I think that's human," Marshall said.
Video bonus: Marc Kudisch at the 2009 Colorado New Play Summit
"I love the fact that we have a strong female character at the center of it driving the narrative," she added.
Marshall hopes her team has created something "that entertains and delights and amuses audiences … and perhaps moves them as well."
John Moore was named one of the 12 most influential theater critics in the U.S. by American Theatre Magazine in 2011. He has since taken a groundbreaking position as the Denver Center's Senior Arts Journalist.
Photo gallery: The Unsinkable Molly Brown at the Denver Center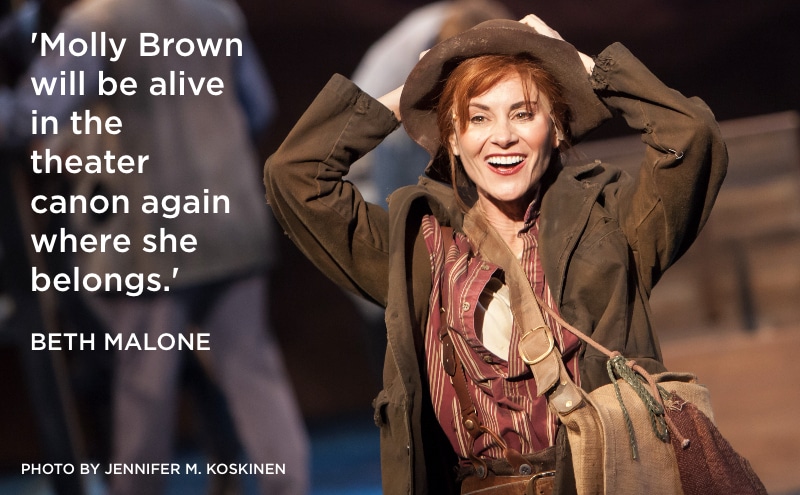 Click on any photo to see a larger version. DCPA Theatre Company production photos by Jennifer M. Koskinen. Costume design by Tony Award winner Paul Tazewell ('Hamilton').
Video bonus: Visiting with Beth Malone in Leadville, Colorado
Castle Rock native Beth Malone is beside herself – at 10,000 feet! – talking with Senior Arts Journalist John Moore about playing the title role in the new 'The Unsinkable Molly Brown.'
https://www.denvercenter.org/wp-content/uploads/2019/07/Molly_Brown_Beth-Malone_JK_800..jpg
574
800
John Moore, Senior Arts Journalist
John Moore, Senior Arts Journalist
2019-07-02 13:19:09
2019-07-03 09:43:16
Beth Malone is bringing 'Molly Brown' to New York City