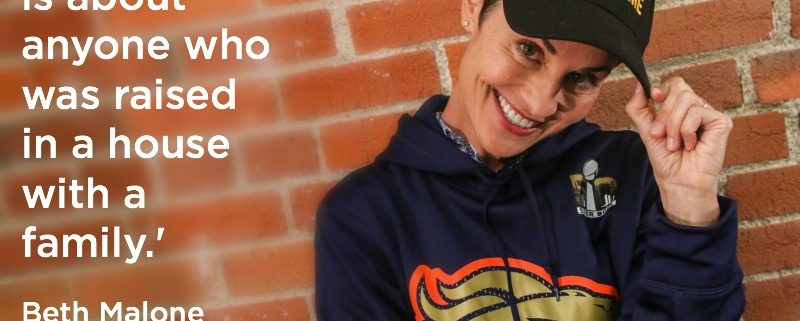 Beth Malone on 'Fun Home': 'It's about anyone born of a mother'
Video: Beth Malone sings the national anthem:


Video: Colorado native Beth Malone returned home to talk about the Denver-bound Tony Award-winning musical Fun Home and sing the national anthem before the Denver Broncos' Oct. 30 win over the San Diego Chargers at Mile High Stadium. Malone is not appearing in the touring production, but she was here as an ambassador for the Fun Home, opening Jan. 10 at the Ellie Caulkins Opera House. Video by David Lenk for the DCPA NewsCenter.

Tony Award-nominee Beth Malone had been told for two years how her groundbreaking, underdog Broadway musical Fun Home was changing perspectives and saving lives. The thousands of letters that poured in told her. The misfits and outcasts who lined up at the stage door told her. The everyday mothers and fathers told her.
"People came out of the woodwork to tell us how impactful this material has been on their lives," Malone said. Somehow this unlikely true story of an androgynous graphic novelist named Alison struggling to understand her father's suicide was striking a universal cord both among audience members who were similar to the unprecedented protagonist she was playing – and those who were not at all like her.
A young fan once told Malone, 'I don't know how to own my identity because I am being raised in a hostile environment. I was at the end of my rope, and I didn't know how to go on. But then Fun Home happened."
It was unexpected, exhilarating and uplifting for Malone to be making that kind of a positive impact on people's lives eight times a week in New York's Times Square. So when the Broadway run of Fun Home ended triumphantly in September, validated by critics, strong ticket sales, a Pulitzer Prize nomination and the Tony Award for Best Musical of 2015, Malone's defenses were down.
Fun Home had ridden a perfectly timed wave of changing perceptions in America about gender identity, marriage and sexuality to make history as the first musical to feature a lesbian leading character.
"Fun Home absolutely rode the crest of this huge, cultural wave," Malone said. "People made pilgrimages to see it from all over the world. One night we played to ambassadors from 15 different countries where homosexuality is a crime punishable by law. It felt like hearts and minds were changing that night. Not just in the United States, but internationally. We had a performance on the night that marriage equality passed, and during the curtain speech afterward, we all ran around with a rainbow flag outside to a standing ovation. I feel like the world was ready for Fun Home when it happened."
But when Malone packed her car in September to drive across the country to her native Colorado, a mother was not ready for Malone when she walked into McDonalds bathroom in Pennsylvania – ironically, the very state where Fun Home is set. Malone walked in looking a lot like Alison – T-shirt, jeans, and close-cropped hair. A lot like Beth.
"But when this woman saw me, she took her daughter's hand, moved her behind her and said, 'Don't stare, don't stare.' At me! I'm the most innocuous person you will ever meet. I'm not going to hurt your daughter. I'm just a dyke. I thought, 'Haven't you ever seen a gender non-conforming person before? No? Well, maybe your daughter's having a 'Ring of Keys' moment right now."

"Ring of Keys" is a song from Fun Home sung by an 11-year-old version of Alison. It's probably the most well-known tune in the show because young actor Sydney Lucas performed in on national television at the 2015 Tony Awards, when Fun Home was named Best Musical.
"Ring of Keys" is this song of discovery told from the perspective of a child who sees a butch woman walk into a diner with a handcart full of boxes," Malone said. "She sees an identity in this woman that she recognizes as her own on a cellular level. In Alison Bechdel's book, she says: 'It was like seeing someone from my home planet. Someone I've never met before – but I just recognized.' And she says, 'Something about that makes me recognize something in me.' "
New York Times: 'For better or worse … we're home'

But that moment echoed in Malone's mind when she later learned that Fun Home would indeed be touring to cities across the country, starting in Cleveland and including a stop in her native Denver from Jan. 10-22.
"I have to be very honest – I was conflicted," Malone said. "I feel very vulnerable still with this material because I thought, 'If people across the country are not going to embrace it or accept it, that is going to hurt me.'
"But that's the opposite of what has happened. The first two cities were sold-out runs. Local papers have said beautiful and amazing things about how important it is for the story to reach this vital audience. And then I remembered: Every time I've had any fear with Fun Home … whenever we have gone to a new level or to an unknown place, love and acceptance have truly outweighed any kind of hate that steps forward to be heard."
The Fun Home title comes from the shortened family nickname for the funeral home where Alison's father worked. Malone describes the story as "the beautiful journey of a woman looking back at her childhood and trying to piece together what was actually happening when she was younger, trying to connect with her father.
"We are all just trying to know each other," she said. "But it can be really hard to know even the people in your own family. We've all experienced those moments of missed opportunity to really know someone."

(Photo above and right: Alessandra Baldacchino as 'Small Alison' and Robert Petkoff as Bruce in the touring production of 'Fun Home.' Photo by Joan Marcus.)

But Malone says Fun Home is not only the story of Alison. "It's about her father, Bruce Bechdel. It's about her mother, Helen Bechdel. It is about the other kids. It's about anyone who was born of a mother. It's about anyone who was raised in a house with a family. You will learn something about yourself. You'll learn something you can't even put your finger on that you need to know. And when you walk out, you'll be like, 'Oh. Wow.' Now I'll have to give my entire identity some thought."


Beth Malone in Denver: Our photo gallery

Photos of Beth Malone singing the national anthen on Oct. 30 at Mile High Stadium. To see more, click the forward arrow on the image above. Photos by John Moore for the DCPA NewsCenter.
Malone is a graduate of Douglas County High School in Castle Rock and attended the University of Northern Colorado in Greeley. She performed in theatres across Colorado, including a noteworthy five-year run as the narrator in the Arvada Center's Joseph and the Amazing Technicolor Dreamcoat. She realized a lifelong dream in 2014 when she starred in the DCPA Theatre Company's wholly reimagined staging of The Unsinkable Molly Brown.
"For me, that was the culmination of my entire career. It was a giant gift from God and the universe plopped right in my lap. It was amazing."
Malone is not appearing in the national touring production of Fun Home that comes to the Ellie Caulkins Opera House in January. She recently returned to Denver as an ambassador of the show and to sing the national anthem at a Denver Broncos game at Mile High Stadium.
"You have no way of knowing the depth of my allegiance to the state of Colorado," Malone. "I love every square mile of it. More than anything, I want the people I care so much about to see this beautiful piece of theatre that I've been working on for the past five years. To see why it's so important to me. Hopefully it will resonate in their own lives. I know it will."
Here's more of our conversation with Beth Malone:
John Moore: You are an openly gay woman who has been married for 20 years. How do you think it might have changed your life if an 11-year old Beth had seen Fun Home?
Beth Malone: If I had been exposed to this material at age 11, I think that I would have felt an inner strength and pride grow inside of me that, instead, I had to manifest way later in my life. I feel like there was a hidden part of me as I grew up that I definitely didn't give honor to. It was a coating of shame around this part of me that was a true part of me that was something to explore, unearth and celebrate.
(Pictured above right: Beth Malone as Alison on Broadway, top; Kate Shindle as Alison in the national touring production coming to Denver Jan. 10-22. Photo by Joan Marcus,)
More Colorado theatre coverage on the DCPA NewsCenter

John Moore: What do you think Fun Home might mean to an 11-year-old who sees it next month in Denver?
Beth Malone: I hope Fun Home reaches an 11-year old who needs to hear it. I also hope it reaches the 11-year old sitting right next to her – because it can help compassion grow at a young age for the people you are growing up with. You know, if you ask a child to describe what Fun Home is about, it's so simple for them to explain: "Love who you want to love, and live openly."
John Moore: So what has been the best part of your time in the Fun Home?
Beth Malone: It has been such an amazing experience to witness people receiving the show one night at a time and to witness the incredible transformative power of art to change hearts and minds. Maybe even just incrementally. But a little bit of a softening has happened.

John Moore was named one of the 12 most influential theater critics in the U.S by American Theatre Magazine in 2011. He has since taken a groundbreaking position as the Denver Center's Senior Arts Journalist.

Bonus coverage: About the national touring cast:
John Moore: A couple of questions about the touring cast. Robert Petkoff, who played Sweeney Todd in the DCPA Theatre Company's production earlier this year, is playing Bruce. Have you ever performed with him?
Beth Malone: No, but I understand he was amazing in Sweeney Todd.
John Moore: Here's what I know about Kate Shindle, who is playing the role of Alison that you played on Broadway: President of the Actor's Equity Union. Graduate of Northwestern. Talk about exploding preconceptions.
Beth Malone: I have to say that when I told the producers it was time for me to step away and let the tour be its own thing, I pointed out that I did have it written into my contract that I could only be replaced by a Miss America. That was in the small print. So they were like, 'Well, who can we get?' And Kate Shindle was No. 1 on the list – because she's just a rock star.
Fun Home: Ticket information
• Jan. 10-22, 2017
• The Ellie Caulkins Opera House
• Based on Alison Bechdel's graphic-novel memoir; book and lyrics by Lisa Kron; music by Jeanine Tesori; directed by Sam Gold
• Tickets: 303-893-4100 or Tickets: 303-893-4100 or BUY ONLINE
• Groups: Call 303-446-4829
For more information on the production, please visit FunHomeBroadway.com.
Selected previous NewsCenter coverage of Fun Home:
Denver's Sweeney Todd will return with Fun Home tour
Another Malone takes spotlight at Denver Film Festival
Fun Home highlights Denver Center's 2016-17 Broadway season
Denver's Beth Malone returning to Broadway in Fun Home
https://www.denvercenter.org/wp-content/uploads/2018/04/featured-image-3506.jpg
542
800
John Moore
John Moore
2016-12-14 12:09:00
2016-12-14 12:09:00
Beth Malone on 'Fun Home': 'It's about anyone born of a mother'