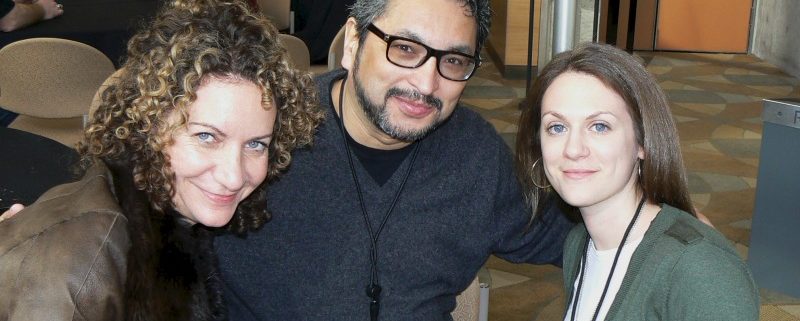 Octavio Solis scores prestigious award for Denver-born 'Se Llama Cristina'

Octavio Solis, above, at the DCPA's 2011 Colorado New Play Summit where 'Se Llama Cristina' had its first life.
Octavio Solis, whose powerful drama Lydia was presented by the Denver Center for the Performing Arts Theatre Company in 2008 and later nominated for a Pulitzer Prize, has won the prestigious 2014 Drama Award from PEN Center USA, which honors the best writing in the western United States.
Solis' winning play, Se Llama Cristina, was introduced as a staged reading at the DCPA's 2011 Colorado New Play Summit. At the time, it was titled Cecilia Marie.
Lydia is the story of an unusual maid charged with caring for a Mexican-American teenage girl severely injured in a car accident. Se Llama Cristina is not exactly a sequel, but it concerns one of the same characters: Misha, a grown man who was a little boy in Lydia.
The reading of Cecilia Marie was directed by Ethan McSweeny, who described the play as living in a lyric, mysterious, dark world.
"One of the things that is so incredible about Octavio is that he's such a warm, generous, fun person," McSweeny told me in a 2011 Summit interview, "and yet in his plays, things are very troubled, and the people are at the edge of their sanity."
The play opens with a young couple who don't remember who or where they are, but there is a baby carriage in the room. Inside the carriage is not a baby, but rather a chicken drumstick. "From there, they have to go back and put together their lives and figure out how they have arrived at this place," McSweeny said.
The play was picked up by the National New Play Network, guaranteeing it three separate stagings by three different members companies across the country. Se Llama Cristina was staged at the Magic Theatre in San Francisco, the Kitchen Dog Theater in Dallas, and The Theatre @ Boston Court in Pasadena, Calif.
Here's an excerpt from what the L.A. Weekly said about the Pasadena staging:
Solis started writing the play 20 years ago during his wife's pregnancy to purge himself of "night terrors" at the prospect of becoming a father. Two decades later, he rescued the unfinished script from a kill file, smoothing the rough edges with the benefit of wisdom and distance. Yet Se Llama Cristina, directed by Robert Castro, remains a raw, ragged journey that takes the audience through the disorienting logic of a fever dream, gradually intensifying before it breaks. A man and woman claw themselves awake from a bender in a fleabag apartment. Bereft of their identities, surrounded by drug paraphernalia and empty bottles – and a vacant bassinet in the corner – they start to recognize that they share histories, tragedies and, possibly, a child. As memories come into focus, we snap back and forth between past and present, to her abuse at the hands of an ex to his upbringing with an absent mother. Each fresh revelation produces another shift in the theatrical footing. Se Llama Cristina belongs to a school of theater that discomfits as much as it gentles. At once gritty and highly lyrical, Boston Court's handling keeps the audience almost permanently off-balance. Redemption doesn't come cheap for the characters or audience of Se Llama Cristina, but its victories are hard-won.
Solis will be honored with the award, and a $1,000 cash prize, at the PEN Center's 24th annual Literary Awards on Nov. 11 in Los Angeles.
Paula Christensen and Justin Huen in Octavio Solis' 'Se Llama Cristina' at Boston Court in Pasadena, Calif. Photo by Ed Krieger.
Other 2014 PEN Center winners:
Norman Lear (Lifetime Achievement Award)
Glenn Greenwald and Laura Poitras (First Amendment Award)
Jose Antonio Vargas (Freedom to Write Award)
Gretel Ehrlich (Creative Nonfiction Award for Facing The Wave)
Lindsay Hill (Fiction Award for Sea Of Hooks)
Craig Malisow (Journalism Award for Deadly Charades)
Victoria Chang (Poetry Award for The Boss)
Bill Minutaglio and Steven L. Davis (Research Nonfiction Award for Dallas 1963)
Ben Coccio (Screenplay Award for The Place Beyond the Pines )
​Judd Apatow and Lena Dunham (Teleplay Award for Girls "Together")
Wayne A. Rebhorn (Translation Award for The Decameron)
Margarita Engle (Young Adult/Children Award for The Lighting Dreamer, Cuba's Greatest Abolitionist)
The winners were judged by distinguished writers, editors, critics and journalists.
Our video from the 2011 Colorado New Play Summit
https://www.denvercenter.org/wp-content/uploads/2018/04/featured-image-1402.jpg
455
800
John Moore
John Moore
2014-09-09 07:55:00
2014-09-09 07:55:00
Octavio Solis scores prestigious award for Denver-born 'Se Llama Cristina'