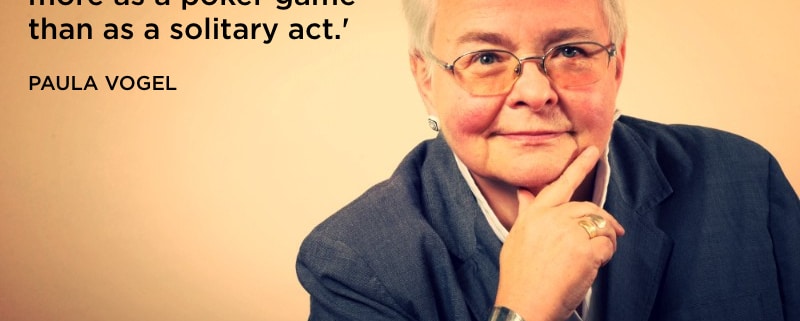 Paula's Army: Vogel's considerable legacy as a playwriting teacher
No one has mentored more of this generation's greatest playwrights than Indecent's Paula Vogel
Paula Vogel — acclaimed writer of the DCPA Theatre Company's season-opening Indecent, the Pulitzer Prize-winning and Broadway-bound How I Learned to Drive, and the Obie-winning The Baltimore Waltz — has an almost mystical status among this country's playwrights as a teacher and mentor. In fact, it's hard to come up with a leading contemporary playwright she hasn't nurtured over the years in her classes at Brown University and the Yale School of Drama.
Sarah Ruhl, whose play The Clean House played at the Denver Center in the 2005-06 season, likens Vogel's teaching to telepathy: "She looks into your soul and she says, 'These are the next 10 books you need to read, here are the next four plays you need to read, now go write 10 more pages. She won't tell you how to edit your play. She won't tell you where your play needs to go. But she'll look at you with this piercing gaze and ask the most perceptive question that you had no idea needed to be asked."
Here's how Vogel herself describes her teaching approach: "I don't think prescribing anything is helpful. I don't think trying to change someone's voice is helpful. I've had a very easy philosophy, which is just find incredible original voices that are all different from each other, and hope that they will come to work with me and influence each other and double-dare each other. I think of playwriting more as a poker game than as a solitary act. So I think that when you're in a room filled with extraordinary minds and thinkers who are trying new things, the worst thing to say is, 'No,' or, 'That's not a play.' Or, 'You should be doing it this way.'
'I basically just say, 'Show me. Show me, teach me, try it,' and then I just try to provoke people. I double-dare you.' — Paula Vogel, playwright and teacher
Here is a roundup of just some of the highly touted playwrights who have passed through Vogel's workshops, many of whose plays have been seen at the DCPA and other local theatre companies:
Plays: In the Next Room, or the Vibrator Play; Eurydice; Dead Man's Cell Phone; Orlando (DCPA Education, 2018); The Clean House (DCPA Theatre Company 2005-06)
Awards: MacArthur "Genius" Grant, Pulitzer finalist, Tony nominee
Plays: Choir Boy (DCPA Theatre Company 2019-20); The Brother/Sister Plays; Head of Passes
Film: Moonlight
Awards: MacArthur Genius Grant, Oscar for Moonlight, Tony Award nomination for Choir Boy
Plays: Ruined (DCPA Theatre Company 2010-11); Sweat (DCPA Theatre Company 2018-19); Intimate Apparel
Awards: Obie Awards and Pulitzer Prizes for Ruined and Sweat, Tony Award for Sweat, MacArthur Genius Grant, Horton Foote Award
Plays: Disgraced (DCPA Theatre Company 2016-17); The Invisible Hand; Junk
Awards: Pulitzer Prize for Disgraced, two Obie Awards, Tony Award nominee
Plays: Becky Shaw; After Ashley (DCPA Theatre Company 2005-06); Rapture, Blister, Burn
TV: "House of Cards"
Awards: Pulitzer finalist
Plays: Book for Dear Evan Hansen (Broadway Series: 2018)
TV: "Masters of Sex"; "Fosse/Verdon"
Awards: Obie and Tony awards for Dear Evan Hansen
Plays: In the Heights (Broadway Series: 2010); Elliot, A Soldier's Fugue; Water By the Spoonful
Awards: Pulitzer Prize for Water by the Spoonful, Tony for In the Heights, Pulitzer finalist
More about Paula Vogel: Playwright Paula Vogel, 68, is  longtime teacher who spent from 1984 to 2008 at Brown University, where she served as Adele Kellenberg Seaver Professor in Creative Writing, oversaw its playwriting program, and helped found the Brown/Trinity Rep Consortium. From 2008 to 2012, Vogel was Eugene O'Neill Professor of Playwriting and department chair at the Yale School of Drama, as well as playwright in residence at the Yale Repertory Theatre. Her plays include Indecent (winner of two Tony Awards), How I Learned to Drive, A Civil War Christmas, The Long Christmas Ride Home, The Mineola Twins, Hot 'N' Throbbin, The Baltimore Waltz, Desdemona, And Baby Makes Seven and The Oldest Profession. She contributed to Curious Theatre's The War Anthology in 2006.
About the author: Douglas Langworthy is the DCPA Theatre Company's Director of New Play Development, Prior to Denver, he served as Dramaturg and Director of Play Development at McCarter Theatre in Princeton, N.J. for two years and Director of Literary Development and Dramaturgy at the Oregon Shakespeare Festival for seven.

Indecent: Ticket information
When: August 30-October 6 (Opens September 5)
Where: Space Theatre

Genre: Drama, history play with music
Advisory: Contains adult themes, language and sexual content
Tickets: Start at $30 and can be purchased at 303-893-4100 or in person in the Helen Bonfils Theatre Complex at 14th and Curtis streets or online by clicking here:

The making of Indecent in Denver: Photo gallery
Click on any photo to see a larger version.
https://www.denvercenter.org/wp-content/uploads/2019/08/Paula-Vogel-800.jpg
532
800
Douglas Langworthy
Douglas Langworthy
2019-08-26 15:33:40
2019-08-26 15:33:40
Paula's Army: Vogel's considerable legacy as a playwriting teacher