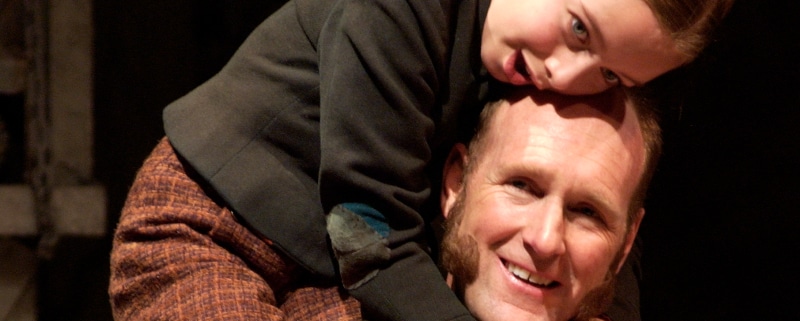 Playing Tiny Tim leaves large imprint on actors who play him
As young actors grow into adults, the message of Charles Dickens' timeless 1843 cautionary tale only deepens

Playing Tiny Tim can be Fezziwigs of fun for any kid actor. You get to miss school and perform in a play with a bunch of cool people who become your second family during the holidays.
Then again: You have to miss school, you work a grueling schedule and you are largely apart from your real family for much of the season. Bah, humbug.
Still, three actors who have played the iconic child in ghosts of A Christmas Carols past wouldn't trade the experience for anything. Charlie Korman, who holds the record for having played Tiny Tim in four of the DCPA Theatre Company's 26 seasonal stagings, hasn't missed a production as an actor or audience member since 2009.
"It's fun to see the cast that I worked with over the years grow with the show," said Korman, now a freshman at Denver East High School. "After seven years in the show [including playing other roles], I know every line of dialogue. So it's fun to point out any changes each year."
As all children age into adults, the impact of Charles Dickens' timeless 1843 cautionary tale of seasonal spiritual renewal deepens. Some perspective: As a boy, Dickens himself was indentured into a poorhouse when his father went bankrupt and was imprisoned for debt. The kids who lived during the time of A Christmas Carol entered the workforce as early as age three and typically worked 16-hour days alongside their parents. Only 20 percent ever had any schooling. Little people were particularly useful as coal miners and chimney sweeps because their small bodies fit nicely into tight spaces. And through the bully pulpit of his stories, Dickens shamed the wealthy for their unwillingness to set up what we would call employee welfare programs.
Tiny Tim is, of course, the sickly boy whose life-or-death fate Dickens places squarely in the hands and heart of his father's skinflint boss, Ebenezer Scrooge. Simply put, the three ghosts tell Scrooge to give his accountant a health-care plan, or the death of his son will be on Scrooge's drooping shoulders. Instead, Tim's chronic illness ultimately fuels Scrooge's transformation into a better man.
"I believe Tiny Tim represents hope and the purity that lives in all of us," said third-year A Christmas Carol director Melissa Rain Anderson. "Tim is a true hero. Despite his illness, he believes in the goodness the world has to offer."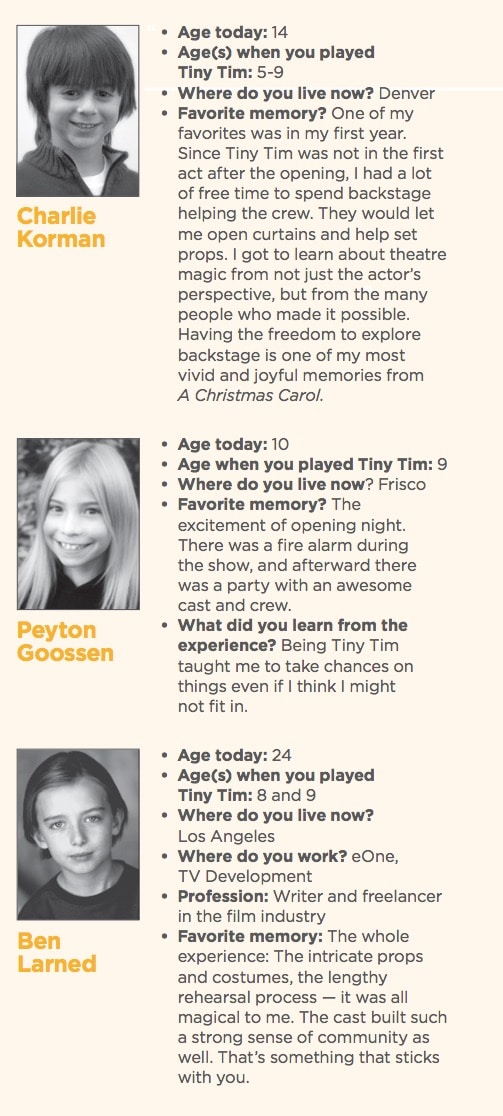 Ben Larned, one of only three actors who have played Tim over multiple years (2002-03), is now a 24-year-old artist living in Los Angeles. When he was eight, he was asked by The Denver Post to take a shot at summarizing the story's ultimate message. "I play a role where I don't complain," young Larned said then. "And now I think I might try not to complain so much."
Sixteen years later, the same writer asked him the the same question.
"It's incredible that this centuries-old story still feels relevant," Larned said. "The message is timeless, even if its truth isn't as simple as it seemed to me at that age. It's important to remember that there's always time to change."
Korman, still only 14, grew up in and around the Denver Center. He attended his first DCPA summer theatre camp as a toddler. "It was mostly playing games, but it made me a theatre-lover for life," he said. When Korman was five, he was encouraged to audition to play Tiny Tim, and he soon owned the role. At nine, he summed up the experience by saying, "It's a good way to spend the holiday season because I am in the Christmas spirit for two months." Korman would later play featured roles in intense Theatre Company stagings of Lord of the Flies, Frankenstein and The Who's Tommy.
"I've been in a number of dark shows since A Christmas Carol," said Korman, "and so I always look forward to the feeling of hope the story brings me. It has such an important message. That is to care for other people, and to love and be kind."
Like Larned, many of the 20 actors who have played Tiny Tim in Denver have grown into adult artists. Boulder native Luke Eberl (1995) is an actor and filmmaker best known for playing Birn in the 2001 film Planet of the Apes and making his own film called Choose Connor, after which he was described by MovieMaker Magazine as "One of the 10 Young Americans to Watch." Larned made a film called Love Story in 2011, and it turned out one of his actors, Donovan Fountain, had played Tim for the Denver Center back in 1999. And until he was asked about the possible connection for this story, Larned said: "I had absolutely no idea."
Elias Harger, who played Tim in 2015, was soon after cast to play Max on the 2016 Netflix series "Fuller House," the sequel to "Full House." For three seasons, he has played the grandson of Danny, played by Bob Saget.
Last year, Anderson cast nine-year-old Peyton Goossen as the first female actor to play Tiny Tim for the Denver Center. "I was a little unsure what to make of that at first because I didn't know it was that big of a deal," Goossen says now.
This year's staging features Lucas Turner in the role. He is the Denver Center's third African-American to be cast as Tiny Tim.
John Moore, who was named one of the 12 most influential theater critics in the U.S by American Theatre Magazine in 2011, has been reporting on the DCPA Theatre Company's productions of 'A Christmas Carol' since 2001. Since leaving The Denver Post, he has taken a groundbreaking position as the Denver Center's Senior Arts Journalist.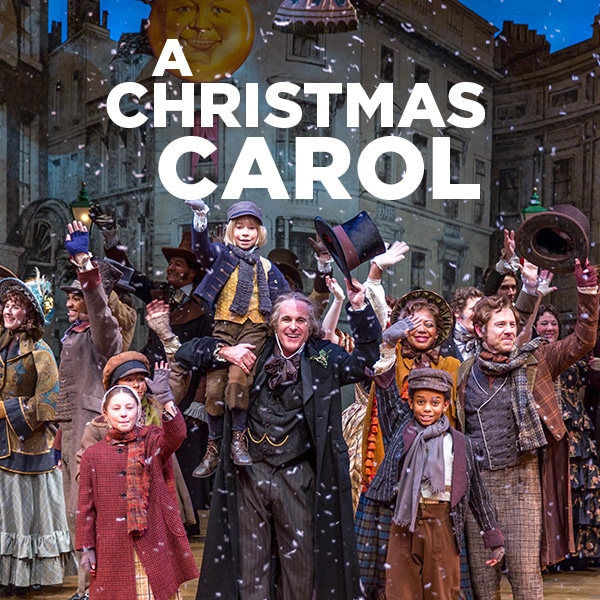 A Christmas Carol: Ticket information
At a glance: Based on Charles Dickens' classic novel, this joyous and opulent musical adaptation traces money-hoarding skinflint Ebenezer Scrooge's triumphant overnight journey to redemption. A Christmas Carol illuminates the meaning of the holiday season in a way that has resonated for generations.
Presented by the DCPA Theatre Company
By Charles Dickens
Adapted for the stage by Richard Hellesen
Music by David de Berry
Directed by Melissa Rain Anderson
November 21-December 24 (opens November 28)
Stage Theatre
Tickets: 303-893-4100 or BUY ONLINE
The DCPA's Tiny Tims through the years
1990: Jonathan Winstead
1991: Alex Wyatt
1992: Ben Kimbal
1993: Colin Smith
1994: Brendan Horton
1995: Luke Eberl
1996: Cameron Teitelman
1997: Bobby Frause
1998: Winston Sanks
1999: Donovan Fountain
2000: No production
2001: David Strouse
2002-03: Ben Larned
2004: Harry Feder Pruett
2005: Harrison Steele
2006: Ian Farmer
2007: No production
2008: Alec Farmer
2009-11: Charlie Korman
2012: No production
2013: Charlie Korman
2014: Elias Harger
2015-16 Augie Reichert
2017: Peyton Goossen
2018: Lucas Turner
Video bonus: Behind the Scenes at the 2017 A Christmas Carol
https://www.denvercenter.org/wp-content/uploads/2018/11/A-Christmas-Carol-Ben-Larned.jpg
659
800
John Moore
John Moore
2018-11-13 15:21:01
2018-11-18 08:39:12
Playing Tiny Tim leaves large imprint on actors who play him