Playwright Beaufield Berry Draws on Her Own Family for In the Upper Room
By: Leo Adam Biga
Generations live strong in the memory and imagination of Omaha-based playwright Beaufield Berry.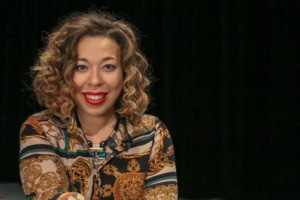 Her original family drama In the Upper Room, a 2019 Colorado New Play Summit selection, gets a world premiere production by the DCPA Theatre Company this winter.  
Set in 1974 Omaha, this Black American family drama draws closely on her own multicultural clan's gumbo of Southern, Midwest, Afro-Puerto Rican and American Indian heritage. Berry grew up with multiple generations, big personalities and unspoken narratives colliding under one roof. Her biracial background adds another lens on this complex household. 
Dominated by matriarch Rose, keeper of family secrets, characters navigate mysteries, lies and love in that Black is Beautiful era. Their intertwined lives brim with social-cultural touchstones, rituals, traditions. In this emotional hothouse, spirits have their say, too. It's a sweet, sad, funny mosaic of American gothic meets magic realism told from a Black feminist perspective. 
Berry's examination of family only happened after years spent searching for herself. Writing short stories and performing in plays since childhood, her self-taught craft remained the one constant as she led a scattered life in Atlantic City and Las Vegas. She ran a touring burlesque troupe and taught theater at a summer camp. Her gypsy life intersected with Colorado when she worked at a Telluride ski lodge and ranch. 
"I wasn't settled with anything. I was kind of discovering where I belonged in the world of performance and theater," she said.  
During her vagabond period a short play of hers got accepted by the Great Plains Theatre Conference (now Great Plains Theatre Commons, GPTC) in Omaha. She's honed other new works there, including readings of Ugly Birds and The Waiting Line (produced at Manhattan Repertory Theater).  
Her creative life has flourished since finding a supportive mate, husband Rob Fisher, and becoming a mother. The couple have three young children. Omaha's Blue Barn Theatre commissioned her historically based Red Summer in 2019. She wrote the virtual One More Chair for Omaha's Tri-Faith Initiative in 2020. Her new Black cowgirl musical dramedy, Buffalo Women, is slated for spring productions in Omaha, Des Moines, Iowa and Kansas City, Missouri. She's been a guest artist at the William Inge Festival and an arts educator with Omaha Performing Arts. She is the inaugural playwright in residence at Creighton University in Omaha. 
Dramaturg Heather Helinsky was exposed to In the Upper Room at the GPTC, where it was workshopped and read in 2017. It was a finalist in the Eugene O'Neil Theater's National Playwrights Conference. Unbeknownst to Berry, Helinsky submitted the piece to the Colorado New Play Summit. 
"Our New Play Development Director at the time, the late Doug Langworthy, read it and he said this is something we should think about," Theatre Company Artistic Director Chris Coleman said. 
Coleman agreed, calling it "a big, human-centered American family drama." 
"When Doug called me I was literally building a website to sell Halloween costumes because I was giving up writing. Doug's call changed everything, it saved me," recalled Berry. 
Process Informs Production 
Dramaturg Jacqueline Lawton and director Gregg Daniel worked with Berry through the reading. A strong reception earned the play a season spot that the pandemic pushed back to this winter.  
"I didn't know it was going to be something we produced, but Beaufield did such great work in the two weeks of that workshop, really digging deep into the script and the story so that when it performed for audiences they just kind of went nuts for it," Coleman said. "It was one of the most successful workshops we had that year."  
Daniel, who's directing the production, found in Berry a willing collaborator. 
"She listened very carefully, she respected my ideas," he said. "I knew she'd be a terrific partner to go into mining this text and really uncovering this story. She wasn't holding onto her words as some playwrights do. She wanted to improve upon the play, she wanted to make it as tight, as lean as potent as it could be. This was a true collaboration between a director and a playwright." 
Lawton, Daniel said, added a very valuable voice with her "sensitive, knowledgeable" input. 
Berry embraced the process. "I cannot say enough about Denver Center. They've supported me, given me the best in casting and directing, nurturing me and my show." In Daniel, she's found an ideal interpreter of her work. "I think every playwright wants to be taken care of by their director. That's what I need, a director who respects me and listens and I can give that back to. That is Gregg Daniel in a nutshell. He's decisive. He also refers to me and puts me first, so I trust him to make great decisions for our show." 
Workshopping has led her to more fully embrace theater's collective practice. 
"As a younger writer I thought writing was a lonely machine fueled by heartbreak, whiskey and cigarettes. But like so many other truths in life, it takes a village." 
A play, she said, "passes through hands and hearts, and everyone leaves their mark, and it lives, breathes and grows with every incarnation." 
"The workshop's a great way to revisit the show and pick up where we left off. It's a great time to have new voices in the room and see what affects them. The conversations with actors and crew that happen can greatly impact the final script. The production script for Upper Room will be more dynamic thanks to the workshop process."  
Pull of Family 
Berry, who delighted colleagues with a rollicking one-woman revue at the Summit's Playwrights' Slam, wrote the piece that brought her there only when the pull of family compelled her to.  
"Having kids has made me more inquisitive about who I am, where I'm from, where I'm going, and in turn where they're from and where they're going. When I really opened the doors to myself and to my family and started peeling back those layers, I found a wealth of things. I started getting into what I know – being raised biracial, being Black, love, the South, multigenerational lives." 
Not one to shy away from the mystical, Berry found her ancestors, specifically grandma Rose, actively serving as her muses. 
"As a child I had what I call now spiritual visitings. I asked the universe not to have one again for a very long time and I guess Rose just decided the rules didn't apply to her and so she broke on through. I grew up with all these stories of her as this bigger-than-life person. The way she inserted herself in people's lives, even posthumously, and the way she still shows up in people's lives makes her immortal to me in some ways." 
The spectral visits by Rose were vivid. "Her voice was so strong and loud in my ear that it was very real to me." Other ancestors weighed in as well. Feeling inspired and guided, Berry wrote 100 pages in three days. Most of what she wrote "under the influence" has remained intact. "They ended up giving me a marvelous gift." 
Bigger-Than-Life Matriarch  
It's fitting that Rose, the bossy fulcrum around which the play revolves, should have "dictated" her own story. In death, as in life, she's a tyrant and enigma who defies easy analysis. 
"Many of us have had folks in our family who are challenging, difficult or domineering personalities that you struggle to try to understand," said Coleman, "and I think many of us have had journeys where we have had to assert our independence in the face of someone that forceful. That is something that many different kinds of people can connect to."  
Daniel, too, admires that in Rose and the play's other characters. Berry's created authentic individuals that a full spectrum of audiences can relate to. 
"It's brilliant that even though it's specifically about an African American family in Nebraska, it has that universal appeal that everyone can absorb some aspect of their family relationships. There's so many entry points for whatever culture or ethnicity you are that it really does represent your family … you want to own it as if it's your own family."  
That was Berry's intention all along. 
"The secrets, the relationships, the dynamics – those things are so universal to American families regardless of race and generation and whatever," she said. "We all find ourselves in those different dynamics. But it is exciting to me that this is specifically a Black family. They are unapologetically themselves. It's a fly in the wall of Black family life but also showing that Black family life is the same as any other family life."  
Daniel feels the play will find a place in the American theater canon. 
"The preoccupation of American drama is the family. Beau's plays are American stories. She just happens to be an African American woman with many different cultural references in her family. I see it being embraced by theaters (nationally)."  
He said after helping Berry workshop it, "I'm thrilled to be able to actually now stage it and realize it in front of an audience with all of the production values and elements." 
Berry's grateful for the opportunity: "In the Upper Room has taken me to places professionally I didn't expect to ever go."   
First in a Cycle 
She projects Upper Room as the first in a seven-play cycle. Daniel feels further takes on her family will entice directors, actors and audiences, noting, "There's something delicious about that," especially given the rarity of Black American drama cycles.  
She's developing new works in the cycle that deal with various issues: Branch and Bone (growing up biracial), Ivory (Black mental health), Spectrophobe (life in the deep South), and Mulatto (identity). The project, she said, "is connecting me and my family closer together." 
Coleman won't be surprised if a new play by Berry, now a Summit favorite, finds its way to DCPA. 
"She is fearless, she is hilarious. I just really enjoy her personally as well as the quality of her writing." 
DETAILS 
Feb 11-Mar 13 
Kilstrom Theatre 
https://www.denvercenter.org/wp-content/uploads/2022/01/ROOM_3x3-show-tile-WP-1.jpg
900
900
DCPA Press
DCPA Press
2022-01-10 10:18:58
2022-01-20 11:06:52
Playwright Beaufield Berry Draws on Her Own Family for In the Upper Room