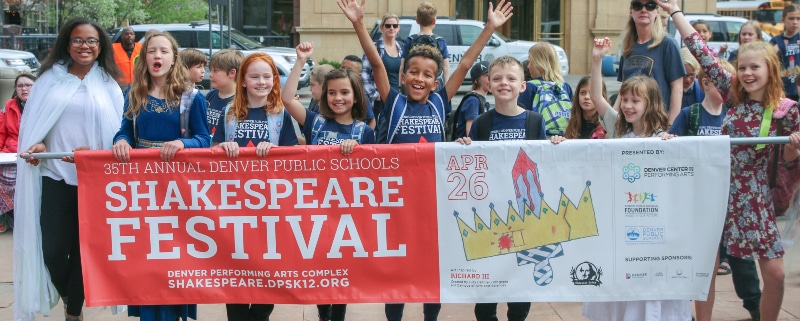 Some are born great, others achieve greatness at the DPS Shakespeare Festival
Video highlights of the 2019 DPS Shakespeare Festival. Video by David Lenk and John Moore for the DCPA NewsCenter.
Here are some of the characters we met off the stage at the nation's largest student Shakespeare festival
You might think Twelfth Night is Shakespeare's fanciful gender-bending comedy where nobody loves anyone who actually loves them back. Until they do.
But Kaiser Elementary fourth-grader Leah Elwood is here to set you straight:
"Twelfth Night is about a clown making everyone unhappy!" Elwood emphatically exclaimed – though it should be noted that she played the witty fool (or is it foolish wit?) Feste herself in a brief scene at Friday's 35th annual Denver Public Schools Shakespeare Festival, where up to 5,000 students from kindergarten through high school were scheduled to perform more than 640 short scenes, dances, soliloquies, songs and sonnets on 18 indoor and outdoor stages throughout the Denver Performing Arts Complex.
Her fellow student Gwana Ngonendella Diouf, who played the grieving noblewoman Olivia, said she thinks the play is about "laughter and people having fun." Both have basis in truth.
The DPS festival, by far the largest annual student Shakespeare gathering in the country, allows pupils of every grade to explore the Bard's language and stories in an unintimidating way. Most study the text over several months before dressing up in vibrant Elizabethan garb as queens, clowns, swordsmen and ghosts before heading down to the Denver Center to perform their scenes. Some kids find Shakespeare's language intimidating at first. Not Elwood.
"I've seen Romeo and Juliet, so I was expecting the words to be like that," she said matter of factly.
Asked to describe her scene with Olivia, Elwood said: "I was making everyone angry at me because I was making fun of them and saying rude things." Further asked if it's fun to stand on a stage and be rude when you have permission to do so, she smiled wryly and said: "Oh, yeah. It's pretty fun!"
Take a deeper dive into the Denver Center's upcoming production of Twelfth Night
Kaiser Elementary School teacher Kawika Berthelette believes his students reap multiple benefits from performing in the DPS Shakespeare Festival: It's a fun introduction to historical literature; a chance to take creative risks; and they get to interact with other kids their age, Berthelette said. "This gives them a challenge that is both exciting and fun at the same time," he added.
Each year, the students portray hundreds of Shakespeare characters. But as Elwood proves, some of the festival's real-life characters turn out to be just as colorful as those they play on stage. Here are a few more we encountered on a picture-perfect Denver day worthy of its own Shakespearean sonnet:
Quinn Marchman
DCPA Teaching Artist Quinn Marchman, also a teacher at The Boys School of Denver inside the Riverside Church, brought a group of sixth-graders to the festival to recite monologues from his favorite Bard play, Julie Caesar. They were all new to Shakespeare.
"They actually nerded-out over the history of the story," Marchman said. "But memorizing the lines was really hard for them." So Marchman and other DPS teachers employ all manner of creative methods to help Shakespeare, and the festival, come to life for their students.
Marchman invented a Shakespeare Scavenger Hunt that challenged his students to roam around the festival and find assigned items, learn basic facts and locate festival-themed markers. For example, they each were tasked with finding and watching at least one performance from A Midsummer Night's Dream and Julius Caesar by other DPS schools. They had to find the two DPS students who had won the honor of portraying Queen Elizabeth and Shakespeare throughout festival day. They had to find a scene that included swordfighting and more. One specific order on every checklist: "Don't get lost/die."
DPS Shakespeare Fest: Who are the Bard's baddest of the bad?
"I think they got a sense today of the kinds of things they will get to do here as they get older," Marchman said. "I think they understand now why I was so excited to introduce them to this festival in the first place. And by getting to perform their own Julius Caesar monologues, they can start to understand how text from 400 years ago can still be easily applied to their worlds today."
Friday was a busy day for Marchman: As a DCPA Teaching Artist, he is also an actor in the cast of DCPA Education's Shakespeare in the Parking Lot program, which performs 45-minute variations of Romeo and Juliet and A Midsummer Night's Dream in the parking lots of dozens of schools throughout Colorado each spring. After Marchman's students finished performing their scenes, he zipped over to play Romeo in a special presentation of R&J in the plaza outside the Helen Bonfils Complex.
Patrick Maschka
Most teachers who bring students to the festival teach theatre, English or the language arts. Englewood High School's festival leader is the school psychologist. "My second love is Shakespeare," said Patrick Maschka, who leads a dedicated Shakespeare club at the school that meets every Wednesday to talk about Shakespeare, go through scripts and act out scenes. "We are a very dedicated club," said student HeavenLee Escobar. "I think it's really fun."
For this year's festival, Maschka talked his students into cutting the entire script of Twelfth Night down into 12 scenes that they mashed together to essentially tell the entire story of the play over the course of an hour on the Merry Monk Stage. "This is going to be Twelfth Night on steroids!" Maschka said just before his students began to perform.
Why did he choose Twelfth Night?
"I talked the students into doing this play because it's one of my favorites," he said. "There are some real twists of both character and gender, which seems kind of current right now, even though it's a very old story."
Student Molly Tucker said the experience "betters us as actors – and getting to perform at the Denver Center and getting to watch these other groups perform is just an awesome experience." After two months of rehearsal, castmate Julian Stell was looking forward to the addition of an audience. "They really believe in the story," he said. "They feel like a part of what is happening. That's what keeps me going as an actor."
Take a look back at our coverage of last year's DPS Shakespeare Festival
Maddie Eckhart and Riley Dillon
The theme play of this year's festival was Richard III, but there was definitely a Twelfth Night vibe, with 10 schools performing more than 40 scenes from the play. Steele Elementary School teacher Lane Miller assigned his students to perform nine scenes from Twelfth Night specifically because the DCPA Theatre Company will be performing it on its 2019-20 season. He plans to bring some of his kids back for student matinees when performances begin next winter. He'll also be taking them to see the Colorado Shakespeare Festival's staging of the same play this summer in Boulder.
Two of Miller's students who both played Olivia in different scenes Friday were fourth-graders Maddie Eckhart and Riley Dillon. Eckhart describes Olivia as "this rich lady who is really sad because her brother died, and she's been mourning for a long time. But she has a lot of money and bunch of people working for her."
Dillon said they both enjoy coming to the festival "because we love performing – and we also just love getting outside." The hardest part of the process, Eckhart said, was not remembering her lines. "It was figuring out how your character is supposed to feel and how she is supposed to react to the other people in the play," she said. In the end, all the hard work was worth it, she added, "because we worked so hard on it and people just loved it."
Emma Logan and Tyler Imhof
Emma Logan, a senior at Denver Montessori High School, and Tyler Imhof, a junior at Northfield High School, were chosen among all DPS students to portray Queen Elizabeth and William Shakespeare to kick off the opening festivities and lead the parade from Skyline Park to the Denver Performing Arts Complex. While Logan has performed in the festival every year since she was a nervous third-grader, Imhof is a festival newcomer. They were selected by virtue of essays they submitted on what their respective honors might mean to them.
"Ever since I was little, I have always wanted to be a queen – so it was a huge deal that I got picked," Logan said. "I wrote in my essay about being here for nine years and how this is the culmination of all my time here. When I was little, I had a really hard time with public speaking and the DPS Shakespeare Festival was one of the first instances where I felt comfortable with that. I have grown into being a performer through the festival, and now theatre is a huge part of my life. It has helped me step into the person I am today."
Said Imhof: "I have been a Shakespeare fan all my life. I am quite a nerd about it, actually. So I wrote about my passion for Shakespeare and his works. I just think Shakespeare is tremendously fun. I am also a writer, and I love drawing inspiration from Shakespeare."
Allison Watrous
The Denver Center for the Performing Arts, along with The DPS Foundation and the city of Denver's Department of Arts & Venues, are partners with the Denver Pubic Schools in presenting the festival. "This event is extraordinary because it celebrates arts in education in Colorado," said DCPA Executive Director of Education Allison Watrous. "Theatre is an amazing art form because it teaches collaboration and presence and the importance of storytelling, as well as really putting your voice and authenticity into the world. And I think it teaches students about empowering each other and coming together to achieve something wonderful."
John Moore was named one of the 12 most influential theater critics in the U.S. by American Theatre Magazine in 2011. He has since taken a groundbreaking position as the Denver Center's Senior Arts Journalist.
2019 DPS Shakespeare Festival: Our best photos
Click here for our complete gallery of 2019 DPS Shakespeare Festival photos
Video bonus: The 2018 DPS Shakespeare Festival
Check back right here soon for our 2019 video report.
https://www.denvercenter.org/wp-content/uploads/2019/04/800-2019-DPS-Shakespeare-Festival.-Parade.-Photo-by-John-Moore.jpg
595
800
John Moore
John Moore
2019-04-28 15:30:37
2019-05-07 09:28:22
Some are born great, others achieve greatness at the DPS Shakespeare Festival